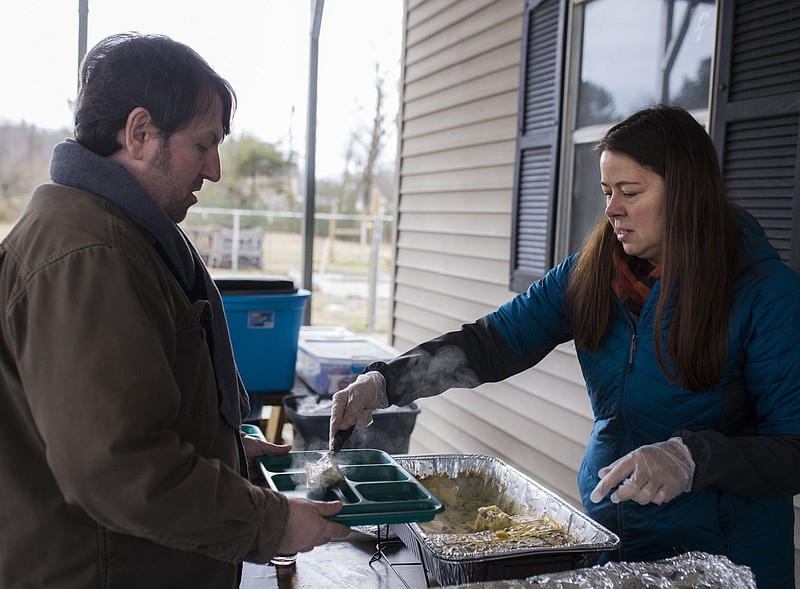 NWA Democrat-Gazette/CHARLIE KAIJO Volunteer Allison Williams serves food to volunteer James Cohen (from right) during a community food share, December 30, 2018 at the Seven Hills Day Center in Fayetteville. Volunteers from the group Food Not Bombs served hot meals for attendees during a community food share. They serve meals at that location on the last Sunday of every month.
The 11th annual Run for Veterans to benefit 7Hills Homeless Center, originally set for July 4, will be a virtual event July 4-11. Proceeds from the 4-mile timed race or 1-mile fun walk will help support assistance for veterans in need of center services. Jessica Andrews, executive director, says veterans comprise some 30 percent of those served at 7Hills.
Altering the race format was necessary in response to challenges presented by covid-19, says Andrews, which has also affected how the Fayetteville nonprofit organization operates. "We're still able to provide services, just on a different schedule." The group's day center is now open on Tuesdays and Fridays to provide "essential services such as food bags, showers, mail and clothing." The group serves some 515 individuals each month at the day center.
Andrews says that the necessary reduction of social interaction is especially difficult for center clients. "People underestimate the power of social interaction ... It's a really big deal," particularly for those who are homeless.
Andrews says the center's greatest needs currently are shelf stable food and casual clothing for men and women, especially jeans and casual pants. Food needs include canned proteins such as chicken and tuna, chunky soups, canned vegetables, canned fruits, peanut butter and canned beans. Donations are accepted on Tuesdays and Fridays.
Along with the day center, the organization also operates the HOPE program, which provides "rapid re-housing, transitional housing and permanent supportive housing" for some 60 to 80 households annually.
-- CARIN SCHOPPMEYER
More News
Run for Vets
Who: 7Hills Homeless Center
What: Timed 4-mile race or 1-mile fun walk
When: July 4-11
Where: Anywhere
Registration: $15
Information: (479) 966-4023 or 7hillscenter.org
Sponsor Content
Comments