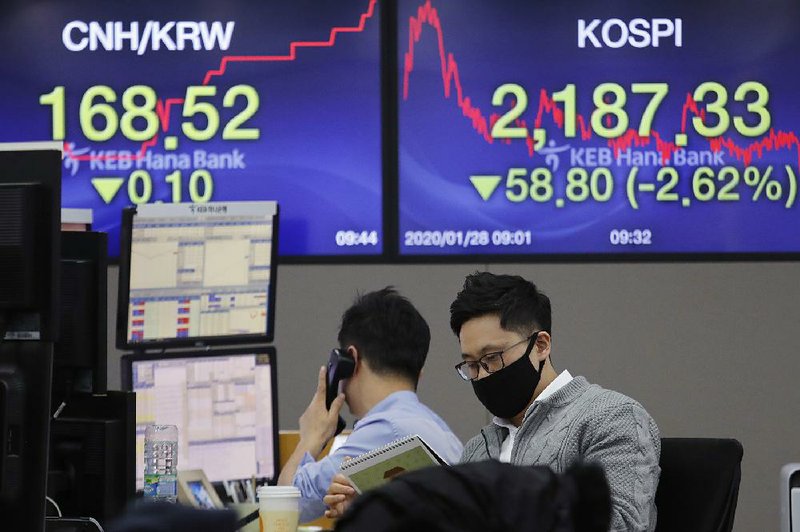 A currency trader wearing a mask watches works Tuesday at KEB Hana Bank in Seoul, South Korea. Businesses with ties to China are monitoring the coronavirus outbreak there. (AP/Ahn Young-Joon)
Walmart Inc. is monitoring developments in China regarding the coronavirus outbreak and following official recommendations to avoid non-essential travel there, a spokeswoman with Walmart's international division said Tuesday. China is one of the retailer's major markets abroad.
Springdale's Tyson Foods Inc., which also has extensive operations in China, said that it is closely watching the situation, as well. In addition, it has placed a temporary restriction on employees' travel to China, in accord with federal health alerts, Tyson spokesman Worth Sparkman said.
Tyson also is supporting relief efforts in China with a financial contribution to a hospital in Hubei province, where the outbreak originated, to help buy medical equipment, Sparkman said.
Walmart spokeswoman Molly Maj said the Bentonville retailer is "actively reinforcing good hygiene practices in all of our Walmart and Sam's Club locations in China and reminding our teams that the health and safety of our associates and customers is our top priority."
The company has more than 400 Walmart and Sam's Club stores in China, as well as 19 distribution centers, Maj said. The company reaches more than 170 cities there, and employs about 100,000 throughout the country.
China is one the four largest markets, along with Mexico, Canada and the U.K., in Walmart's international division, which had net sales of $32.3 billion in the past fiscal year. Walmart International does not break out sales figures by country.
The coronavirus is part of a family of viruses that includes SARS, or severe acute respiratory syndrome. A worldwide outbreak of SARS in 2003 also originated in Asia, prompting Walmart to cut back on company travel to China, Hong Kong and Taiwan.
Canada had the largest outbreak of SARS outside of Asia, and a contingent of Walmart's Canadian employees decided not to travel to Northwest Arkansas that year for the company's annual shareholders meeting for fear changing travel restrictions would keep them from returning home, Walmart said at the time.
Tyson Foods in recent years has grown its business overseas, with major offices in China, Malaysia, South Korea, Taiwan, Thailand and other countries along the Pacific Rim. International sales last year totaled $5.4 billion, of which $4.1 billion were exports from the U.S, according to Tyson's annual shareholders report.
Tyson produces 20% of U.S. chicken, pork and beef products. The company has been taking steps lately to ship more chicken to China since a years-long import ban was lifted in November.
"We don't expect any negative impact to our domestic or international operations outside of China as a result of this outbreak," said Sparkman, Tyson's spokesman. "Our facilities inside China have been celebrating the Chinese New Year and have been closed recently; however, they will operate in accordance with the government's guidance related to business activity."
Boon Tan , senior director of global trade strategy at the World Trade Center Arkansas in Rogers, said the staff there is monitoring the coronavirus situation. He said it "will affect some of the business traveling that we had planned especially to the Asia region," but added that it's still too early to gauge the effect of the virus on the state's economy.
The federal Centers for Disease Control and Prevention in Atlanta raised its travel alert Monday to level 3, its highest alert level, and expanded the warning against non-essential travel to include all of China rather than just the quarantined regions. A level-3 warning means "the outbreak is of high risk to travelers and no precautions are available to protect against the identified increased risk," the CDC's website states.
The contagious respiratory illness that has sickened thousands in China poses the greatest threat to older adults and people with underlying health conditions, according to the website. The CDC also warns of "limited access to adequate medical care in affected areas," which are mainly the city of Wuhan and the surrounding Hubei province.
Chinese authorities have confirmed more than 100 deaths from the virus.
Information for this article was contributed by Nathan Owens of the Arkansas Democrat-Gazette.
Business on 01/29/2020
Print Headline: 2 state firms curb travel to China
Sponsor Content
Comments