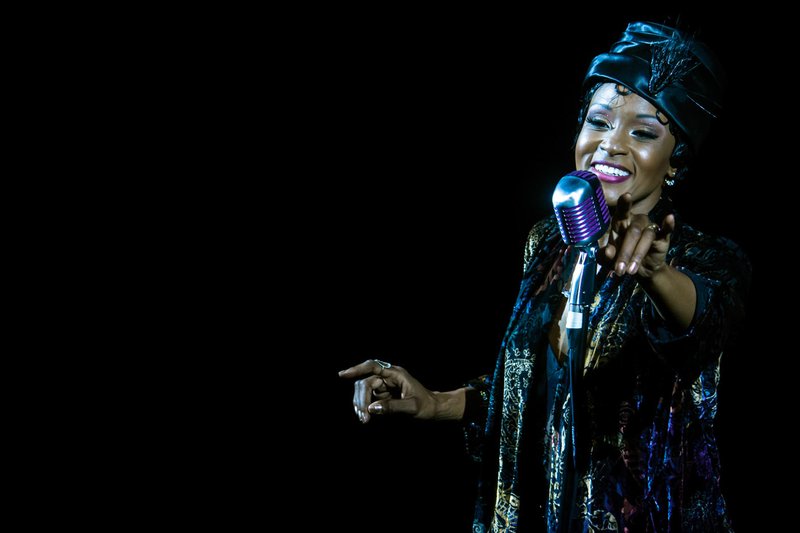 "Listening to people talk about speaking with her or seeing a concert with her -- they say they could have been in the back of the room and still felt as though she was speaking right to them, and that's an important point for me," says Tymisha Harris of playing Josephine Baker on stage. "I hope to reach people in that way and spark a little inspiration." (Photo by Eleonora Briscoe)
"'Surely the day will come when color means nothing more than the skin tone, when religion is seen uniquely as a way to speak one's soul, when birth places have the weight of a throw of the dice, and all men are born free, when understanding breeds love and brotherhood,'" recites actor Tymisha Harris, quoting Josephine Baker. Harris is the star of "Josephine," a biographical play about one of the most famous performers of the Jazz Age. Baker's life stretched far beyond the stage and movie screen, though; it was full of adventure, courage and activism and was an ideal blueprint for a theatrical re-telling of her life. Though Baker reached the pinnacle of her career in Paris, she would return to the United States in the 1950s and successfully push the boundaries for black performers by refusing to perform at segregated clubs and arenas. In 1963, she joined Martin Luther King Jr. for the March on Washington.
"Coming from an entertainer's standpoint, I think her story is one of the most important that we can learn from," says Harris. "Being born at a time when America wasn't too keen on black performers, she couldn't be a huge star here, but she had the guts to go overseas, to try something new, became an international superstar, then came back and tried to uplift people, to inspire them, to try and get rid of the stigma that had plagued our country."
FAQ
'Josephine'
WHEN — 7:30 p.m. Jan. 30
WHERE — Faulkner Performing Arts Center, 453 N. Garland Ave. in Fayetteville
COST — $15-$20
INFO — 575-5387
Director and co-creator Michael Marinaccio (musical director and co-creator Tod Kimbro is credited as the show's playwright) says that he and Harris were looking for the perfect vehicle to showcase Harris' many talents when they landed on the idea of writing a show about Baker.
"[Audiences] are learning so much about her: She was a spy for the French resistance, the first person who successfully demanded that her crowds be integrated, and she was branded a communist," notes Marinaccio. "Then she returned and was the only woman to speak at the March on Washington. Her story is so moving. People realize that she never really got her full due. ... She was fearless and said 'Yes' to everything. She just sort of lived a life that would have been hundreds of lifetimes for most people."
Baker grew up in a low-income neighborhood of St. Louis in the early 1900s. Raised by a single mother, she and her family often struggled financially, and, by the age of 8, Baker was acting as a live-in housekeeper or babysitter for wealthy white families -- a role in which she was often physically abused. She was only a teenager when her talent for performing was discovered. After performing in the chorus for several popular shows, she moved to Paris -- and its integrated arts society -- where her fame skyrocketed.
"Without her, we wouldn't have Beyoncé," says Harris, adding that Baker's legacy "gives [African-American performers] the freedom to be comfortable in our own skin and shine through. It doesn't have to be about the color of our skin anymore."
The co-creators of the show describe it as a "burlesque cabaret dream play," and Harris and Marinaccio say that it covers most of Baker's life -- with Harris as Baker narrating and performing some of Baker's most well-known numbers like the Banana Dance (a gracefully racy, burlesque dance performed in only a skirt made of 16 bananas) and Baker's performance of "Strange Fruit," the hauntingly beautiful dirge about lynchings during the Jim Crow era. It's clear Harris' performance is a crowd pleaser: The show has won a plethora of awards from various Fringe Fests where it's appeared and rave reviews, like the one in the Orlando Sentinel that reads, "To play a woman that fabulous requires one mesmerizing performer. In Tymisha Harris, the engaging, involving 'Josephine' has just that."
"Seeing how the story touches people, and how through the show we're able to transport folks and their thoughts and bring them from tears to laughter back to tears again -- it's awe-inspiring, humbling, weight-bearing," says Harris. "I learn more and more every time I go on stage. We've done it 160 times, and it's still new, every time I go out."
NAN What's Up on 01/26/2020
Print Headline: Defying Racism
Sponsor Content
Comments