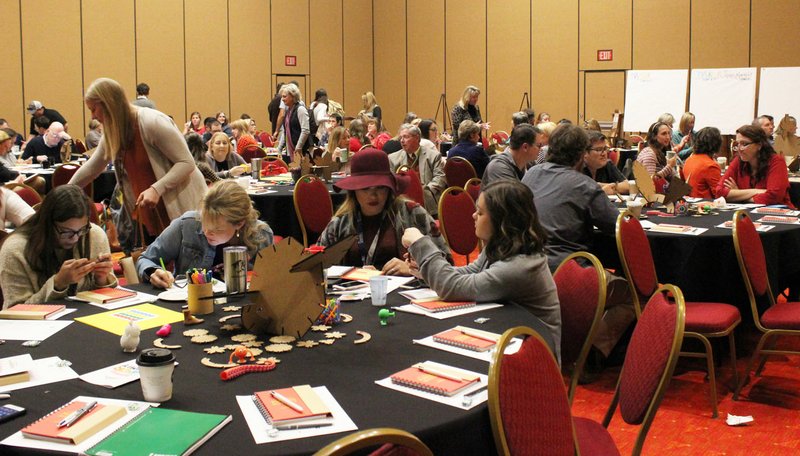 "In a real maker space, it doesn't matter if you're a stay-at-home parent or a Ph.D," says the Amazeum's Joel Gordon. "It's a place where everyone's ideas are valued and everyone has skills to offer." (Courtesy Photo)
On Thursday, the Scott Family Amazeum will host an all-day Maker Summit, a chance for educators, innovators, creatives and industry professionals to come together in what Paul Stolt, marketing manager for the Amazeum, calls a "creative collision." The day will include a keynote speech by Dale Dougherty, creator of Make:Magazine and a founder of the maker movement; "small talks" by Allyson Esposito, the head of a new regional arts organization, Jeff Wasem, principal of Creekside Middle School in Bentonville, and social innovation expert Holly Truitt ; and panels with industry experts with titles like "Creating Maker Clubs," "Creating Your Maker Business" and "Women Supporting Women in the Creative Workforce."
"To bring a diverse group of people together with a common purpose -- that's always exciting," says Stolt. "To us, the maker movement really speaks to the needs of a community -- that's in regards to economic development, educational choice and increased opportunity of quality of life for residents. Makers and the 'maker movement' really drive innovation, and [the goal is] to have those people come together, all looking for solutions, and then to come out of it with maybe something they had never thought of before, coming from a space they didn't expect."
FAQ
Maker Summit
WHEN — 8:30 a.m.-4 p.m. Thursday
WHERE — The Apollo, 308 W. Emma Ave., Springdale. Breakout sessions will be held at different locations; transportation will be provided.
COST — $49
INFO — 696-9280
Joel Gordon, Making and Tinkering manager at the Amazeum, has been a part of the Arkansas Maker Summit since it originated in Little Rock in 2017. When he served on a White House panel formed to develop and support a "Nation of Makers" grassroots initiative under the Obama administration, says Gordon, he and the other panel members were challenged to start a Maker Summit in every state in the country. He says linking these three groups -- educators, makers and industry leaders -- can make a significant difference to a region's economy and quality of life.
"We're already seeing a lot of interesting collisions across the nation," he notes. "Dale Dougherty, our keynote speaker, co-wrote a book with Peter Hirshberg called 'Maker Cities.' The real idea of a maker city is creating a platform and an opportunity for people who are problem solvers and thinkers to look across a wide variety of skill sets and figure out, 'If these are the issues we need to overcome, [then] these are the teams at our disposal and these are the resources we have to solve those problems' ... Being able to connect that talent to industry that's seeking talent in what is really not a platform that industry is used to -- this is a whole new thing for everybody.
"If we get those people in the same room, everybody has a lot to learn. The makers have an opportunity to find mentors who are working in industry who can help to guide them as they develop ideas, and industry has an opportunity to find talent in a big pool that they possibly didn't even know existed. And then the educators are creating these creative, mindful and passionate kids who are developing these skills and understanding that, because of the resources that are available to them, they have every opportunity in the world."
NAN What's Up on 01/24/2020
Print Headline: Making A Mark
Sponsor Content
Comments