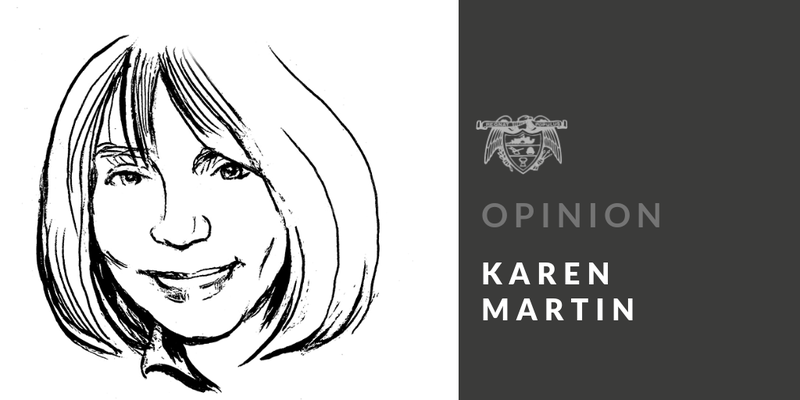 Karen Martin
Enough with reminiscing about the joys/disasters of 2019. Now that the holidays are out of the way, let's move on to the new year. Specifically, let's make travel plans.
The only thing that keeps me from seeing more of the world is the presence of three small, saucy terriers in our household. Now that they're getting older, it's really hard to tear away from them for more than three or four days at a time. That leaves out journeys to, say, Bangkok or Bali or South Africa (although the second trip my husband and I took together 26 years ago was a 10-day jaunt to New Zealand; we still talk about how fabulous it was).
We've got short getaways down to a science. One of our Top 10 destinations is Paris, which we know well enough to be able to make the most out of a four-day visit (well, five days, if you count the overnight flight needed to get there).
Faves are big cities, among them Washington, D.C. and New York where I'm comfortable enough with my whereabouts to answer just about anybody's request for directions; we rotate through neighborhoods and know our way around Soho, Tribeca, Chelsea, the Upper West Side, the Lower East Side, Union Square, and Kips Bay. It's best to stay out of Greenwich Village as it's easy to get turned around there and have trouble finding the way out.
And I know the location of just about every Whole Foods and Trader Joe's in the borough. Gotta keep my strength up.
We go to our hometowns Cleveland and Savannah regularly, and have more than a casual acquaintance with San Francisco, San Diego, Santa Fe, Las Vegas, Vancouver, B.C., and Toronto.
Driving jaunts don't hold much appeal for those of us who fight nausea when reading in a car, but nearby attractions like Crystal Bridges in Bentonville prove enticing three or four times a year, as does the Hot Springs Documentary Film Festival in the fall.
These short trips are possible because there's no downtime during them. I listen, puzzled, to friends who spend out-of-town time sleeping late, lounging over breakfasts, taking naps in the afternoons, and leisurely checking out one or two attractions per day. You can do that at home!
We're up before sunrise to squeeze in as many experiences as possible before calling it quits. I somewhat fondly recall our first visit to London where we walked over 20 miles in one day (not quite by choice; we got lost on the south bank of the Thames and just kept going until we found our way back to our hotel in Earl's Court).
The only drawback with traveling is all the advance planning that's required. It starts with arranging for a dog-sitter. Like many of our fellow dog owners, we don't book flights or hotels until we find out if our sitter is available.
Once dog care has been nailed down, it's necessary to make sure co-workers will be around. Luckily, we're pretty agreeable about such things.
The fun part is searching for decent air fares (using the airlines' websites) and attractively priced hotels (hotels.com rewards its users with a free night after 10 bookings, based on the average prices of the rooms reserved). Curiously, air fares are often comparable to what was paid in the mid-1990s, when not trying to make a reservation at the last minute.
I'd had some bad experiences with Southwest in the past (there was once a long drawn-out battle over making sure TSA Pre-Check--one of the best investments a traveler can make-- showed up on my boarding pass), but we've gotten over our differences. I like that I can change my flights at no extra charge (you pay more only if the new flight is pricier than your original flight) and if you cancel, the full fare can be used for future travel.
I still hate checking in online exactly 24 hours before my flight departs (or risk getting a low boarding number that relegates to a middle seat in the back of the plane) but refuse to pay an extra $25 for earlybird check-in.
Other challenges include figuring out ground transportation (subways and buses are preferred; car rentals are not), coming up with a sort-of itinerary of places to visit (depending on the purpose of the trip), deciding where to eat (my husband's response to the question of "Where do you want to go?" is uniformly "Wherever you want," which is why Whole Foods comes in handy with terrific prepared takeaway foods), and making sure that coffee is instantly available first thing each morning, even if it's the sorta lame version that comes out of the little one-cup pots installed in most hotel rooms).
Packing is not difficult. Long ago I typed out a list of necessities and made copies of it. That list makes sure items like sunglasses, paperwork, cash, a book, or a snack to supplement airline pretzels aren't left behind.
Nobody pays much attention to what you're wearing, so you can wear the same sweater and slacks day after day. Can you remember what your best friend wore when you met for lunch a few days ago? Thought so. She can't remember what you wore either.
Same with shoes--black trainers go with everything, so unless you're going to the opera you can probably get by with one pair. As a dedicated carry-on-baggage traveler, I can get by with a smallish gym bag in which the biggest item is my iPad.
Essentials left behind can likely be replaced--one of the best perks of visiting big cities.
Karen Martin is senior editor of Perspective.
Editorial on 01/19/2020
Print Headline: The many temptations of travel
Sponsor Content
Comments