Fans of Tulsa artist John Hammer might be surprised to learn that the prolific painter has been working as a professional artist for less than a decade. That's because Hammer and his "pop impressionism" -- colorful, playful portraits of pop culture icons, as well as a series of technicolor abstracts -- took the Midwest art world by storm, resulting in a popularity that immediately filled up the artist's dance card with commission requests. But as a newish artist still exploring what heights he's capable of scaling, he's now taking things in a bit of a different direction. His new collection, "Tattered Aesthetics & Peculiar Portrayals" will open at the John Brown University Windgate Art Gallery on Jan. 23.
"[This collection is] more giving notice or highlighting things that are forgotten or used or abandoned," says Hammer of "Tattered Aesthetics." "I've done some farm houses, a church in Tontitown that was demolished except for one tower ... the backgrounds are very sort of abstract and worn down. The whole feeling of the paintings is a sense of abandonment or wear."
FAQ
'Tattered Aesthetics
& Peculiar Portrayals'
WHEN — Jan. 23-Feb. 14; opening reception at 6 p.m. on Jan. 23
WHERE — John Brown University's Windgate Gallery, 2000 W. University St., Siloam Springs
COST — Free
INFO — 524-9500
A second series, "Peculiar Portrayals," shows he hasn't let go of his fascination with faces, though -- he's just changing the perspective.
"I was doing a lot of commission stuff, with the pop impressionism, and I felt like I wasn't painting or drawing for myself," he says. "I'm intrigued by faces, so I thought, 'Let me just sit down and draw for no reason," and it evolved into these geometric, cubic sort of faces. Now I'm turning them into screen prints, lino cuts and sculptures. It shows how you can take one idea and, by rendering it in different ways, in different mediums, it takes on different lives. I'm pretty much focused on those two types of art, which will both be in the show."
"John Hammer's work is a good fit for the JBU Windgate Gallery for several reasons," says Bob Martin, professor of visual arts at JBU. "His work is a great example of high-level professional painting and printmaking from a local, full-time artist. He can speak to our students on what it's like to be a full-time, practicing artist and how to achieve that. He's an excellent draftsman, and it shows in all his work, which is another great example for our students. For the local community, John's artwork is engaging and accessible, with much of it originating from subject matter in our area."
Hammer has been artistic since he was a child -- he was the kind of kid who gets tapped to paint the school mascot in murals around the school -- but concerns about making a living with art steered him toward a career in graphic design for much of his life.
"There's the old adage that 'Nobody makes a living in art,' even though it's a $4 billion industry," he points out. "When you stop and look around you, almost everything in your life is touched by art -- packaging or products, your furniture -- all of it is touched by an artist. It's weird for me that people still put [that adage] out there."
For Hammer, his breakthrough came when he spent an afternoon creating art with his wife and grandchildren.
"It's something that I think a lot of graphic designers dream of doing. I talked about it my whole life -- 'One of these days, I'm going to try and do some "real art".' But I was always afraid of failure and trying to do something new. What triggered it was my wife, painting with my grandkids. Every time they would come over, they would do something creative, and I would just watch and hang out. This time, I said, 'You know what? Give me a paintbrush, and I'll see what I can do.' I painted a flower out on the back patio, and it was like a light bulb went off -- and I've been painting ever since."
"I hope visitors will take away from their gallery visit that the art they have seen is colorful, inventive work by an active artist that engages with his surroundings and is not afraid to experiment with his stylistic approach in order to keep the work fresh," says Martin. "He's not afraid to reinvent himself."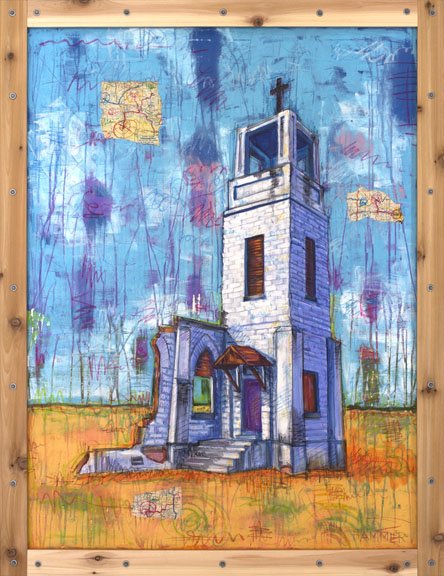 See artist John Hammer's new series, "Tattered Aesthetics & Peculiar Portrayals," at the John Brown University's Windgate Gallery starting Jan. 23. (Courtesy Photos)
NAN What's Up on 01/19/2020