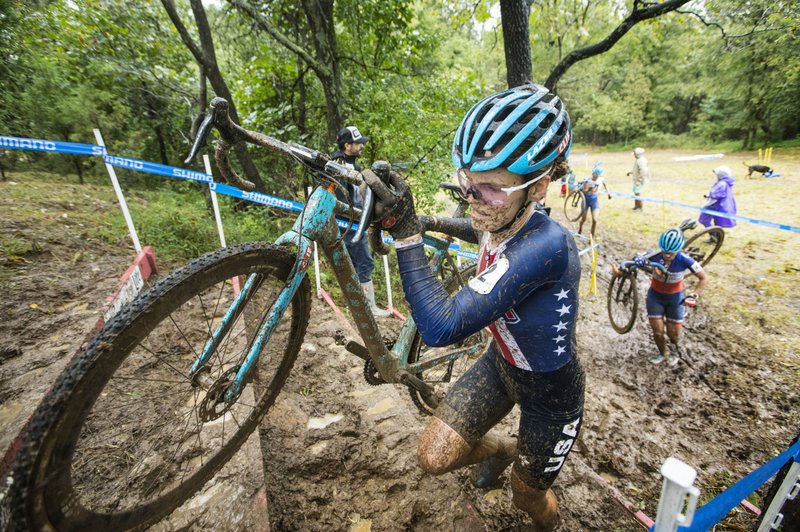 In this Oct. 2019 file photo, Clara Honsinger of the United States climbs a stair obstacle while racing in the UCI Elite Women race during the the Fayettecross cyclocross races at Centennial Park at Millsap Mountain in Fayetteville. Honsinger won the race. (NWA Democrat-Gazette/BEN GOFF)
Fayetteville has been selected to host an international cyclocross competition later this year.
The annual Pan-American Cyclocross Championships will come to the city's Centennial Park at Millsap Mountain on Nov. 7-8, according to a news release.
Northwest Arkansas was chosen as the hosting region by the Pan-American Cycling Confederation, an organization which interacts with 43 countries from North America, South America and the Caribbean.
"Continental championships are exciting and the pinnacle of mid-season racing," said Brook Watts, president of Parkven Productions, the group managing the event. "We're thrilled to be able to host this important weekend of racing and showcase this very special, bike-friendly region."
"FayetteCross 2020" will include opportunities for elite and amateur racers to compete for Pan-Am Champion jerseys as well as co-ed relay races, according to the release. Riders in the event can also earn UCI points, a factor in international rankings and start positions.
In 2022, Fayetteville will also host the Union Cycliste Internationale Cyclocross World Championships.
NW News on 01/17/2020
Print Headline: Fayetteville to host cyclocross championships
Sponsor Content
Comments