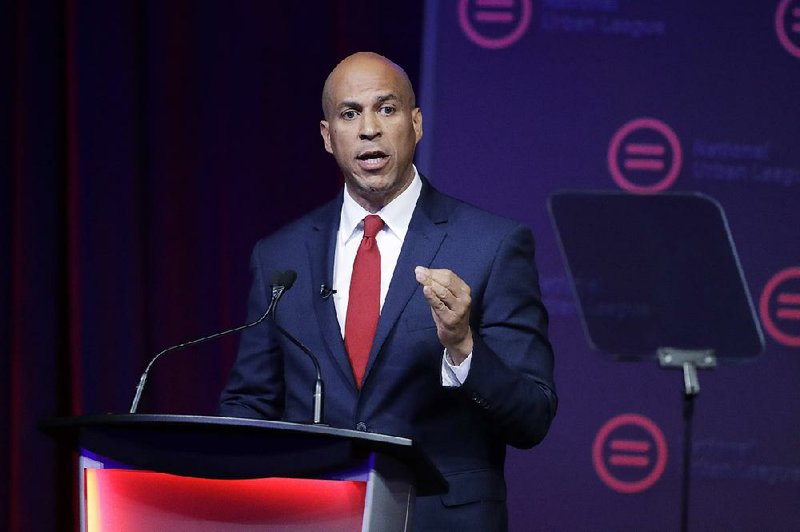 Cory Booker
DES MOINES, Iowa -- Democrat Cory Booker dropped out of the presidential race Monday, ending his campaign after failing to qualify for recent debates and difficulties raising funds in a crowded field of candidates.
His departure now leaves a field that was once the most diverse in history with just one remaining black candidate, former Massachusetts Gov. Deval Patrick, who is struggling to register in the polls amid a late entry into the race.
Booker's exit from the presidential race further narrows the once two dozen-strong field, which now stands at 12 candidates, six of whom have qualified for tonight's debate.
Since launching his campaign last February, Booker, a U.S. senator from New Jersey, struggled to raise the type of money required to support a White House bid. He was at the back of the pack in most surveys and failed to meet the polling requirements needed to participate in tonight's debate. Booker also missed last month's debate and exits the race polling in low single digits in the early primary states and nationwide.
In an email to supporters, Booker said that he "got into this race to win" and that his failure to make the debates prevented him from raising the money required for victory.
Gallery: Cory Booker drops out of the presidential race
[Gallery not loading above? Click here for more photos » arkansasonline.com/114booker/]
"Our campaign has reached the point where we need more money to scale up and continue building a campaign that can win -- money we don't have, and money that is harder to raise because I won't be on the next debate stage and because the urgent business of impeachment will rightly be keeping me in Washington," he said.
For black voters, Booker's exit is more meaningful than just being one less option to consider.
"It means that we don't count," said Helen Moore, a member of the Detroit-based Keep the Vote-No Takeover grassroots organization. "Now, we can't look forward to any black candidate being considered from now until it's time to vote. They are completely out of the picture."
Booker had warned that the looming impeachment trial of President Donald Trump would deal a "big, big blow" to his campaign by pulling him away from Iowa in the final weeks before the Feb. 3 caucuses there. He hinted at the challenges facing his campaign last week in an interview on The Associated Press' Ground Game podcast.
"If we can't raise more money in this final stretch, we won't be able to do the things that other campaigns with more money can do to show presence," he said.
In his email to supporters, Booker pledged to do "everything in my power to elect the eventual Democratic nominee for president," though his campaign says he has no immediate plans to endorse a candidate in the primary.
Booker's seat is up for a vote this year, and he will run for reelection to the Senate. A handful of candidates have launched campaigns for the seat, but Booker is expected to have an easy path to reelection.
Tonight's debate, which is being held on the Des Moines campus of Drake University and will be televised on CNN, marks the first forum with an all-white lineup. Businessman Andrew Yang, an Asian American candidate who appeared in the December debate, failed to hit the polling threshold for tonight's event.
Some of the fiercest clashes could center on Sens. Bernie Sanders of Vermont and Elizabeth Warren of Massachusetts, fellow progressives who until now have largely avoided criticizing each other. But Warren chastised Sanders over the weekend after a report that his campaign instructed volunteers to speak poorly of her to win over undecided voters.
The feuding will likely expand to include nearly every candidate on stage. Sanders has recently stepped up his attacks on former Vice President Joe Biden over his past support of the Iraq War, broad free-trade agreements and entitlement change, among other issues. Sen. Amy Klobuchar of Minnesota, who has had several strong debates, will be looking for another opportunity to highlight her candidacy as she remains mired in the middle of the pack in polling. Billionaire Tom Steyer will have to answer criticism that he's buying his way to the White House.
Information for this article was contributed by Corey Williams, Bill Barrow and Steve Peoples of The Associated Press.
A Section on 01/14/2020
Print Headline: Booker withdraws from presidential race
Sponsor Content
Comments