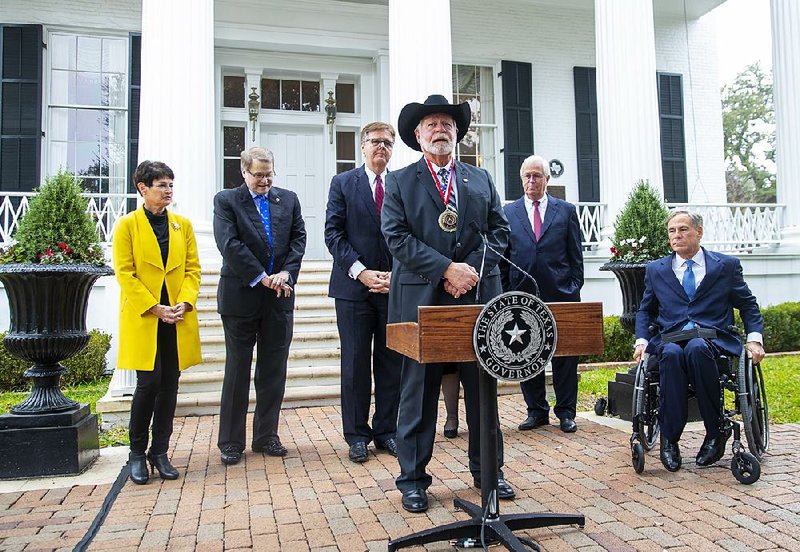 Jack Wilson (front) receives the medal on Monday during a ceremony with Gov. Greg Abbott (right) in Austin, Texas.

Texas honors courage in church attack
AUSTIN, Texas -- Gov. Greg Abbott on Monday gave Texas' highest civilian honor to a 71-year-old man who shot and killed an armed attacker at a church in December.
Abbott gave Jack Wilson the Governor's Medal of Courage during a ceremony in Austin, calling him a hero for stopping the shooter at a church in the Fort Worth-area town of White Settlement.
Wilson, a firearms instructor who trained the West Freeway Church of Christ's volunteer security team, shot the attacker in the head after he opened fire with a shotgun in the church's sanctuary. Wilson's single shot quickly ended the attack in which two parishioners, 64-year-old Anton "Tony" Wallace and 67-year-old Richard White, were killed.
"When events arise, you're going to do one of two things. You're either going to step up and do what's right or walk away. And I'm not one to walk away," Wilson said in accepting the medal at the Texas Governor's Mansion.
Authorities identified the attacker as Keith Thomas Kinnunen, 43, who had a history of criminal and psychological trouble.
8 injured in Colorado stabbing rampage
COLORADO SPRINGS, Colo. -- Eight people were injured in an apparent random stabbing rampage near downtown Colorado Springs, police said Monday.
The suspect, who police said was male but didn't identify, was restrained by some of his victims and arrested before dawn by officers, according to police.
Some of the victims were attacked on streets and some were found injured in the city's America the Beautiful Park over the course of about a half hour, police said. After responding to the stabbing of two people about 1:30 a.m., officers found several more victims on walking trails through the park as they searched for the suspect.
"Everywhere he was going, he was trying to come in contact with people and he was injuring them," Sgt. Shawn Peterson told KKTV.
Police said the victims were taken to hospitals. Five of seven were released from UCHealth Memorial Hospital Central, spokeswoman Cary Vogrin said. She did not comment on the conditions of the others. It's not clear where the eighth victim was taken.
The attacks appeared to "be random and there is no known relationship between the suspect and the victims," according to a police statement.
Ex-Treasury adviser pleads to leaks
NEW YORK -- A former U.S. Treasury Department senior adviser pleaded guilty to conspiracy Monday for leaking confidential banking reports related to special counsel Robert Mueller's Russia probe.
Natalie Edwards, 41, of Quinton, Virginia, entered the plea in Manhattan federal court, where U.S. District Judge Gregory Woods set sentencing for June 9.
Although the conspiracy charge carries a potential penalty of up to five years in prison, Edwards signed a plea deal with prosecutors that recommends zero to six months.
Edwards was a senior adviser at Treasury's Financial Crimes Enforcement Network, also known as FinCEN, when she was arrested in October 2018. She was charged with giving a BuzzFeed journalist reports about wire transfers made by Paul Manafort and other suspects in Mueller's investigation.
Prosecutors said the crime began in October 2017 and continued for a year, with Edwards sending a reporter numerous suspicious activity reports, which are filed with the Treasury Department by banks when they spot questionable transactions.
Edwards also sent or described to the reporter internal government emails or correspondence related to the reports and investigative memos and intelligence assessments published by her agency's intelligence division, prosecutors said.
Oklahoma sues 3 opioid distributors
OKLAHOMA CITY -- Oklahoma Attorney General Mike Hunter on Monday brought a lawsuit against three opioid distributors after winning a lawsuit against one drug manufacturer and reaching pretrial settlements in other cases.
Hunter filed the suit in Cleveland County District Court against Cardinal Health Inc., McKesson Corp. and AmerisourceBergen Corp.
"Oklahoma is in crisis. ... The source of this crisis is the flood of prescription opioids that has inundated Oklahoma for the past two decades," the lawsuit says.
Hunter spokesman Alex Gerszewski said the companies distributed opioids primarily to hospitals and pharmacies and were obligated to have a systems of checks and balances to alert them if there was a sharp, unexplained increase in orders.
In a statement, McKesson said that "any suggestion that [the company] drove demand for opioids in this country reflects a fundamental misunderstanding and mischaracterization of our role as a distributor."
AmerisourceBergen said in a statement that "beyond our reporting and immediate halting of potentially suspicious orders, we refuse service to customers we deem as a diversion risk."
Cardinal Health did not immediately respond to a request for comment.
-- Compiled by Democrat-Gazette staff from wire reports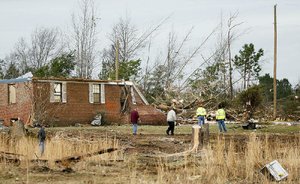 Photo by AP/The Tuscaloosa News/Gary Cosby Jr.
Volunteers help Monday in clearing debris and downed trees from an area near Carrollton, Ala., that was hit by a tornado over the weekend.

A Section on 01/14/2020
Print Headline: 8 injured in Colorado stabbing rampage Texas honors courage in church attack Ex-Treasury adviser pleads to leaks Oklahoma sues 3 opioid distributors
Sponsor Content
Comments