A member of Kenya's security forces walks past a police post that was damaged in Monday's attack by al-Shabab extremists in Kamuthe.
3 Kenyans killed in Al-Shabab attack
NAIROBI, Kenya -- Al-Shabab extremists killed three people in an assault early Monday in eastern Kenya, their fifth attack in two weeks, police said.
The militants from neighboring Somalia attacked Kamuthe town in Garissa county at 2 a.m., setting fire to a police post and destroying a telecommunication mast, police said in a report seen by The Associated Press.
Three non-Muslim teachers were killed and a Muslim one was abducted, the report said. Another teacher was wounded. The attackers spared the life of a female nurse because of her gender, it added.
Al-Shabab claimed responsibility for the attack in a statement posted Monday on its official website, Shahada.
The extremists have vowed retribution on Kenya for sending troops to Somalia since 2011 to fight them. The group has carried out numerous attacks on Kenya, killing hundreds.
Earlier this month, the al-Qaida-linked group attacked a military base used by Kenyan and U.S. forces, killing three Americans and destroying aircraft and other machinery.
Assange defense demands more time
LONDON -- WikiLeaks founder Julian Assange made a brief court appearance Monday in his bid to prevent extradition to the United States to face serious espionage charges.
He and his lawyers argued they weren't being given enough time to meet to plan their battle against U.S. prosecutors seeking to put him on trial for WikiLeaks' publication of hundreds of thousands of confidential documents.
The 48-year-old was brought to court from Belmarsh Prison on the outskirts of London. He saluted the public gallery, which was packed with ardent supporters including the musician MIA, when he entered the courtroom. He later raised his right fist in defiance when he was taken to a holding cell to meet with lawyer Gareth Peirce.
Peirce said prison officials are making it extremely difficult for her to meet with Assange.
"We have pushed Belmarsh in every way -- it is a breach of a defendant's rights," she said.
Assange refrained from making political statements. He confirmed his name and date of birth, and at one point said he didn't understand all the proceedings against him during the brief hearing at Westminster Magistrates' Court.
He faces 18 charges in the U.S., including conspiring to hack into a Pentagon computer. He has denied wrongdoing, claiming he was acting as a journalist entitled to First Amendment protection.
A five-day extradition hearing is scheduled for late February. Assange's legal team has tried to delay the hearing so there is more time to prepare, but these requests have been denied.
137 children rescued from traffickers
Authorities in Ivory Coast rescued 137 children during a two-day raid on human traffickers as the world's top cocoa producer seeks to root out a problem that is drawing increased scrutiny.
Police arrested 12 suspected traffickers and took in six women "at risk" during raids Friday and Saturday in the southeastern town of Aboisso, Yves Zogbo Junior, a spokesman for the Minister of Security, said Monday. The operation was funded by the National Committee for Monitoring of Actions to Combat Child Trafficking, Exploitation and Labor, which is led by Ivory Coast first lady Dominique Ouattara.
Cocoa-producing nations in West Africa have come under increased pressure to clean up the industry, with more than 2.1 million children working in plantations in Ivory Coast and neighboring Ghana, according to Cocoa Barometer 2018, published by several nongovernmental organizations including Oxfam and Voice Network. Ivory Coast approved $129 million in funds in 2020 to combat the problem.
Last year, two U.S. senators asked customs officials to block Ivory Coast cocoa imports unless the shipments can be certified as free of child labor. An investigation into the matter started in October.
French strike delays clergy abuse trial
LYON, France -- A former French priest accused of sexually abusing about 75 Boy Scouts went on trial Monday, but the proceedings were delayed for at least a day because of a strike by lawyers.
The case is France's worst clergy abuse drama to reach court so far, and its repercussions reached all the way to the Vatican.
"I have heard the suffering of these people, which I'm guilty of causing. I hope that this trial can unfold as quickly as possible," Bernard Preynat told the court after the judge announced the trial would be delayed until today.
Preynat admitted in the 1990s to abusing boys, but was only removed from the priesthood last year. The church defrocked him in July, after French Cardinal Philippe Barbarin was convicted of covering up Preynat's actions.
Several other church officials were also accused of failing to alert police or prosecutors, including a senior Vatican official, Cardinal Luis Ladaria. The Vatican shielded Ladaria from trial, invoking his immunity as an official of a sovereign state.
-- Compiled by Democrat-Gazette staff from wire reports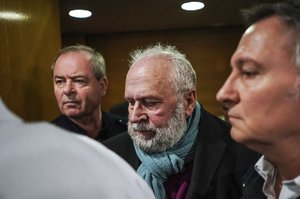 Photo by AP/Laurent Cipriani
Bernard Preynat (center), a former French priest, arrives Monday at the courthouse in Lyon.

A Section on 01/14/2020
Print Headline: 3 Kenyans killed in Al-Shabab attack Assange defense demands more time French strike delays clergy abuse trial 137 children rescued from traffickers
Sponsor Content
Comments