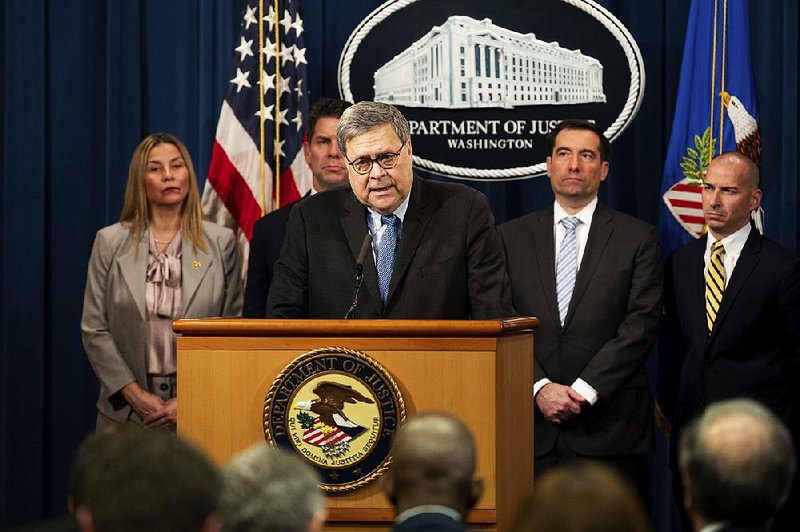 Attorney General William Barr says Monday that the Justice Department concluded the expelled trainees' conduct did not meet the standards for federal prosecution. More photos at arkansasonline.com/114shooting/.
WASHINGTON -- The U.S. sent home 21 Saudi military students after an investigation into a deadly shooting by one of their fellow trainees last month at the Pensacola Naval Air Station, an attack that Attorney General William Barr said was an act of terrorism driven by some of the same motivations of the Sept. 11, 2001, plot.
The trainees who were removed had jihadi or anti-American sentiments on social media pages or had "contact with child pornography," including in internet chat rooms, officials said. None are accused of having had advance knowledge of the shooting or helping the 21-year-old gunman carry it out.
The Justice Department reviewed whether any of the trainees should face charges, but concluded that the conduct did not meet the standards for federal prosecution, Barr said.
The Dec. 6 shooting at the base in Pensacola in which Saudi Air Force officer Mohammed Alshamrani killed three U.S. sailors and injured eight people focused public attention on the presence of foreign students in American military training programs and exposed shortcomings in the screening of cadets. Monday's resolution singled out misconduct by individual students but also allows for continued training of pilots from Saudi Arabia, an important ally in the Middle East.
"The Kingdom of Saudi Arabia gave complete and total support for our counter-terrorism investigation, and ordered all Saudi trainees to fully cooperate," Barr said during a news conference. "This assistance was critical to helping the FBI determine whether anyone assisted the shooter in the attack."
[Video not showing up above? Click here to watch » https://www.youtube.com/watch?v=n5-kFgkcAJY]
Barr said the kingdom has agreed to review the conduct of all 21 to see if they should face military discipline and to send back anyone the U.S. later determines should face charges.
FBI Deputy Director David Bowdich said that during the attack, Alshamrani fired shots at pictures of President Donald Trump, and witnesses said he made statements critical of American military actions overseas. Bowdich said that while Alshamrani did not seem to be inspired by one specific terrorist group, he harbored anti-American and anti-Israel views and felt "violence was necessary." Bowdich said the gunman's social media comments echoed those of Anwar al-Awlaki, a radical Yemeni American cleric tied to the terror group al-Qaida who was killed in a drone strike in 2011.
Monday's announcement offered the most definitive account of the gunman's actions and thinking. Bowdich said investigators had interviewed more than 500 people -- including witnesses, base personnel, and friends and classmates of the shooter -- and collected more than 42 terabytes of digital information.
But investigators have been stymied in trying to access two key pieces of evidence -- the gunman's iPhones. Standing before giant photographs of two severely damaged devices, the attorney general publicly urged Apple to act.
"So far Apple has not given us any substantive assistance," Barr said, though aides later clarified that Apple had, in fact, given investigators access to cloud data linked to the gunman. "This situation perfectly illustrates why it is critical that investigators be able to get access to digital evidence once they have obtained a court order."
Barr did not say whether the Justice Department would seek a court order to force Apple's compliance. The department filed legal papers in a similar case in 2016, but the issue was never resolved by a higher court.
Gallery: U.S. sending home Saudi cadets after shooting
[Gallery not loading above? Click here for more photos » arkansasonline.com/114shooting/]
Of the 21 trainees sent home, 17 had social media containing jihadi or anti-American content. Fifteen had some kind of contact with child pornography. One of the trainees had possessed more than 100 images of child porn and had searched for the material, but the U.S. attorney's office determined there wasn't enough evidence to warrant federal prosecution.
In a statement, the Saudi embassy called the shooter a "disturbed and radicalized" individual who acted alone and who does not represent the values of Saudi Arabia or the hundreds of thousands of Saudis who have lived and studied in the U.S. over the decades. It said it had cooperated with the investigation and would continue to do so.
"It is worth noting that the military training that the US provides to Saudi military personnel has enabled Saudi soldiers, pilots and sailors to fight along their American counterparts and against our common foes," the statement said.
Information for this article was contributed by Eric Tucker and Michael Balsamo of The Associated Press; and by Devlin Barrett and Matt Zapotosky of The Washington Post.
A Section on 01/14/2020
Print Headline: 21 Saudi military trainees booted out
Sponsor Content
Comments