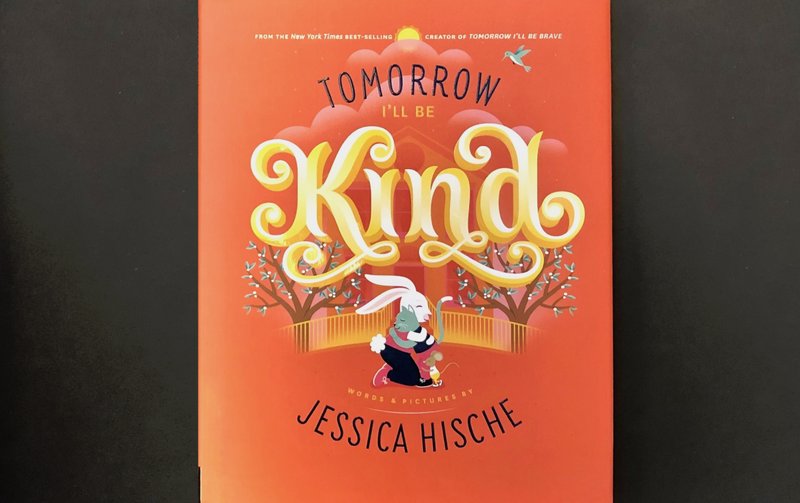 Tomorrow I'll Be Kind by Jessica Hische (Penguin Workshop, Tuesday Jan. 14), ages 3 to 7, 36 pages, $17.99 hardcover, $9.99 board book. (Arkansas Democrat-Gazette/Celia Storey)
TITLE: Tomorrow I'll Be Kind
BY: Jessica Hische (Penguin Workshop, Tuesday), ages 3 to 7, 36 pages, $17.99 hardcover, $9.99 board book
STORY: As in Hische's book Tomorrow I'll Be Brave, lettering is the graphic star of this harmoniously colored book of positive affirmations, good for bedtime. Rhyming couplets promise virtuous behavior, with salient adjectives writ large, with flourishes.
"Tomorrow I'll be honest. To myself I will be true and prove that you can trust in me through all I say and do."
"Tomorrow I'll be patient. Your turn — I'll wait for you. And when I'm stuck, I won't give up. I'll take time to see it through."
Illustrations show little scenarios that kids will enjoy deciphering. We have a rabbit family wearing human clothing — apparent parents and the rabbit child, with a dead grandfather bunny in a photograph. The rabbit child's best friends, a cat and a mouse, also dress like people, as do random other critters, mole, lizard, fox, bear, alpaca ... ants ...
There are happy smiles and helpful deeds, a broken window, suppressed grumpiness in line at the slide, careful gentleness, a brave apology, feeding the sick, shared sorrow, saying thank you ... all the good ways little monsters need to hurry up and learn to be so we can live together in peace.
Read to Me is a weekly review of short books.
Style on 01/13/2020
Print Headline: READ TO ME
Sponsor Content
Comments