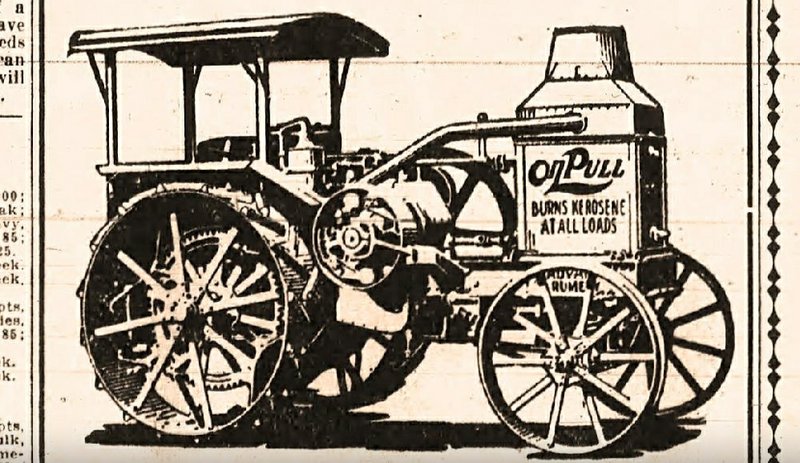 Excerpt from a Joe Lyons Machinery Co. ad in the Arkansas Democrat touting the Jan. 12-16, 1920, Tractor School. (Arkansas Democrat-Gazette)
Thrift Week was canceled due to lack of funds.
Baking powders vied for the Little Rock market.
A strong odor of spilled liquor pervaded City Hall.
But Tractor School provided the juiciest stories in the Arkansas Gazette and Arkansas Democrat 100 years ago this week.
Hmm. "Wettest" might be a better adjective than "juiciest."
The school was a five-day farm implement show planned by the Little Rock Bureau of Commerce, the state Profitable Farming Bureau, Rotary and Lions and ladies clubs, and hosted by Joe Lyons Machinery Co., 112-120 N. Louisiana St. Manufacturers' reps displayed all manner of farm gear for sale. More than 25 "implement experts" gave speeches, and there were supposed to be daily demonstrations of plows and tractors.
The program reminds me of the modern Arkansas Flower & Garden Show. And an ad in the Jan. 10 Democrat promised that ladies would find the demonstrations interesting. But unlike the flower show, this Jan. 12-16, 1920, expo was done in by mud.
The original plan was for an outdoor event with trucks to shuttle visitors to a field at the end of the Ninth Street streetcar line, in the Picron area near the site of the war's brief-lived picric acid plant. Organizer H.M. Cottrell told the Democrat that the field was sandy, drained quickly and would be ready for plowing 12 hours after an average rain.
Each participating manufacturer was allotted a section of field. Gov. Charles Brough would fire a gun in the air at 11 a.m. Jan. 12, and all the tractors and horse-drawn implements entered in that day's school would commence plowing or whatnot until 5 p.m.
First would come 30-minute stints by these items, in order: tractor disc harrows, stalk cutters, tractor plows. A break for lunch, and then, in order, behold the horse-drawn walking plows, horse-drawn sulky plows, horse-drawn gang plows.
At 2 p.m., an expert in some field would give a lecture in the field, followed by harrows of all kinds for 20 minutes and then 20 minutes of pulverizers of all kinds, planters of cotton and corn for one row, planters of cotton and corn for two rows, and special planters. Stop for another lecture, and then, walking cultivators from 4:20 to 4:40 p.m. Time was allotted for special lectures as needed on orchard implements, "middle busters" and sweet potato machinery.
Some of the lecture topics: How to Get the Most Out of Each Kind of Harrow; How to Select a Plow; Why Should an Arkansas Farmer Use a Tractor?
The Gazette quoted organizer George L. Turner, who explained that because farm wages were rising "two and three times as great as before the world war," the "only way out for the farmer" was to invest in labor-saving devices.
That is the object of this school, to let the farmer see exactly what tractors and large horse-drawn implements are capable of doing, to illustrate the uses of these machines and to show how to overcome any difficulties that may arise in their use.
Turner took it as a hopeful sign that Arkansas farmers did not demand cheap farm implements.
Gallery: Tractor School in 1920
As rain fell and fell, the sand failed in its duty to drain and the school moved indoors. White students registered at Hotel Marion; black students registered at the Mosaic Temple at Ninth Street and Broadway. Instead of shooting, Brough simply declared the school open.
Field demos became loud displays inside Liberty Hall, a box of a venue at Second and Spring streets. Implements and machines were lined up around the walls and one by one hauled into the center of the room to be "put through their paces," as the Gazette put it.
Wednesday's conditions improved, and so at noon, a parade of 20 tractors drawing 26 implements left Liberty Hall for Picron. This slow procession was the first farm implement parade in Arkansas. When the leading machine reached Main and Second streets, the last one was just leaving Liberty Hall, three blocks away.
A truck stalled, and "the big Oliver Tractor" hitched onto that truck and a wagon trailer loaded with implements. The tractor proved its might by catching up with the parade before College Avenue.
Field displays also were possible Thursday morning — briefly. Then the rain resumed. School let out a day early.
LOOSE ENDS
About Thrift Week: As the Democrat explained Jan. 16, it was to be a national observance to inspire everyone "to appreciate the service rendered by banking institutions," to wit:
To combat an American habit of extravagance; to teach sound economic doctrines bearing especially on present day unsettled conditions; to help men to think straight and act wisely about their money matters and to develop character.
Beginning on the anniversary of Benjamin Franklin's birth, communities were to sponsor daily events with themes like "Share With Others Day." But Little Rock's Thrift Week committee was unable to raise funds for all that (and since this week was meant to honor banking I have to wonder who it was they forgot to solicit). Instead, there were lectures at the YMCA. Whee.
Meanwhile, with all the tractor sales and marketing going on downtown, the F.B. Chamberlain Co. of St. Louis, founded in 1847, was unable to find showroom space in a store and so set up a temporary sales shop at the Merchants Hotel. One Al Braham and his sales force of 20 ladies would be calling on all the housewives of Little Rock to explain the merits of Jack Frost Baking Powder and distribute "attractive cook books."
Calumet Baking Powder Co. of Chicago took out sizable ads in the Gazette and Democrat advising women that they did not need to change brands to get a "cook book." Simply write to Calumet, and a "beautifully illustrated cook book, in colors," would be sent right out.
Calumet routinely advertised in both papers, but these were nicer ads. My favorite among them shows a woman with a tiny waist. She's posed with both arms up to ward off disembodied hands holding cans of "Imitation Baking Powder," "Cheaper Baking Powder" and "Just as Good Baking Powder."
And finally, the source of the aroma of booze that permeated City Hall on the morning of Jan. 16 was a shipping trunk soaked with 3 gallons of reddish liquor that seeped from a cracked 5-gallon demijohn. Bootleggers tried to slip this massive jug past the postal inspector by shipping it by train in a traveling-salesman-style bag. Those baggage handlers were just too rough.
The Democrat noted that although the inside of the trunk was clearly labeled "The property of the American Tobacco Company," where it came from remained a mystery as no one had shown up to claim it.
Email:
Style on 01/13/2020
Print Headline: Big implement expo mired in mud
Sponsor Content
Comments