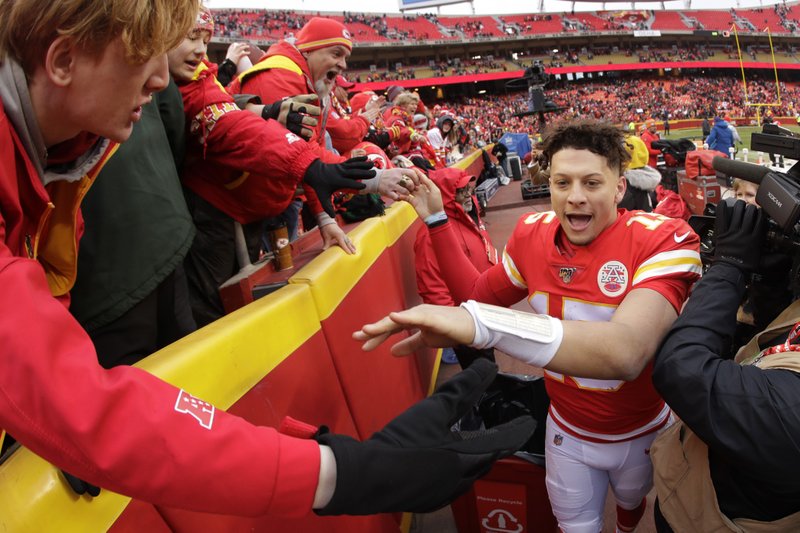 Kansas City Chiefs quarterback Patrick Mahomes (15) celebrates with fans after an NFL football game against the Los Angeles Chargers, Sunday, Dec. 29, 2019, in Kansas City, Mo. (AP Photo/Charlie Riedel)
KANSAS CITY, Mo. -- The Kansas City Chiefs knew they were in the market for a quarterback a couple of years ago and, with several first-round talents available, they invited Clemson's Deshaun Watson and Texas Tech's Patrick Mahomes for visits.
Both were put through their paces.
They scribbled plays on white boards to test their recall and dissected game film to test their mental aptitude and awareness. They went onto the practice field and ran a series of drills to test their athleticism, then were asked to throw every pass in the book, from deft screen passes to intricate timing routes to deep, downfield heaves.
The Chiefs liked everything Watson did over those couple of days.
They loved what Mahomes did.
So the Chiefs traded up to select Mahomes with the 10th overall pick. The Houston Texans jumped on Watson two picks later. And the start of their professional careers have continued to run side by side, with Mahomes leading the Chiefs to back-to-back AFC West titles and the brink of a Super Bowl appearance last season, and Watson guiding the Texans to consecutive playoff appearances for the third time in franchise history.
Now, their parallel paths will intersect when the Texans visit the Chiefs in the divisional round of the playoffs today.
"How great is that for the National Football League, first of all, these good young quarterbacks?" Chiefs Coach Andy Reid said. "We actually brought Deshaun up here, too, before the draft and had a nice visit with him. We have a ton of respect for him. He's a great player, he was great in college, he is great now. He's going to do nothing but get better as time goes on."
Watson was especially impressive last week, leading the Texans back from a 16-0 second-half deficit to beat the Bills 22-19 in overtime. He threw for a touchdown and ran for another in a performance reminiscent of his Week 6 game against the Chiefs, when Watson threw for a score and ran for two more in a 31-24 victory at Arrowhead Stadium.
"When you have guys like Deshaun and Patrick, you don't want to over-coach them," said Texans Coach Bill O'Brien, who also had both quarterbacks in Houston for pre-draft visits in 2017. "They have such great instincts. They see the field very well. With Deshaun, you might be able to point out a few things, but his guy has a huge heart and he's doing what is best for the team and trying to win games, and you don't want to over-coach that."
That win was especially sweet for Watson, who has a bit of a chip on his shoulder about Kansas City choosing Mahomes over him. And the win should give the underdog Texans a boost of confidence knowing they have beaten the Chiefs and their star QB once this season.
"It's cool to see a fellow friend of mine and a guy that's playing the same position as me have so much success and see it in live action. So it's definitely dope," Watson said. "It's going to be a good experience. Like you said, we played earlier this year. It was a good game, went back and forth. But yeah, it's just two good teams going head to head and we're just trying to be the best we can for our team and help our team win."
Trying to figure out what has changed since that October matchup -- and how to counter it -- could be one of the biggest story lines today.
Sports on 01/12/2020
Print Headline: Watson, Mahomes highlight AFC tilt
Sponsor Content
Comments