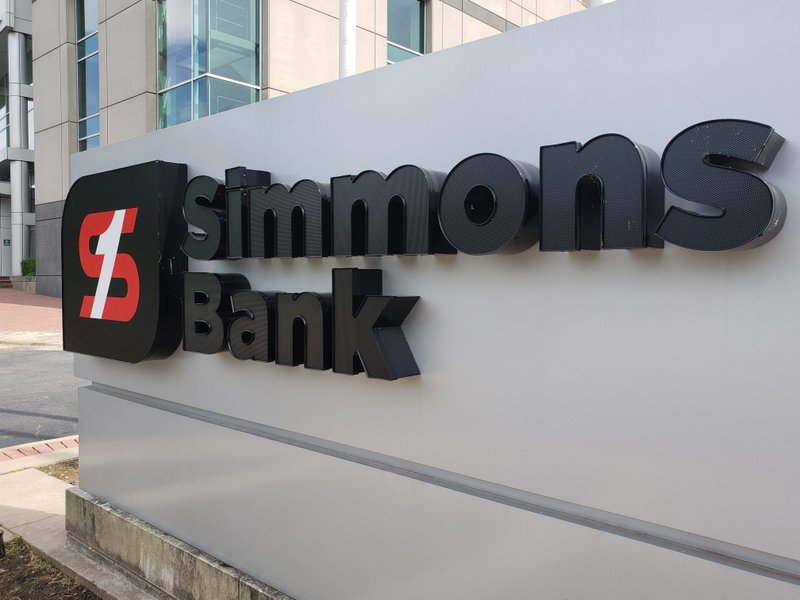 FILE - Simmons Bank in downtown Little Rock is shown in this 2019 file photo. - Photo by Gavin Lesnick
Industry consolidation dominated the Arkansas banking landscape in 2019, a trend that is likely to continue as rural community banks face succession and investment challenges that may be solved only by selling to larger institutions.
Six Arkansas banks -- all community banks operating in largely rural areas -- were sold in 2019. The acquisitions involved banks in Dardanelle, DeWitt, Marked Tree, Mountain Home, Prescott and Wynne.
The average assets of the purchased banks were $197 million, according to an analysis by DD&F Consulting Group, the Little Rock firm that advises financial institutions across the nation.
"Unfortunately, we believe this trend will continue as smaller banks are faced with rising regulatory costs, slowing loan demand and probably the most compelling reason -- no succession," said Randy Dennis, president of DD&F. "This problem is further heightened by the challenges of finding qualified replacements for executives willing to move to rural markets."
State Bank Commissioner Candace Franks agrees that the lack of younger executives prepared to step into leadership roles, especially in family-owned banks, is clearly driving acquisition of community banks in rural Arkansas.
"Often, in small community banks in rural areas, we see banks that are family owned and the children or grandchildren have moved elsewhere and they don't come back to those communities to operate the institution," Franks said. "When the current generation of leaders are looking to retire, they need to look for other partners to bring in and run the institution."
Consolidation is part of a continued national trend that has been building over the past 15 years. Statistics show that the number of insured banking institutions in the U.S. has declined more than 63% since 1992.
[INTERACTIVE: Search and sort Arkansas banks' quarterly data » arkansasonline.com/112banks]
Increasing costs is another issue driving consolidation in Arkansas.
Smaller community banks lack the resources to keep up with regulatory changes and the financial demands that result from technology updates.
"Regulatory costs are an issue, but they are not as much of a burden as putting in new information systems or making technological updates for compliance and to serve customers," Franks said. "Those things are expensive."
The largest acquisition last year involving an Arkansas-based bank was Simmons First National Corp.'s $434 million purchase of Landrum Co. of Missouri. Pine Bluff-based Simmons acquired $3.3 billion in total assets in a stock swap that included Landmark Bank's 39 branches in Missouri, Oklahoma and Texas.
Simmons estimates it will complete integration of the purchase in mid-February, according to Steve Massanelli, executive vice president and chief administrative officer at Simmons.
After 10 acquisitions in the past five years, Simmons is taking a step back to assess operations.
"Following several years of significant M&A [mergers & acquisitions] activity, we're viewing 2020 as an adjustment period where we are primarily concentrated on digesting acquired businesses and evaluating non-core markets and business lines," Massanelli said. "As a result, M&A will not be as heavy a focus in 2020."
That said, Simmons is not entirely on the sidelines as an observer. "We would still have interest in an opportunistic transaction if an attractive one arose," Massanelli said. "Until then, we believe we have sufficient scale in our key markets."
In Conway, Home BancShares is on the prowl. Chairman John Allison indicated a transaction could come as soon as the next few months.
"We've evaluated several opportunities that have been brought to us in the last six months," Allison said. "There is a strong chance that [we] will be back in the M&A business in 2020 or 2021. In fact, there is one intriguing opportunity that we are considering" in the first quarter, which ends March 31.
Home , BancShares which operates Centennial Bank branches across Arkansas, repurchased $75.4 million of common stock in 2019. The company will continue to buy back stock in 2020, Allison said.
The number of acquisitions that took place in Arkansas hasn't changed much over the past few years, but larger banks switched ownership in 2019 compared with previous years.
The six community banks sold in Arkansas represented a doubling in asset size from the five in-state banking acquisitions that occurred in 2017, according to the DD&F analysis.
In 2017, the average bank sold had assets of $83.1 million, excluding the $2.2 billion of assets involved in the Bear State Bank sale to Arvest Bank. The cash transaction, approximately $391 million, was the largest sale price ever between two Arkansas-based banks.
Last year, the biggest in-state acquisition was the $80.5 million cash purchase of Mountain Home's Integrity First Bank by Stuttgart's Farmers & Merchants Bank.
First Financial Bank of El Dorado acquired First National Bank of Wynne, and Chambers Bank of Danville purchased neighboring Dardanelle's River Town Bank.
Armor Bank of Forrest City acquired First Delta Bank of Marked Tree and Mountain View's Stone Bancshares Inc. purchased DBT Financial Corp., the holding company of DeWitt Bank & Trust. Magnolia Banking Corp. expanded across south Arkansas by acquiring the Bank of Prescott.
This year will likely see more deals similar to the Farmers Bank & Trust and Chambers Bank acquisitions, where nearby larger banks gobbled up smaller community banks operating in the same region.
"We're likely going to see banks operating in real small communities sell to larger regional banks in Arkansas so they can continue to operate in the same community," Commissioner Franks said.
Looking ahead, with state banking analysts predicting consolidation will continue, new purchasers may become involved, according to Dennis.
"Tracking a national trend, we believe that some of the buyers of banks in 2020 will likely be credit unions," Dennis said. "In 2019, credit unions across the country announced 16 deals to buy banks, doubling the totals for 2018. Although not as simple as selling to a bank, there are certainly qualified, well-run credit union buyers, like Arkansas Federal, in and around Arkansas that will approach our bankers."
Outside the traditional banking sector, the Bank On Arkansas+ coalition picked up momentum. The City of Little Rock signed an agreement giving its employees access to Bank On services. The coalition provides debit cards to individuals who either can't afford or are reluctant to use traditional checking accounts.
Since launching in 2018, the coalition has grown to 60 partners, including 10 financial institutions across Arkansas that offer certified Bank On accounts. Almost 4,000 certified accounts have been opened.
SundayMonday Business on 01/12/2020
Print Headline: State banks' consolidations marked 2019
Sponsor Content
Comments