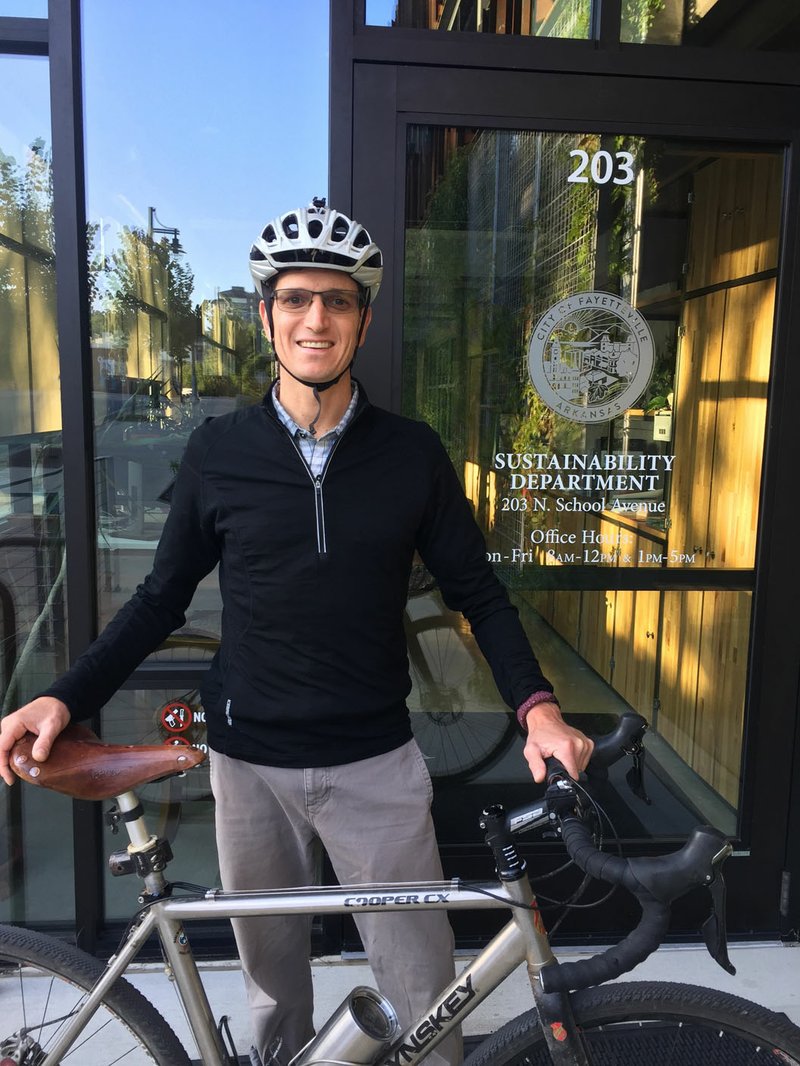 Courtesy Photo "I believe the Cultural Arts Corridor is going to add amazing value to downtown and showcase Fayetteville's commitment to sustainability and the environment," says Peter Nierengarten.
As the director of sustainability and parking with the city of Fayetteville, Peter Nierengarten is the city point person for the Cultural Arts Corridor. In his position, he'll have a front row seat for a project that will change the landscape of 50 acres of Fayetteville from Dickson to Prairie streets.
Q: Can you tell us a little bit about your background and the path that led you to your current job?
A: I have spent most of my professional career in two positions: nine years with the Portland Water Bureau in Portland, Ore., working as a project engineer, energy manager and sustainability advocate; and then the past seven-and-a-half years with the city of Fayetteville as sustainability/environmental director [where I] work on carbon emission reduction, energy management, waste reduction, smart parking
As a kid, growing up in Arkadelphia, I was an avid aluminum can recycler. I would stomp and save cans in my parents' shed and then haul them to the local scrap yard on my bicycle to get paid. I biked to school and all over Arkadelphia regularly during my middle school years -- for me biking was transportation and freedom before I was old enough to drive. Growing up in southern Arkansas I loved all kinds of outdoor activities besides bicycling: hiking, swimming, fishing and hunting. Later, when looking at colleges and possible degree paths, I knew that I wanted to work in an environmental field. Civil engineering (with a focus in environmental engineering) allowed me to combine my math and science skills with my love of the environment. In 2003, I used my civil engineering degree to get a job in Portland, where I was immediately immersed in sustainability -- local foods, bicycle commuting (which I re-discovered after a 12-year break), clean energy, composting, water efficiency, etc., were all accessible and easy to learn about in Portland. I was even fortunate to get to work a solar project and several energy efficiency projects with the Portland Water Bureau. I used the knowledge and experience that I gained in Portland to land the sustainability director position with the city of Fayetteville in 2012.
Q: What do you love about your current job? What are the best parts, the highlights, what makes you excited to come into work?
A: I love the variety and the complexity of the work. No two days are the same, and there is always a new challenge.
Q: What sets Fayetteville apart from other college cities of its size?
A: A lot: Our scenic and natural beauty -- mountains, trails, urban forest, clear steams and four distinct seasons and our funky culture with a unique mix of small-town Southern charm and progressive values.
Q: What do you think the Cultural Corridor will add to Fayetteville? How do you think/hope/imagine the Dickson Street area might evolve as a result of it?
A: I believe the Cultural Arts Corridor is going to add amazing value to downtown and showcase Fayetteville's commitment to sustainability and the environment. The Fay Jones Woods is going to be an exciting woodland experience adjacent to downtown; it will create access to the native woodland and beautiful Tanglewood Branch Creek and will link the expanding Fayetteville Public Library with the Razorback Greenway. It will improve the health of the urban forest and improve the water quality in Tanglewood Branch. The streetscape improvements along West Avenue and the trail improvement to the Razorback Greenway will help connect the UA School of Art and the Fayetteville Public Library with Nadine Baum Studios, the Community Creative Center, the Walton Arts Center, TheatreSquared and Dickson Street. The Civic Plaza will be located at Dickson Street and West Avenue, where the large parking lot across from the Walton Arts Center currently sits. The Civic Plaza design proposes to transform the existing asphalt and inefficient car storage on the most valuable land in Fayetteville into a vibrant civic space that will foster community gathering, improve pedestrian and bicycle circulation, and support flexible programming of performances, events and arts. Sustainable approaches to the landscape, water infiltration and stormwater storage are incorporated into the design. Lots more info on the project is on our website: fayetteville-ar.gov/3749/Cultural-Arts-Corridor.
NAN What's Up on 01/12/2020
Print Headline: Peter Nierengarten
Sponsor Content
Comments