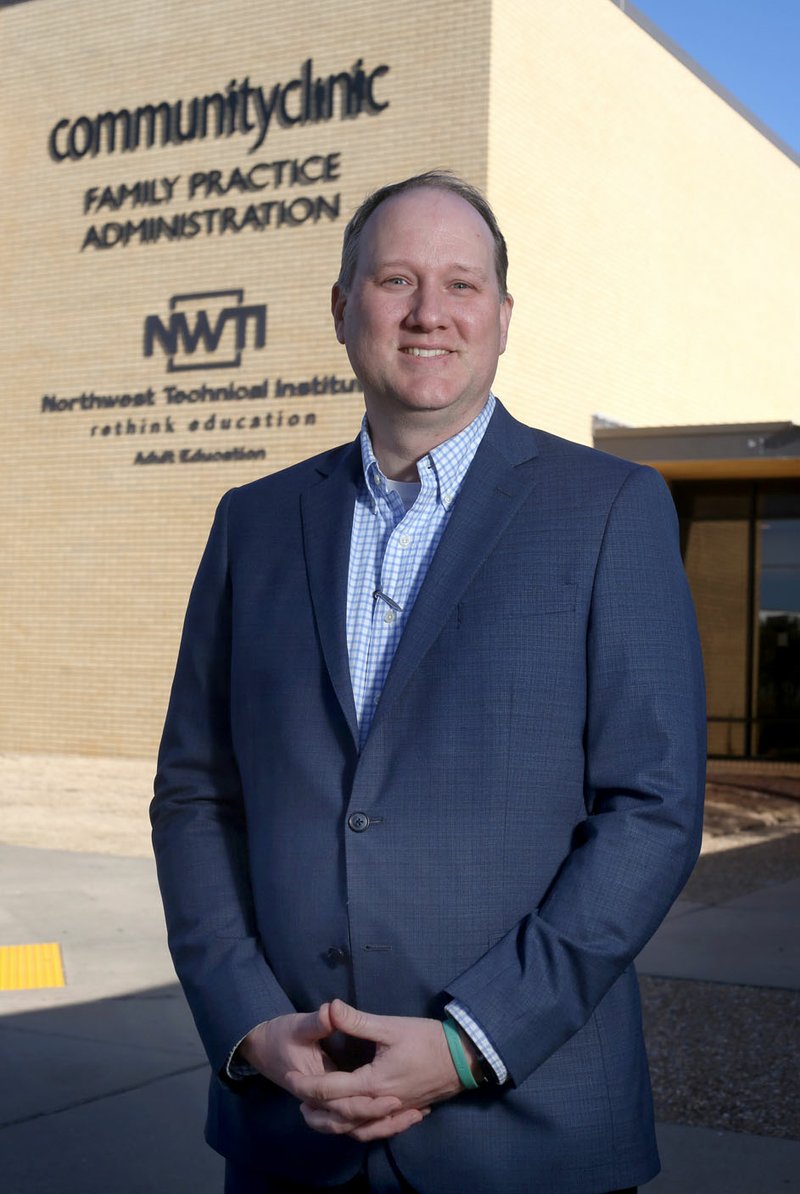 NWA Democrat-Gazette/DAVID GOTTSCHALK Judd Semingson, executive director of the Community Clinic, Tuesday, January 7, 2020, in Springdale.
When Judd Semingson found himself at the United States Air Force Academy in Colorado Springs, Colo., ready to report for his freshman year, he saw a concrete future stretching out before him. After all, Semingson's family tree was rich in Air Force history: His grandfather and an uncle retired from the Air Force as lieutenant colonels, while his father retired as a captain. All were pilots. Semingson was determined to follow in their footsteps, and he had already conquered the very difficult first step -- consideration for the highly competitive school required a nomination and boasted a slim 11% acceptance rate. Semingson was a strong student and a gifted athlete, so all he had to do now was apply himself, and the next four years would assure his place in an institution he and his family held dear.
But Semingson experienced a "gut feeling" that something was wrong.
Judd Semingson
In His Own Words
I'm at my best when I've got a challenge in front of me. When I'm really working to find a solution for a challenging problem, that's when I find that I do some of my better work.
A really good piece of advice that I've received: First, take control of your own development. Ultimately, you own that, and you really have to be intentional about how you develop and how you want to grow in life. The second and probably the more important was to live a life of gratitude. It's said that salt and fresh water can't come from the same well, and so you can't really spend your time being both thankful and hateful. You have to be grateful for what you have and always strive for that.
A turning point in my life: For me, it was two: No. 1 was the decision to leave the Air Force Academy. It was a challenging decision, but I knew it was the right one for me. And then, even a few years beyond that, when I made the decision to relocate to Northwest Arkansas, because that led me down the path to making Northwest Arkansas home — I met my spouse and we started a family here. Those two were the ultimate turning point for me.
One word to sum me up: resilient.
"It was one of those times where you just kind of knew it wasn't the right fit, the right path," he says, still struggling decades later to explain how he knew. "It's one of those things you just can't necessarily put your finger on. I just knew it wasn't the right fit at that moment. So I ultimately made the decision to leave.
"It was a phenomenal experience. I still cherish that time."
[Don't see the video above? Click here to watch features writer Lara Jo Hightower chat with Semingson.]
Semingson returned to Arkansas -- his parents were still living in Cabot, where he grew up -- to attend the University of Central Arkansas.
He was there for only a few years before he felt that now-familiar stirring: He still wasn't where he was supposed to be.
"It was a Sunday afternoon in January," he recalls. "It was kind of a cold afternoon. I was sitting in my dorm room. I thought, 'I need to go to Fayetteville. I need to make a change.' And so, for the second time, I made a big change. I left a full scholarship at UCA and ultimately decided to make the move to Fayetteville."
Neither of these moves was particularly popular with Semingson's family, but, he says, the drive to follow his instincts was too strong to ignore.
"It was scary," he admits. "Because there was no safety net. You're kind of on a tightrope at that point, and who knows if it's going to work out.
"Of course, it was easier then, because you're 18, 19 years old, and you think, 'If it doesn't work out, I'll figure it out.' It's a little different when you're in your 40s or 50s to make those life changes."
Semingson might be talking about his latest big leap: He's taking the reins as chief executive officer of Community Clinic, Northwest Arkansas' "safety net" health system. Former CEO Kathy Grisham announced her retirement in 2019. Given the results of following his gut earlier in life -- the move to UCA introduced Semingson to a lifelong career in health care, and his move to Fayetteville introduced him to his wife -- the odds are good that this newest shift will be a successful one.
Finding his future
During his time at UCA, Semingson wrestled with his future. A law degree had been a possibility, but he had a mentor -- a family friend -- who was a nurse anesthetist, and he was intrigued by the thought of that career.
"Nobody in my family was health care-based," he says. "It was a little bit foreign to me at the time. My only experience had been personal -- a lot of broken bones as an active child, a lot of injuries. That was my only experience with it. But the long and short of it is, I thought that would be a better path for me. I really loved the thought process of being able to serve."
The inspiration turned out to be spot on: Semingson loved being a nurse. His first job after graduating from the Eleanor Mann School of Nursing at the University of Arkansas was one that carried a lot of stress.
"I kind of cut my teeth in the ICU," he says. "I worked in a couple of different hospitals in the Northwest Arkansas area, and I had a background in intensive care. That was a great challenge. We had the sickest of the sick patients. I was taking care of patients that had recently had open heart surgery, who had gunshot wounds -- a variety of ailments that were very serious. I relished the challenge. And one thing I discovered was that, even though you had your own patients, you still worked as a team. We still do that, even in our treatment of patients today -- 'Hey, let me bounce something off of you.' And what I found in the ICU, very early on, is that your colleagues were there to help you and vice versa. I found that to be a very refreshing component to the work."
Then Semingson made a connection that would be vital to his career for nearly two decades: He went to work with Northwest Arkansas orthopedic surgeon Christopher Arnold.
"I spent a lot of time working side by side with him, first as an assistant in the OR, then working in the clinic as his nurse," says Semingson. "I was the person who was alongside him for a lot of his procedures and processes, and I learned a ton. He's very detailed, and there were certainly a lot of things that I picked up on. He gave me a lot of autonomy. I was very fortunate in that I was able to go in and communicate with patients and teach. Just that interaction with individuals and with patients and so forth became very easy for me."
"He is an extremely hard worker," notes Arnold. "He is very bright, and he's great with the patients. He was right in the pocket with me the whole time. He's fantastic with patients, fantastic with hospital staff, office staff -- any staff he comes in contact with. He's a guy that never gets riled up. He's always very calm, whether he's taking care of an orthopedic trauma, in a middle-of-the-night, complicated patient situation or dealing with a disgruntled patient -- he's always very level-headed in all of his actions."
"I think probably the biggest [talent] Judd had was his ability to really understand what patients need," says Dr. Ramon Ylana, who worked with Semingson during this period. "There are some people who, when they walk in the room, they understand what the patients need and how to get it taken care of. He did that in a way that made it really, really easy to gain a patient's trust."
"What comes to mind first would be his ability as a listener," says Dr. Gary Berner, chief medical officer at Community Clinic. "... He always brings it back to the well being of our patients and staff. It's refreshing to work with him, because at the heart of it, this is the underlying focus of all who go into healthcare. But it is easy to get distracted, jaded and overburdened. I have not once seen Judd lose focus. He can step back from whatever else is going on and think how the particular issue at hand will affect our patients and team members today and down the road."
Preparing for destiny
Semingson's skill at these patient interactions prompted him to go back to school to train to be a nurse practitioner. In that position, he could see patients, prescribe medications and diagnose illnesses. While he was training for the position, he discovered Community Clinic.
"I spent part of my training here," he notes. "Even after I finished my degree and stayed in orthopedics for a little bit, the Community Clinic had already made an indelible mark on my psyche. I reached out around 2014 and said, 'Hey, if you guys have a spot, I would love to come over there.' So I came over as a family nurse practitioner, and that was a great next step for me. I really enjoyed the service of it. For me, personally, it was a bit of washing of feet. I would see individuals and families, sometimes people at their worst that needed help and didn't know where to turn. Health is a very intimate connector. To be able to connect with those individuals and families -- it left a mark. I can still remember patients that I saw in my first stint here. I still wonder what happened to them."
At some point, though, the idea of a career in health administration had started to intrigue Semingson, and when Dr. Arnold called him up to find out if he would be interested in helping him expand his practice, the challenge was irresistible.
"It was certainly something that was going to be new for me," he says. "At this point, 99.9% of my focus had been clinical. So the opportunity to go back into a role that was primarily administrative and dealing with all of the financial pieces, dealing with human resources, taking on the entire operational management component of that clinic was an interesting challenge. I had a lot of history there, had a lot of knowledge of the clinic, so it made that transition easier.
"During my time back on the administrative side, I'm very proud of what we were able to accomplish. We grew the revenue of the clinic. We grew the footprint, opening a second location in Rogers. We added providers that had not previously been there. [Dr. Arnold] is part of the group that takes care of the athletes at the University of Arkansas, and so I worked in connection with that venture, as well. There were a lot of moving parts, and I had to become acutely aware of financial pieces that I hadn't previously needed to be aware of."
Semingson was so intrigued by this side of the business that he went back to school a third time to acquire an MBA degree. And, completely unintentionally, he had prepared himself in perfect fashion to return to Community Clinic in a new capacity. He had learned, at this point in his life, to go in the direction where fate was nudging him.
"I'm a firm believer that we do not choose our own path," he says with a wry smile. "We just kind of have to be ready when the opportunity presents itself. Kathy [Grisham] and I had maintained a dialogue. We had a couple of conversations, and I just kept getting sort of 'pinged' by Community Clinic. We would see a patient whose primary care was at the clinic, or I would hear something about the clinic. I just felt the call. I reached out, and, lo and behold, there were needs that were there."
Needs for which Semingson was perfectly prepared -- the clinic was looking for someone to fill the administrative-heavy position of associate medical director. Semingson accepted the position at the beginning of 2019. When Grisham announced her retirement that spring, Semingson threw his hat in the ring for her job, and, after a national search, was selected.
"As a student in advanced practice nursing, he did his clinicals at Community Clinic -- and really understood, immediately, the mission of taking care of every patient, treating every patient as best as we can, and addressing their disparities," says Grisham. "I think that's what brought him back to us to practice -- and now he's leading the organization."
"There are a lot of challenges in front of me," he says. "I'm very fortunate that Kathy is going to stay on in the next year in a consultant role, and we've already had a lot of great conversations since the announcement was made. Kathy was here at the start when it was a volunteer organization and has grown it to what it is today. It's my responsibility not only to maintain her legacy and what she has begun and what her team to date has achieved, but also to continue to build on to it."
"I think that, in everybody's career, they realize when it's time to do something else, or move on, let go of things, turn things over," notes Grisham. "That's really where I am. I'm very happy with all of the people who work here. ... Judd and I, I feel, are simpatico in how we feel the mission should be carried out, so that's reassuring. I have no false ideas that [Community Clinic] will continue in absolutely the same way it always has -- if there's one thing about health care, it's that it's ever changing. As long as we stay true to the mission, things should be very good."
Community safety net
Grisham, in fact, built a tiny, volunteer effort known as St. Francis House into the nonprofit juggernaut that it is today: When it started in 1989, patients were seen by volunteer doctors once a month. Now, Community Clinic and its 13 locations employ 275 healthcare professionals who, in 2018, treated around 39,000 clients. One-third of those patients do not have insurance and, for more than 50% of them, English is not their first language. Many of them are living far beneath the federal poverty line. For those patients, Community Clinic is their "safety net."
"If you go back to the true mission of what a community health center is -- they help increase access to critical primary care by reducing barriers," says LaShannon Spencer, chief executive officer of Community Health Centers of Arkansas Inc. "Barriers like language barriers, lack of insurance, the high cost of health care -- Judd is that patient's advocate. He's always looking to give the best care and looking to communicate from a level that the patient will understand."
Spencer says that there are 12 community health centers in Arkansas, with more than 100 sites -- and Semingson is one of only two clinicians who are at the head.
"It's rare," she acknowledges. "The plus is that he can look at things from a clinical perspective as he continues to be a champion for the patient, continues to deliver quality of care. Community health centers are the core safety net providers for the most vulnerable population of the community. ... When you have a person who is a clinician, that mission has been a part of him, it's in his core. His care for that patient population is amazing."
"There are so many things [Community Clinic does] on a daily basis that the community never really even realizes," says Ylana. "They find ways to take care of people outside the traditional insurance route. Community Clinic is providing a high level of care to people that would, honestly, have had a very difficult time finding any health care. For Judd to work with these patients, empathize and understand, and put that empathy on a bigger scale -- it's going to make that place just get bigger and better."
"We see a lot of patients that are not just in need of somebody to help them with their immediate health need, but also to connect them with resources -- like housing or prescription assistance to be able to get their medications," says Semingson. "I've seen patients that make me wonder, 'How have you been sustaining this state of health for this period of time?' And more often than not, the answer is 'I just couldn't afford to go to the doctor,' or 'I didn't know it was this bad.' So we've got to have a lot of layers of staff who are able to connect patients to resources.
"At the end of the day, we want to reflect the community that we serve, so about 65% of our staff are bilingual. In Northwest Arkansas, we have a large Marshallese population, so we employ a number of Marshallese interpreters. We have one of only two Marshallese physicians in the United States, Dr. Sheldon Riklon."
Community Clinic offers medical, dental and mental health care. As an officially designated community health center, it receives some funding from the federal government. Additional funding comes from private grants and fundraising, as well as patient fees. Though it is not a free health clinic, its fees are based on a sliding schedule, dependent on a patient's income.
"We're reviewed on national standard quality measures," says Semingson. "That includes diabetic controls and blood pressure controls and cancer screenings ... things that are in place for any clinic. The model of the community health center is to provide value. And we find that, as a consumer of anything, if I go out and I get something for free, I may or may not relish it as much as something that I'm working for and paying for. And I think, to a certain extent, that's true in health care. There's value in our patients really having a vested interest in [their care]."
Staying on the front lines
Semingson admits that it's a big undertaking, following in Kathy Grisham's shoes.
"Somebody asked me, 'Are you frightened?'" he says with a smile. "And the answer is, 'No.' I've kind of looked at this two ways. First, a coaching analogy: If you follow a great coach, there's some uncertainty to that. I can't tell you who the second coach of the Green Bay Packers was, but I can tell you who the first was. When we first started this dialogue, I looked at it almost from the mentality of 'I'm following the founder.' And one of the things I researched -- because of our neck of the woods -- was Walmart. You cannot argue that Sam Walton grew Walmart beyond what anybody thought it would be or could be at the time. When the time came for him to step back and pass that to David Glass, there were bumps in the road, but there were also opportunities. I've said this before: The foundation of who we are in the mission of Community Clinic is woven into the fabric of our everyday lives. That won't change for me or for whomever comes after me.
"It's important for me to build upon and, ultimately, create a culture of sustained excellence. I'm very blessed in that we have a great team in place. We've got a great base of operations. We've got a great staff. We've got a great providership. We've got a great board. My responsibility is to maintain that and then [figure out] how to continue to improve on that."
One way he plans on doing that is to continue to see patients himself.
"I don't know, maybe I'm a glutton for punishment," he says with a laugh at the idea of juggling his administrative duties with clinical ones. "It's been challenging, because there are a number of patients that I see on a regular basis that come in and ask, 'Can I still see you?' And I just say, 'Yes, let me get my schedule set.'
"I really think that's just who I am as a provider, so this is a big part of what I want to continue. I don't ever really want to have directives where we're driving the ship out of conference rooms, so being on the front line with patients [is critical]. You see, so many times, stories in organizations and corporations where great ideas come from the front office or front desk and trickle up the pipeline. I want that to be a culture we have at Community Clinic, where we're always trying to improve and evolve. And for me, personally, that allows me to continue to be in our system and in our community.
"My hope is that it helps me from ever getting lost."
NAN Profiles on 01/12/2020
Print Headline: Judd Semingson
Sponsor Content
Comments