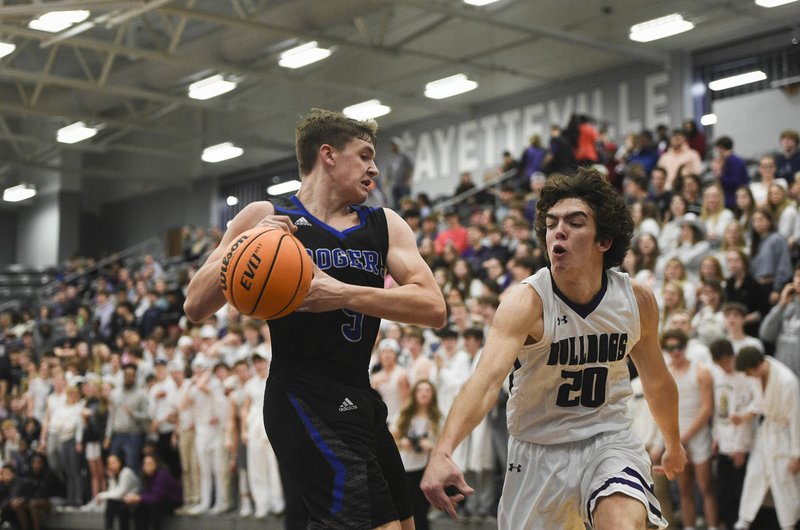 Rogers Karsen Uecker (5) protects the ball from Fayetteville forward Matt Wayman (20) during a basketball game, Friday, January 10, 2020 at Fayetteville High School in Fayetteville. Check out nwaonline.com/200111Daily/ for today's photo gallery. (NWA Democrat-Gazette/Charlie Kaijo)
FAYETTEVILLE -- There was no sign of panic when Rogers High fell behind by double-digits in the second quarter against Fayetteville.
The No. 1 Mounties weathered the storm and dominated the second half for a 70-65 road win in a 6A-West Conference classic in Bulldog Arena to remain unbeaten on the season.
"This is a big win in the conference," said Rogers coach Lamont Frazier. "Any win you get in this conference, whether it's on the road or at home, is big.
"The way we finished the game and the way we had to do it I think showed a lot of the poise and character of our players."
Rogers (13-0, 2-0 6A-West) trailed by 17 points in the second quarter, including 39-22 at halftime. The Bulldogs (10-6, 1-1) dominated virtually every category with C.J. Williams scoring 15 points in the first half and junior Tamaury Releford dominating in the post.
[Don't see the video above? Click here to see Rogers High coach Lamont Frazier speak after the game.]
The Mounties flipped the switch in the second half, coming out of the locker room on a mission. Rogers opened the half on a 13-4 run to pull within 43-37, but lost one of its top scorers in Drew Miller, who knocked down a deep 3-pointer but injured his right ankle when he tangled up with a Fayetteville defender on the play.
"We seem to have to get punched in the mouth before we can get going," Frazier said. "We try to fight it and fight it because one of these days it's going to happen. But we'll keep fighting it and we'll figure it out."
No Miller, no problem for the Mounties as Derek Hobbs and Elliot Paschal provided the second-half offensive punch. Paschal scored 9 of his game-high 22 points in the fourth quarter and Hobbs scored 8 of his 20 as Rogers finally dug itself completely out of the first-half hole on Hobbs' 3-pointer with 4:12 left to tie the score at 59-59.
Fayetteville got a pair of free throws from Releford to tie the score at 61-61, but Rogers went up 66-61 on Joseph Park's layup off a press break. Both teams had turnovers late, but the Mounties were able to hold on at the end.
"We were finally able to get the tempo the way we wanted it in the second half," Frazier said. "It was a lot faster tempo, which we like. And we just knew we had to chip away. Just not panic and chip away. If they made a run, we had to withstand it and make a run of our own."
Williams finished with 19 points for Fayetteville and Releford closed with 16.
The Mounties will host Bentonville West on Tuesday, and Fayetteville will be on the road at Van Buren.
Rogers 8 14 20 28 -- 70
Fayetteville 16 23 13 14 -- 65
Rogers (13-0, 2-0): Paschal 22, Hobbs 20, Liddell 11, Miller 10, Park 4, Garner 2.
Fayetteville (10-6, 1-1): Williams 19, T. Releford 16, I. Releford 10, Wayman 10, Gibbs 4, Glasper 4, Blake 2.
[Don't see the gallery above? Click here to view the photos.]
Springdale Har-Ber 62, Rogers Heritage 45
The Wildcats used an 11-0 spurt in the third quarter to pull away en route to the 6A-West Conference road win.
Har-Ber (11-2, 2-0 6A-West) led 31-26 after Micah Hill's 3-pointer. But the Wildcats responded with 11-straight points to grab a 42-26 advantage. Jajuan Boyd had eight points in the run, including a pair of 3-pointers.
Lawson Jenkins led the way with a game-high 16 points and surpassed the 2,000-point plateau. Nick Buchanan added 15 and Boyd finished with 12 for Har-Ber, which led 25-21 at halftime
Kyle Ingram led Heritage (8-6, 1-1) with 12 points and Logan Glenn added 10.
Bentonville West 57, Springdale High 46
West used a 14-3 run in the third quarter to pull away from Springdale and earn a win on the Bulldogs' home floor.
West (6-6, 1-1) led 27-18 at halftime, but Springdale (7-7, 0-2) closed the gap to 29-27 on a Brandon Henry bucket before the Wolverines pulled away. Dillon Bailey had five points and Kade Ruffner added four in West's run, which made it a 43-30 game after a Dax Peterson bucket, and Springdale didn't get any closer than nine over the final 8 minutes.
Bailey finished with 23 to lead West while Ruffner added 10. Dominique Hertin paced Springdale with 17 points while Jordan Owens chipped in 10.
Preps Sports on 01/11/2020
Print Headline: Mounties keep cool, top Bulldogs
Sponsor Content
Comments