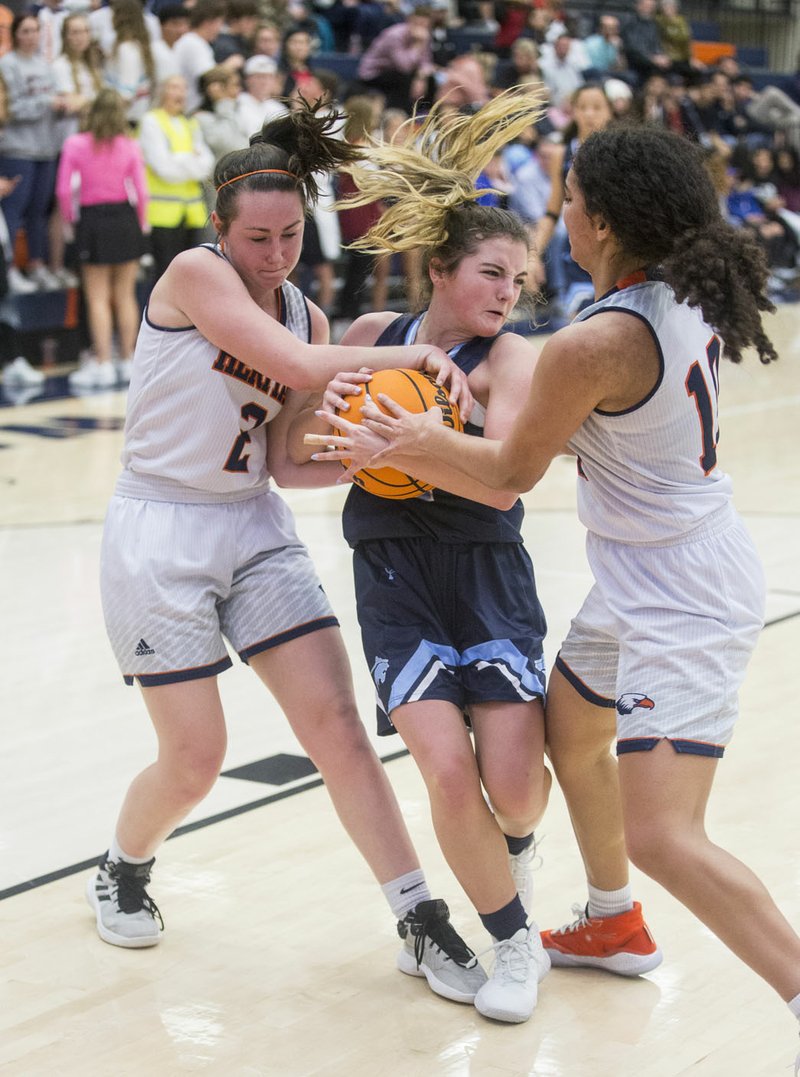 Lanee Knight (2) and Quiara Jones (10) of Rogers Heritage try to get the ball from Maddux McCrackin of Springdale Har-Ber Friday, Jan. 10, 2020, at War Eagle Arena in Rogers. Go to nwaonline.com/photos to see more photos. (NWA Democrat-Gazette/Ben Goff)
ROGERS -- Springdale Har-Ber clamped down defensively late in the third quarter and pulled away for the 69-55 6A-West Conference road win Friday on colors night in War Eagle Arena.
The Lady Wildcats forced a flurry of turnovers and used a 15-5 spurt to end the third quarter to take control.
Rogers Heritage (9-7, 1-1 6A-West) pulled within 36-33 when Maddie Lynge banked in a 3-pointer with just under 4 minutes left in the third quarter. But the Lady War Eagles would make just one field goal the rest of the quarter as Har-Ber (12-4, 2-0).
Har-Ber coach Kimberly Jenkins praised her team's communication on defense.
"We haven't done that in the past: second-half defense, with our coaches on the other end," Jenkins said. "Our communication has been lacking. Tonight, I thought our communication was there. We were dialed into some details in our scouting report with our defense in the second half better than we did in the first."
Quiara Jones' inside bucket pulled Heritage within 44-36 with less than 2 minutes left in the third quarter, but that was the Lady War Eagles' lone field goal for more than 4 minutes.
[Don't see the video above? Click here to watch Har-Ber coach Kimberly Jenkins' postgame remarks.]
Freshman Pacious McDaniel converted a three-point play in the final seconds of the quarter for a 51-38 lead. Sophie Nelson then added back-to-back baskets to start the fourth quarter as Har-Ber took a commanding 55-38 advantage.
Sophomore Caylan Koons poured in a game-high 29 points, including four 3-pointers, while Nelson added 15 and McDaniel 10 for the Lady Wildcats.
Koons played well, while Nelson excelled despite being ill all week, Jenkins said.
"I thought we did a good job tonight finding her (Koons) up the floor where she was ready to shoot," Jenkins said. "Sophie wasn't even at practice yesterday. For her to come tonight and show up and play the way she did defensively around the basket for us, I'm really proud of her."
Alex Pabon, a 6-1 senior, led Heritage with 16 points, but 10 of those came in the first half. Jones added 11 and Lynge chipped in 10 for the Lady War Eagles, who had their four-game winning streak snapped.
Springdale Har-Ber 69, Rogers Heritage 55
Har-Ber 15 17 19 18 -- 69
Heritage 8 18 12 17 -- 55
Springdale Har-Ber (12-4, 1-1): Koons 29, Nelson 15, McDaniel 10, Starks 9, Andrews 6,
Rogers Heritage (9-7, 1-1): Pabon 16, Jones 11, Lynge 10, Casteel 9, Knight 7, Seiler 2,
[Don't see the gallery above? Click here to view the photo's from the game.]
Bentonville West 39, Springdale High 38
Jada Curtis hit a jumper from inside the lane as the buzzer sounded as West pulled out a victory at Springdale.
The Lady Wolverines (5-11, 1-1) had a 37-30 lead with just under 2 minutes remaining, but Springdale (3-12, 0-2) ran off eight straight points and took the lead on Thaly Sysavanh's free throw with 7 seconds remaining. Evening Guevara then raced the ball downcourt and fed it to Curtis for the game-winning shot.
Maysa Willis had 15 points to lead West, followed by Curtis with 11. Sysavanh led Springdale with 16.
Fayetteville 65, Rogers High 40
Sasha Goforth scored a game-high 20 points to lead the Lady Bulldogs to their second blowout win of the week.
Fayetteville (11-3, 2-0) led just 15-10 after one quarter, but surged on a 23-3 run to take control in the second quarter.
Coriah Beck added 14 points for the Lady Bulldogs. Aubrey Treadwell led Rogers (10-5, 1-1) with 11 points and London Hatch scored 9.
Preps Sports on 01/11/2020
Print Headline: Har-Ber turns to defense to roll past Heritage
Sponsor Content
Comments