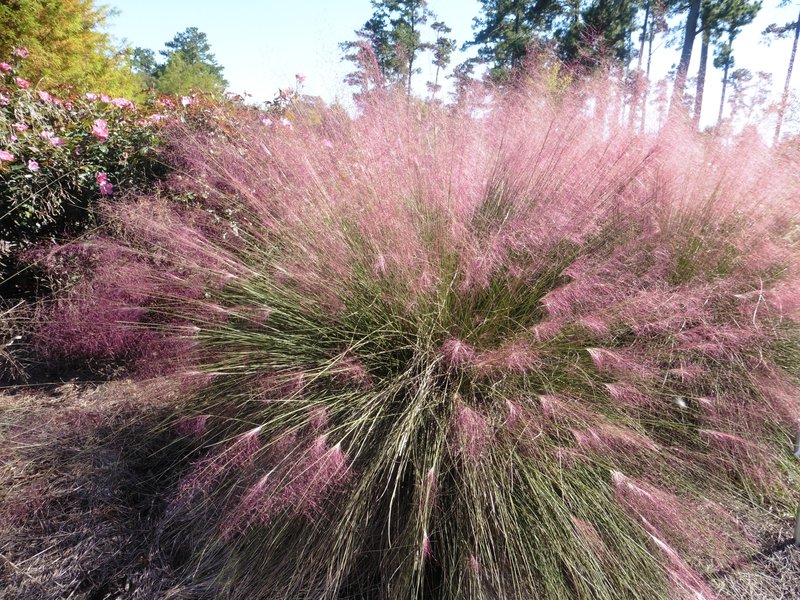 Purple muhly grass puts on a show in the fall. (Special to the Democrat-Gazette/Janet B. Carson)
Q I live in Fayetteville and have a below ground pool with one side rising out of sloping ground with a stone retaining wall about 5 feet tall. Would pampas grass be good around the wall? I don't want anything (leaves, flowering heads, etc.) to blow into the pool.
A Ornamental grasses such as pampas grass would be an option. Are you wanting to buffer the wall or be able to see the plants above the wall? Ornamental grasses do have seeds inside the blooms, and pampas grass can get more than 10 feet tall with plumes. Seeds could blow into the pool if you leave the pool open all year. Purple muhly grass or feather reed grass are beautiful ornamental grasses that would cover the wall but stay low enough that I don't think the seeds would pose a problem.
Q I have an iron ring 3 feet wide and 2 inches deep that I plan to mount upright on its edge in my flower bed. I want to plant vines to grow on it, something thick and fast-growing to completely obscure the ring. Blooms aren't a necessity but would be a bonus. What would you recommend and how many do I plant on each side? I live in Maumelle, am retired and have the time to trim it every day to keep it under control.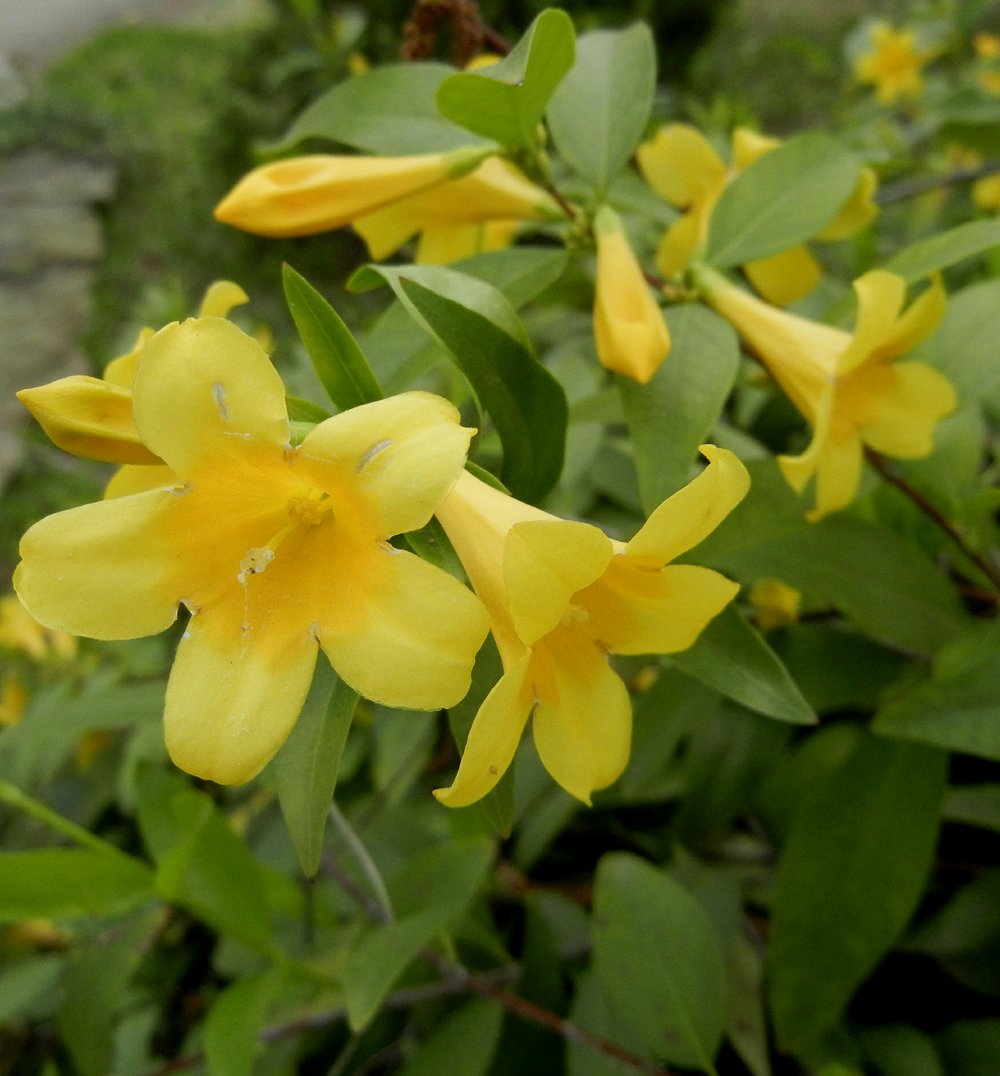 Carolina jasmine, also known as jessamine, is a popular flowering vine. (Special to the Democrat-Gazette/Janet B. Carson)
A You don't mention if you have sun or shade or whether you want evergreen or deciduous. Also, 3 feet is not much height for any vine. Any way the ring could be elevated some? Vines typically grow upward to 6 feet – or more. Several options would work. For sun you could plant a trumpet honeysuckle (Lonicera sempervirens) or 'Gold Flame' honeysuckle (Lonicera heckrottii). Do not plant the familiar off-white-flowering Japanese honeysuckle, which is highly invasive. There are many clematis vines that would also give you great flowers. An evergreen option is Confederate jasmine (Trachelospermum jasminoides), which does well in the southern half of the state. Carolina jasmine would also work with its bright yellow flowers.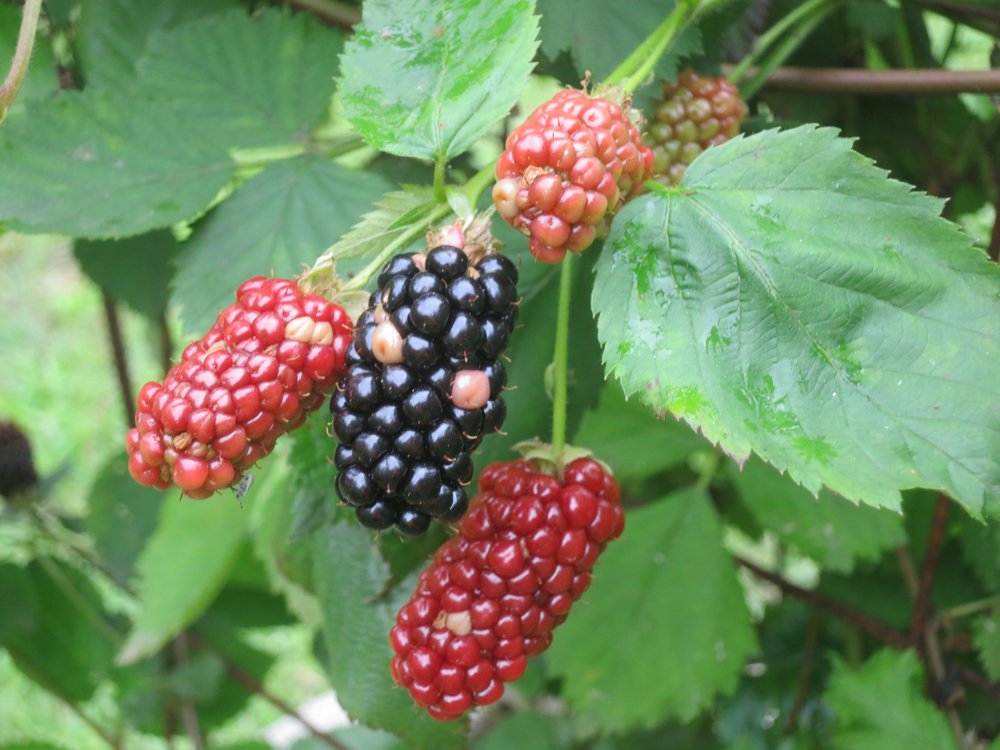 Blackberry canes are usually cut out after the berries have been harvested, giving the new canes room to grow. (Special to the Democrat-Gazette/Janet B. Carson)
Q When is the best time to prune blackberry canes? I know you are supposed to prune fruit trees in the winter but don't know about blackberries. Any special tips I should know before I do this job? They are 3 years old, and I have never pruned them. I got a lot of fruit last year and want to keep them productive. They are one of the thornless varieties if that makes a difference.
A I would imagine you have a bit of a mess in your blackberry patch if you haven't pruned anything in three years. Blackberry canes grow the first year, setting flower and fruit buds for the next season. After the canes bear fruit, those canes die back, but the canes that started growing that spring will fruit for you the next year. Normally, we don't wait for the canes to die back but cut out the fruiting canes after harvest, giving the new canes room to grow. I imagine you have quite a bit of dead stalks in the midst of your live canes. The only pruning we typically do on the canes that will have fruit the next season is to keep them pruned to a manageable height during the growing season, which will encourage them to grow bushier rather than tall, which will aid in harvesting. Now that the plants are dormant and have no foliage, it may be difficult to tell the living canes from the dead, unless they are long dead. Normally, in late February you can prune the lateral branches to 14-16 inches, which should give you larger blackberries this season. Clean up what you can and make sure you remove all the old dead canes and the canes that you harvest from during the growing season.
Q A tornado hit Rogers in October. My neighborhood was known for its majestic pines. More than 90% were blown over. It has dramatically changed the looks of our neighborhood. Which type of pines should we replant that will grow quickly. Can the forestry department assist?
A The pine tree is the state tree of Arkansas, and there are four species native to Arkansas: shortleaf, longleaf, slash pine and Loblolly. The Loblolly pine (Pinus taeda) and shortleaf (Pinus echinata) are the most common. Loblolly is probably the fastest growing and most commonly planted pine in the state today. The Arkansas Forestry Commission does sell bundles of seedlings as well as containerized small trees.
Retired after 38 years with the University of Arkansas Cooperative Extension Service, Janet Carson ranks among Arkansas' best known horticulture experts. Her blog is at arkansasonline.com/planitjanet. Write to her at P.O. Box 2221, Little Rock, AR 72203 or email
HomeStyle on 01/11/2020
Print Headline: IN THE GARDEN
Sponsor Content
Comments