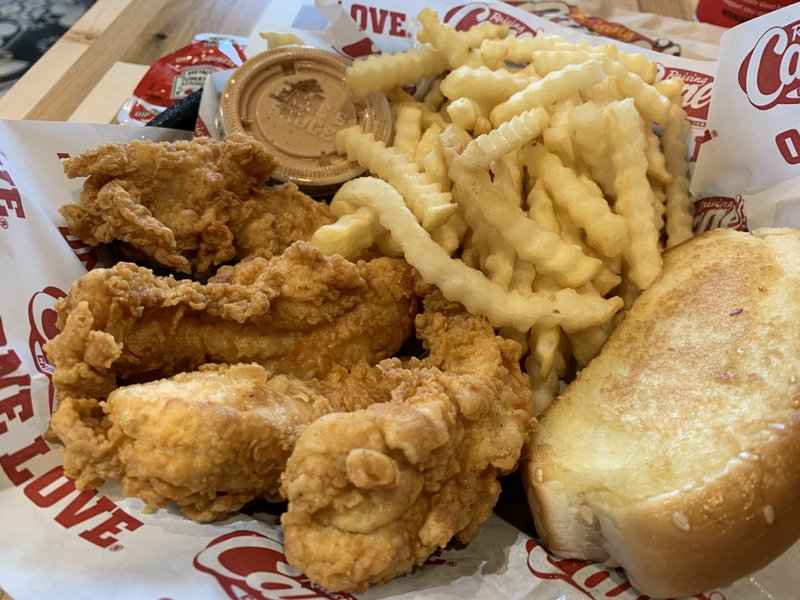 The Box Combo is Raising Cane's "most popular" offering. (Arkansas Democrat-Gazette/Eric E. Harrison)
The eternal question that has haunted the curious for decades: Since chickens don't have hands, just what is a chicken finger?
According to people at Raising Cane's Chicken Fingers, they are "100% premium white meat chicken tenderloins [that] are marinated, hand-battered and cooked to order, ensuring each chicken finger is served hot, fresh and juicy."
There you have it.
Chicken fingers are all Raising Cane's is about. No wings, no legs, no breasts, no thighs, no sandwiches — well, there is a sandwich, but it's just chicken fingers and some lettuce on a kaiser roll.
Raising Cane's menu board offers four simple menu combinations, differentiated entirely on how many chicken fingers you want — three, four, six (two on the kids combo).
Plus a few peripherals: fries, coleslaw, Texas toast. The secret-recipe Cane's Sauce. The not-so-secret sauce: Heinz ketchup.
From the Cane's website (raisingcanes.com): "Cane's Sauce is tangy with a little bit of spice and full of flavor. We use our own proprietary blend of premium seasonings and spices in our sauce and our restaurant general managers make a new batch every day in each Raising Cane's kitchen. Our Sauce recipe is top secret and known only by our general managers, who are sworn to secrecy (so don't even ask)."
***
Central Arkansas got its first Raising Cane's Chicken Fingers outlet last month, on East McCain Boulevard in North Little Rock. A banner out front honors the namesake of the Baton Rouge-chain: founder Todd Graves' (late) yellow Labrador retriever. It's still a new chain place, and, as with any new chain place around here, it's crazy busy at peak meal periods.
It's not an illusion: The place is actually bigger inside than it is outside.
We thought as we circled the building several times looking for a parking spot during a recent weekday lunch rush that we'd also never find somewhere to sit once we got through the door. We were wrong. There were plenty of vacant seats — at large tables, small tables, high tables, low tables, booths and bars, most with butcher-block tops, paired with aluminum wood-bottom-and-back seats. Most of the lighting comes from recessed bulbs in the partially finished ceiling, but modern chandeliers illuminate the couple of corner alcoves.
Gallery: Raising Cane's
[Gallery not loading above? Click here for more photos » arkansasonline.com/galleries/28294/album/]
The wall decor at Raising Cane's shows a commitment to area school sports programming — including helmets, jerseys, a bat, a cheerleader's uniform — and a reverence for Elvis Presley (a stylized portrait under a painted crown) and a "challenge" for customers. ("What are ya — chicken?" Well, yeah. Why else are we here?)
Order at the counter from the simple menu board. In somewhere between 5 and 12 minutes, your order comes out from the busy kitchen.
"Fresh, hot chicken for (insert your name here)," yells the counter person, over the customer hubbub.
It's perfectly accurate.
The four strips of chicken in our Box Combo ($7.39, labeled on the menu board as Raising Cane's "most popular" offering) were finger-and-mouth-burning hot (plastic forks are available and we recommend you use one). You can tell by the texture that it's real chicken, not processed. The batter is just thick enough to be crispy throughout but not thick enough to obscure the chicken. It's not particularly spicy but it does have flavor. The chicken is well-drained and not the least bit greasy.
You want spicy, dip into the little plastic cup of Cane's Sauce, which is somewhere between orange and light brown in color and not unlike a remoulade. It has discernible specks of black pepper and other "zings" that provide a definite kick. You can also use it, if you're not a ketchup fan, to dip your fries.
The Box Combo comes with a generous portion of crinkle-cut fries, coleslaw — you can sub extra fries for the slaw (we did), or extra slaw instead of fries, or extra Texas toast in lieu of either, or extra Cane's Sauce for any of the above — and a 22-ounce drink. Coca-Cola products are dispensed and the cane-sugared or unsweet tea is brewed throughout the day and poured into the top of the bubbler. They are both refillable, but the other option, fresh-squeezed and cane-sugar sweetened lemonade, costs a little extra and isn't. (We tasted the cane sugar but not much lemon.)
Raising Cane's Chicken Fingers
Address: 4311 E. McCain Blvd., North Little Rock
Hours: 10 a.m.-11 p.m. Sunday-Thursday, 10 a.m.-midnight Friday-Saturday
Cuisine: Chicken fingers, fries, slaw, Texas toast
Credit cards: V, MC, AE, D
Take-out: Certainly
Reservations: Certainly not
Wheelchair access: Yes
Information: (501) 945-8068
Our crinkle-cut fries were firm and slightly golden, a little soft on the outside for our personal tastes, and lightly salted, a plus. We did feel they needed some enhancement — not-so-secret ketchup, which you can pump from a spout on the counter or get in peel-able packets from the counter folks, or Cane's Sauce.
We passed on the slaw, so we can't report on that, except that the website describes it as "made daily with fresh cabbage, carrots and creamy dressing." The slice of Texas toast was oblong rather than square, with a crust speckled with sesame seeds, nicely toasted and buttery.
The portion was too much food and we ended up taking home a chicken finger and some fries. So next time we went smaller and ordered the 3 Finger Combo ($6.58), three chicken fingers, fries, no slaw, Cane's sauce, Texas toast and a drink. The Sandwich Combo ($6.39) comes with fries, Cane's Sauce, fries and a drink. The Caniac Combo ($10.96, named for the chain's Most Loyal Guests, known as "Caniacs") crams six fingers into the black plastic, paper-lined bowl, with two cups of Cane's Sauce, no fries, slaw, toast and drink.
Weekend on 01/09/2020
Print Headline: CHEAP EATS: In North Little Rock, Raising Cane's chicken fingers relieve snack attack
Sponsor Content
Comments