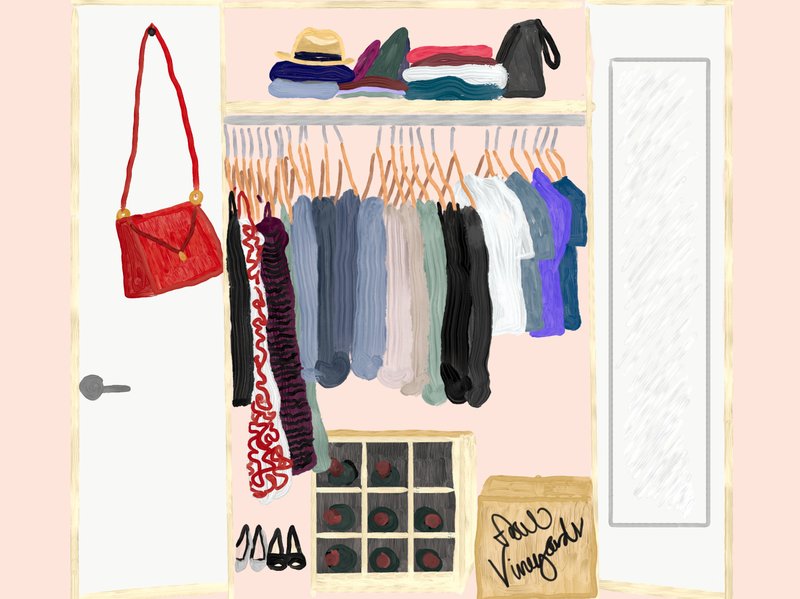 When your closet has more room for wine than shoes, it might be time to invest in a wine cooler. (Arkansas Democrat-Gazette/KellyBrant)
Last week, I wrote about ideal, long-term storage conditions for cellaring wine.
This week's column is for those who have come to the realization that wine storage is causing immediate challenges in your household. Do you play refrigerator Tetris on a regular basis to make room for new bottles or have you given up shoe space in your closet to store two exceptional cases you just bought?
Perhaps it's time to consider investing in a wine cooler. Buying a wine cooler, much like any new appliance, can be an overwhelming task with so many options. I hope this column provides some helpful tips for your shopping adventure.
A wine cooler is generally a stand-alone unit designed to maintain a consistent temperature, much like a refrigerator. Cooler sizes range from as few as six bottles to 200 or more. Most coolers are designed for fewer than 50 bottles. The units range in size from that of a mini-fridge to wider than a side-by-side refrigerator.
You want to start by deciding what type of wine cooler you will need based on your bottle storage need.
Most household coolers are categorized two ways: those with a compressor similar to a normal household refrigerator and those considered "silent" thermoelectric.
The thermoelectric are extremely quiet and are ideal when space is tight or when the cooler will be placed in a common area of the house. And under ideal conditions, they are more energy-efficient than compressor units. The drawbacks of thermoelectric units are they need a decent amount of clearance and may not function as well when the ambient temperature is warm.
A compressor unit uses refrigerant much as your standard refrigerator does. These units can maintain lower temperatures (if you like your white wines really cold) and can handle higher ambient temperatures.
Many larger units are available with dual temperature zones. In theory, this means you will have two different temperature levels inside your unit, keeping your whites and reds at different storage temperatures. This feature is generally not available in smaller units. I have tested several of these units and owned a few and found in reality this is really not necessary if your wines are meant for short term storage. Personally, I would opt for a single zone unit set around 60 degrees for red and white wines.
Size and style are a matter of personal preference. Do you want a freestanding cooler or something that will fit under the counter in the kitchen? Do you like metal racks or prefer the look of wood? Do you want the shelves to slide out for easy access or would you prefer adjustable shelves? The most important consideration is the shape of the bottles you collect and how they will fit into your unit. Most manufacturers' bottle capacities are based on the standard Bordeaux-style bottle. If you buy unusually shaped bottles, larger format bottles or small half bottles, you'll need to confirm those bottles will fit in the style of rack you choose. If you're not careful, you could end up with racks that won't hold your bottles at all.
My main advice is to keep it simple and remember you are not looking for long-term cellaring perfection. Most of us will simply be relieved to finally have a storage place that doesn't involve juggling milk and orange juice in our main kitchen refrigerator.
Lorri Hambuchen is a member of London's Institute of Wines and Spirits. Contact her at the Arkansas Democrat-Gazette, P.O. Box 2221, Little Rock, AR 72203, or email:
Food on 01/08/2020
Print Headline: Wine coolers good for keeping wine out of closet
Sponsor Content
Comments