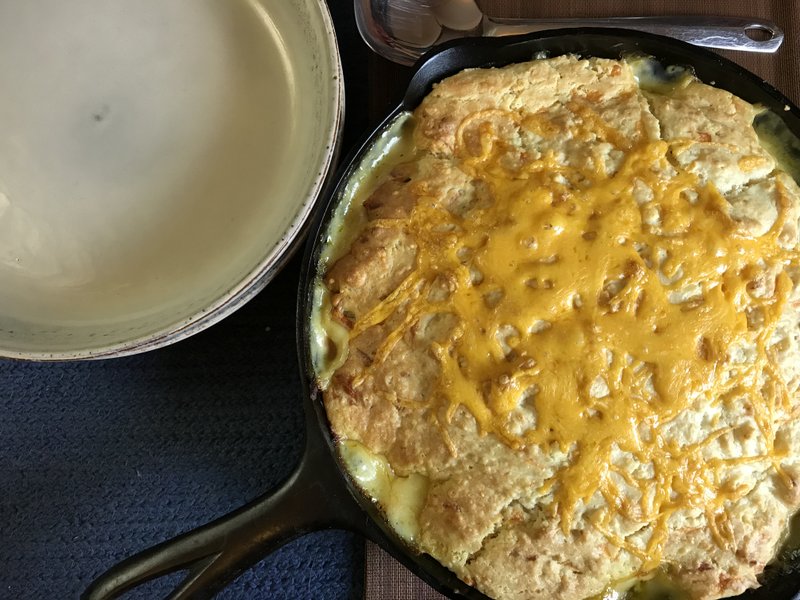 Turkey Biscuit Skillet Pie (Arkansas Democrat-Gazette/Kelly Brant)
I first made this casserole in spring last year. It was rich and creamy, comforting and filling — in other words absolutely delicious — but decidedly cold-weather fare. And because Arkansas' sweltering heat was on its way, I tucked the recipe away for cooler days.
This is stick-to-your-ribs and warm-you-up food with its primary ingredients of cheese, biscuit mix, cream-of-something soup, ground turkey, assorted vegetables and more cheese. Sort of like a pot pie, but with a drop biscuit crust.
I like to make this with ground turkey, but ground chicken or lean ground beef are good too.
To combat its indulgent richness, I serve it alongside a large salad.
Turkey Biscuit Skillet Pie
1 (11-ounce) box cheddar and garlic biscuit mix such as Zatarain's or Red Lobster Cheddar Bay
1 ¼ to 1 ½ cups shredded cheddar cheese, divided use
1 cup milk
6 tablespoons butter, melted
1 tablespoon vegetable oil
1 small onion, diced
1 cup sliced carrots
1 pound ground turkey (or ground chicken or beef)
1 (10 ½-ounce) can cream of chicken and herbs soup
1 (15-ounce) can green beans, drained OR 1 ¾ cups cut fresh or frozen green beans
Heat oven to 350 degrees.
In a medium bowl, combine the biscuit mix, 1 cup of the cheese, the milk and butter and mix well; set aside.
In a large oven-safe skillet, heat the vegetable oil over medium heat. Saute onion and carrots until onion is translucent; add turkey and cook, breaking the turkey into crumbles, until turkey is no longer pink. Stir in soup and green beans. Drop biscuit dough by large spoonfuls over the turkey mixture. Bake 20 to 25 minutes or until biscuits are cooked through. Sprinkle with the remaining cheese and bake 5 minutes more or until cheese is melted.
Makes 6 to 8 servings.
Food on 01/08/2020
Print Headline: Turkey Biscuit Skillet Pie will warm soul
Sponsor Content
Comments