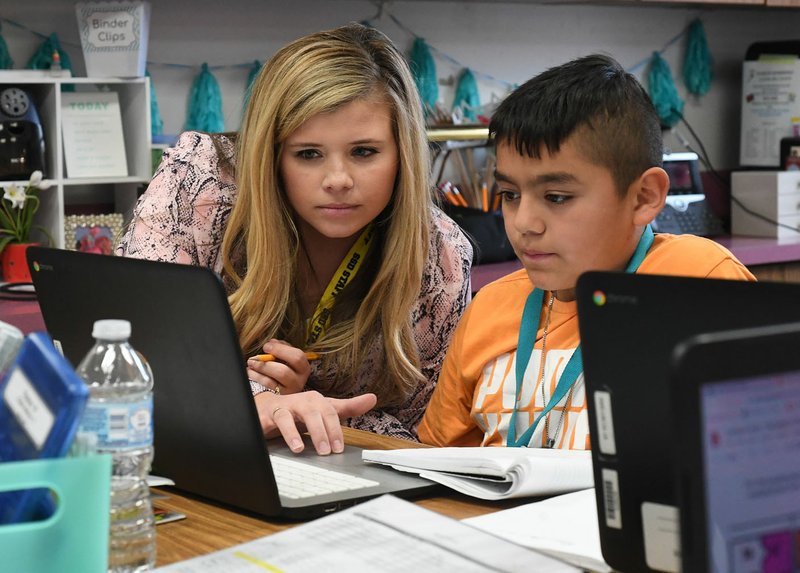 NWA Democrat-Gazette/J.T. WAMPLER Anna Shaw, math teacher at Kelly Middle School in Springdale, helps student Jose Vazquez on Wednesday. Shaw is one of four Arkansas teachers, including three from Northwest Arkansas, who were selected as recipients of the Presidential Awards for Excellence in Mathematics and Science Teaching.
The papers tell us that, after three years of declines, the number of people preparing to become teachers is on the rise.
The Arkansas Division of Elementary and Secondary Education says there were 4,443 people enrolled in teacher preparation programs across the state during the 2018-19 school year. That's up from 4,062 the year before and 3,589 the year before that. However, it's still far below the number in 2013-14 of 5,258.
What's the point: After several years of declines, the number of people training to become teachers has begun to rise. That's good news, and not just for students.
Still it warms the heart to know that more people see serving children at the front of a classroom as a viable career choice. That's good news, not only for the kids who will one day populate their classrooms, but also for communities and economies around the state.
We always hear that education is the "silver bullet," the surest way to put down the beasts of poverty and hopelessness. Having a larger pool of people willing to do the work only improves our aim. Viable and successful teachers make viable and successful schools. And those, in turn, improve our communities with successful and educated residents.
Education officials credit the rise to improved recruitment efforts, plans to raise teacher pay and programs to improve teacher retention through mentorship and continuing education.
Not all of those folks will end up in a classroom, and some that do won't last long there. But people who have a heart and a knack for teaching will find they don't want to be anywhere else. Having more people start the process will mean more good teachers at the end of it.
Educators, and schools in general, bring another important strength to the communities they serve: disposable income. The papers also tell us the workforce that makes Arkansas' primary and secondary schools run (from administrators to teachers to support staff) is the largest in the state, outdistancing state government and individual private industries and concerns. Successful schools not only improve the lives of the children they teach, but they bolster the local economy directly.
The goal of providing an adequate education to all students is, and always has been, a moving target. There will never be a time when school leaders and state elected officials will be able to clap the dust from their hands and proclaim public education "fixed." But having more people ready to join the effort earns an A-plus in our report card.
Commentary on 01/07/2020
Print Headline: Raise your hand
Sponsor Content
Comments