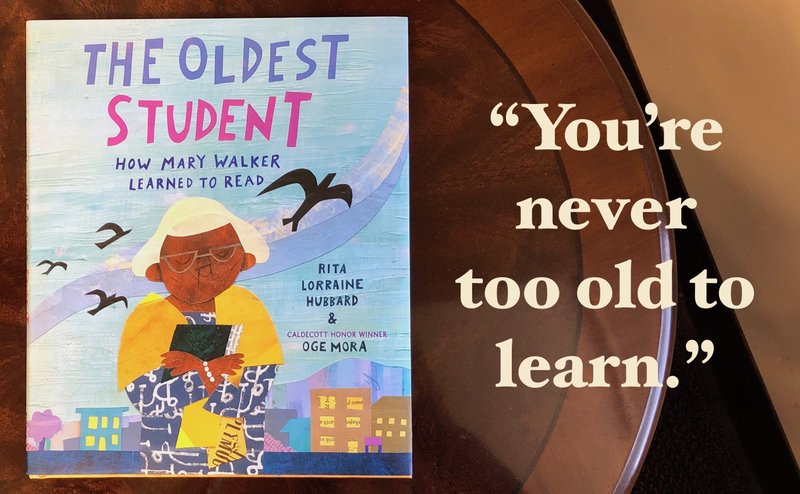 The Oldest Student: How Mary Walker Learned to Read, by Rita Lorraine Hubbard and Oge Mora (Random House Children's Books, Jan. 7, 2020), ages 4-8, 40 pages, $17.99 hardcover, $10.99 ebook. (Arkansas Democrat-Gazette/Celia Storey)
TITLE: The Oldest Student: How Mary Walker Learned to Read
BY: Rita Lorraine Hubbard and Oge Mora (Random House Children's Books, available Tuesday), ages 4-8, 40 pages, $17.99 hardcover, $10.99 ebook.
STORY: The Old News column told the story of a woman who learned to read in 1919. The column mocked the Arkansas Gazette of that year for calling her "aged." She was 52.
Mary Walker was most definitely aged when she learned to read: She was 116 years old.
This outstanding picture book tells what little is known of a true story, how in 1963 and '64, a Tennessee resident learned to read the Bible she'd been given 101 years before. In simple words and attractive collages, the book explains what took her so long.
Walker was born into slavery in 1848 Alabama, liberated by the Emancipation Proclamation at 15, married and mother to the first of three sons by age 20, a widow in her 90s, the last member of her family at 114. She had been a field hand, a sharecropper, a cook, a babysitter, a housecleaner, a church fundraiser. After she learned to read, she had adventures. She remained sharp until her death at 121.
The endpapers have photos of this achiever, whose life proves "You're never too old to learn."
Read to Me is a weekly review of short books.
Style on 01/06/2020
Print Headline: READ TO ME
Sponsor Content
Comments