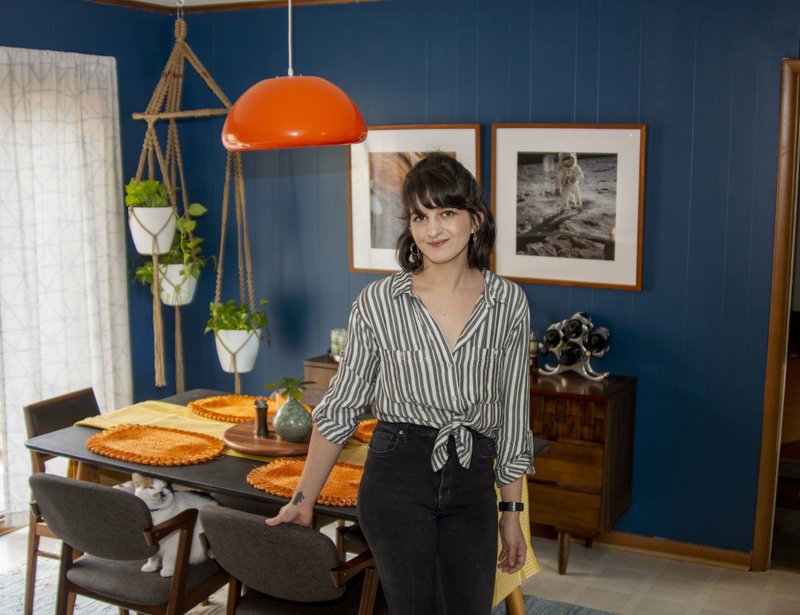 (Arkansas Democrat-Gazette/Cary Jenkins)
Hannah Genevieve Lawrence
Where I live: The Briarwood neighborhood of Little Rock.
Occupation: Assistant Gallery Director at M2 gallery and I own Strands Textiles. I sell my textiles and teach art classes.
My favorite space is: My dining room.
Why? This was actually the first room my husband and I put together when we first moved in. My family always sat down and had meals together as much as possible and that's still important to me. I love cooking but plating everything and bringing it to the dining room feels like I'm on stage. It's so glorious. This vintage light fixture from Etsy is always a conversation piece. It was from Ukraine though so we had to get it rewired at A Shade Above. We've been adding lots of vintage pieces since this house was built in 1962 and we want to feel like we're in a time capsule. I've got so many cool serving pieces from South Main Creative. I also made that macrame triple-tiered plant hanger in the corner and I can't wait until all of the pothos is just spilling out from the pots. I mostly make macrame pieces.
If I could make one change to improve this space, I would: I'd add more natural light so I could get more plants. I do want to get this linoleum out of here and get some patterned tile or terrazzo.
— Kim Christ
If you have a favorite Personal Space, email Rachel O'Neal at
HomeStyle on 01/04/2020
Print Headline: Personal Space
Sponsor Content
Comments