Danielle Hatch's artwork is influenced by the experiences of women and the spaces they inhabit.
The artist was raised by a single mother and studied art and architecture at Wellesley College in Massachusetts, a women's college.
Get Smart on Women's Matters
The Women's Foundation of Arkansas offers free access to its research on topics that impact women and girls throughout the state online at https://womensfound…">https://womensfound….
Source: Women's Foundation of Arkansas
Upcoming articles
Subsequent articles in this series about artists in Northwest Arkansas will feature:
• Bobby C. Martin, a member of the Muscogee (Creek) Nation, who's exploring his family's Native American history through his work.
• Jody Travis Thompson, who is addressing challenges and diversity within the LGBTQ community.
• Ziba Rajabi, an Iranian working to reconcile her relationship with her homeland with the life she's building in Northwest Arkansas.
Editor's Note: This is the fourth in a series of articles about diversity in the visual arts in Northwest Arkansas.
"The female body was sort of omnipresent, which I loved," Hatch said. "That kind of informed a lot of the critical thinking that I was doing about how I existed in space."
Hatch, 36, lives in Bentonville and is a multidisciplinary artist who works with sculpture and performance pieces.
A piece she's working on called "All The Soarings Of My Mind Begin In My Blood" is set to be performed at Nancy Holt's Sun Tunnels in the Great Basin Desert in Utah during the 2020 Spring Equinox, Hatch said. The artist will carry a heavy pack as part of the piece as an act of ritualizing and connecting to the physical and psychological journeys of her female ancestors.
The size of the artist's sculpture projects vary based on where they're displayed, Hatch said, explaining they can range from 3 to 5 feet tall.
"Scale is definitely something that I'm always considering, and my body is usually my initial point of reference in analyzing a space for an installation," she said.
Hatch finds inspiration through a variety of material including paper, wood, fabric, plaster, wire mesh, bronze, fiberglass and food, she said.
Sculpture allows Hatch to interact with architecture in an ephemeral manner and to have a dialogue with the installation space, she said.
"It could be sculptural in its own right, but essentially it's a space for humans at some level," she said of architecture. "I love to learn the history of a space and kind of talk about how that has changed over time."
Aspects of the artist's work have been influenced by the historical experiences of women, Hatch said, referring to a piece she made when she lived in Dallas as an example.
"I began to kind of study some of the history of the Mormon pioneers that had fled to Mexico," she said. "The thing that stuck out to me doing that research was the women's stories."
Hatch said she used a copy of old scriptures she had from when she was a child to create a pioneer dress to help describe their sacrifices.
"I read a story of a woman who lost six children in the time that she was traveling in a handcart," she said. "She would have a baby, they would die a few days later, and she would bury them on this trail traveling from Idaho to Mexico and eventually back again to California."
Telling such stories has been the basis of much of the artist's most-recent work, Hatch said.
"I'm doing it in a way that is historical, because that's sort of the connection that I have to it in this moment," she said. "I think it also is very clearly about what's happening now too -- of wanting to focus on individuals and having humanity be the most important thing."
[Don't see the podcast above? Click here.]
Work realities
The pay gap in the workforce and societal expectation can both shape the barriers for working, female artists.
Women employed in the arts make 77 cents per dollar made by men, according to Artists and Other Cultural Workers: A Statistical Portrait by the National Endowment for the Arts. The gap is slightly worse than the national average of 79 cents per dollar for the labor force overall.
The median annual income for women in Arkansas is $31,790, compared to $40,867 for men, according to the Economic Indicators for Women in Arkansas: State, Region and County report by the Women's Foundation of Arkansas. The Little Rock-based nonprofit group works statewide to advocate for the economic security for women and girls.
The median annual salary among women in Northwest Arkansas is about $25,386 for women and about $34,487 for men, according to Zoe Calkins, director of communications with the Arkansas Division of Workforce Services.
Benton and Washington counties are higher than most others in the region at $35,892 and $33, 507, respectively, according to the report. The Women's Foundation report includes 21 counties in its definition of Northwest Arkansas.
"Those are real hard facts that continue to show disparity between men and women," said Anna Beth Gorman, executive director of the Women's Foundation of Arkansas.
Her role within her household has at times hindered her career as an artist because of her husband's work and professional travel schedule, Hatch said.
"I was putting some things on hold that I would have liked to have done," she said, explaining household tasks or unanticipated familial needs often fell to her.
"At least when you're starting out, you really need to invest the time to build up a body of work," Hatch said. "That has been hard to get traction on whilst having children."
There are times when the pieces Hatch has placed in galleries would've looked different if she'd had more time to work on them while balancing the needs of her family with her art, she said.
"I'm not going to put something out that I don't feel proud of," she said. "I know in my mind that I could give more, but I'm OK with that. I'm going to do what I can do in this moment."
Hatch recognizes she willingly made decisions favoring the well-being of her family over her career.
"I think it is a little bit of a gender thing, but I feel like I carry more of the emotional burden of my children's lives in some way," she said. "I realize there are seasons of life, and I want to invest in my children."
The artist has three children ages 8-11 and works as the associate museum educator for public programs at Crystal Bridges Museum of American Art in Bentonville, she said. Hatch is creating a studio in a barn at her home.
Breaking barriers
Hatch encourages women to seek out female role models for inspiration and reassurance on their journey as artists.
"I've always really appreciated having female role models that are maybe 10 years older than I am that I can look to," she said. "Talking to them about how they raised their children, how they got through these times in their lives, that was huge for me and gave me the perspective to realize this moment is hard, but it is a specific moment. Children do grow. They do mature. You're not always in the trenches of super young children that need all of you or can take all of you."
Young women often need to have accessible examples of successful women to experience success themselves, Gorman said.
"If you don't have examples, if you don't have real tangible people that you can look to as an example, you just don't see yourself changing your circumstances," she said. "It also continues to change perspective, to encourage parents to see a different future for their daughter and not live in fear for her."
Hatch said she's often inspired by biographies of female artists who've struggled with some of the same challenges she has and seeks encouragement by communicating routinely with other artists through social media and instant messaging apps such as Marco Polo.
"Not feeling isolated is essential," Hatch said. "Having that perspective and being inspired by other women is huge for me."
Men and women in positions of influence have a responsibility to create environments in which everyone is treated equally and experience equity, Gorman said.
"Equity is something that I think that people are still struggling to wrap their head around," she said, explaining equity means making accommodations for people so everyone can take advantage of available resources.
Creating equitable work environments will allow for a stronger and thriving workforce in Arkansas, Gorman said, and will help to advance women, as well as the state's minority, underserved and vulnerable populations.
"Any organization is not running at its full intellectual capacity if you are siloing half of society out of the thinking process," Hatch said. "It can't be that disproportionate and expect good results, especially if you're serving all of society."
Art can be a good means for having such conversations, she said, but can't be where the discussion stops.
"If you can tell a compelling story, I think that could be something that hopefully moves people to feel something," Hatch said, stressing people also have a responsibility to volunteer and communicate the need for change to their elected leaders.
"I wouldn't put the burden on art for all those things," she said.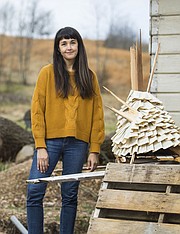 NW News on 01/01/2020