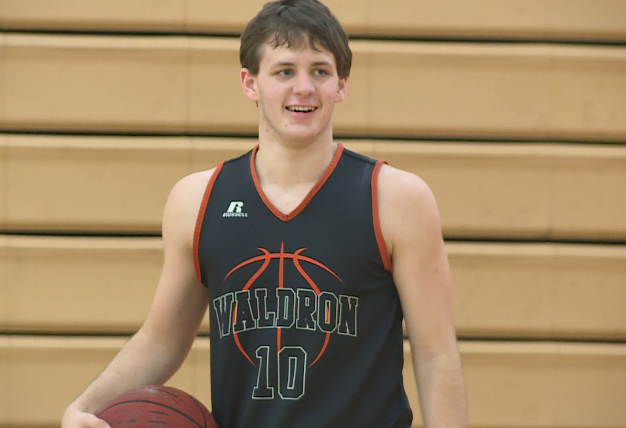 Payton Brown
Each year as the high school and college postseason basketball starts to get close, I continue a long-standing tradition of watching the 1986 basketball movie Hoosiers.
It is one of my all-time favorites and a classic that I rank with cinematic masterpieces such as Alfred Hitchcock's North By Northwest, To Kill a Mockingbird, The Shawshank Redemption, 12 Angry Men, It's a Wonderful Life and a lesser-known 1978 movie that resonated with me called Magic. It starred Anthony Hopkins for which he won a Golden Globe for best actor.
This will be the 34th straight year that I will watch the movie (via theater, VHS, DVD, online and now DVR), which had Oscar nominations for best original score and Dennis Hopper as best supporting actor. I would argue that Gene Hackman deserved a nod as best actor.
I did get a real-life preview Tuesday night when I took the short trip to Elkins to watch the Elks take on Waldron and high-scoring senior guard Payton Brown in a key 1-3A District match-up.
All too often I just go to see players that the Razorbacks are recruiting and have gotten away from watching teams that are playing for the love of the game and their school.
The teams came into the game with combined 44-7 records. Waldron head coach Jason Brown and Elkins head coach Jared Porter have led their teams to great seasons.
Brown was Jimmy Chitwood on this night, playing the role of fictional small school Hickory's leading scorer whose offense carried his team to the state championship, eventually taking down South Bend Central.
In the real-life story that the movie was based on, Chitwood was Indiana prep star Bobby Plump and he led Milan over Muncie Central.
Brown had a school-record 60-point game earlier this season, breaking his dad's previous mark of 56, and came into the game averaging 32.2 points, 7.0 rebounds and 3.1 assists per game.
He did not disappoint with a game-high 36 points, including his team's first 20 points, but Elkins won, 54-49, to keep alive the possibility of having conference tri-champs along with Charleston.
Elkins (23-3, 11-2) must beat league-leading and visiting Charleston (14-6, 11-1) and homestanding Waldron (22-5, 11-2) must take down Greenland on Friday night games for that to happen.
I thoroughly enjoyed the atmosphere in a smaller gymnasium that included a raucous home crowd and a strong contingent of fans who made the long trip from Waldron.
There was not a single dunk in the game, but two squads played great fundamental basketball with great ball movement, some clutch shooting, big-time defensive plays and waves of momentum in a back-and-forth game.
The defense was so good that I was reminded of the Hoosiers' quote "Stick with your man. Think of him as chewing gum. By the end of the game, I want you to know what flavor he is."
Brown is getting interest from, Stanford, Vanderbilt, Texas A&M, Arkansas Fort-Smith, New Orleans, UCA, Stephen F. Austin, Northwestern State and Arkansas. A Musselman staffer has been to a game this season for evaluation.
"There are a lot of teams showing interest right now and I am very grateful for that," Brown said. "I am not sure how things are going to work out, but I am just trying to finish off this season strong right now."
Other than Brown, I am not sure how many, if any, other players in the game will play college basketball, but all 10 starters and a couple off the bench did something that put their teams in position to win.
It was just a joy to watch.
My next planned trip to a high school gymnasium will be to see Fort Smith Northside host North Little Rock on Friday, Feb. 21.
There are three players in that game, including Arkansas commit Jaylin Williams (6-10, 235) and the North Little Rock duo of 6-10 sophomore center Kelel Ware and 6-1 freshman guard Bryson Warren, who already have Razorback offers.
It will take a lot for me to enjoy as much as I did my Hoosiers night in Elkins.
Sports on 02/13/2020
Print Headline: Trip to Elkins rekindles love of Hoosiers
Sponsor Content
Comments