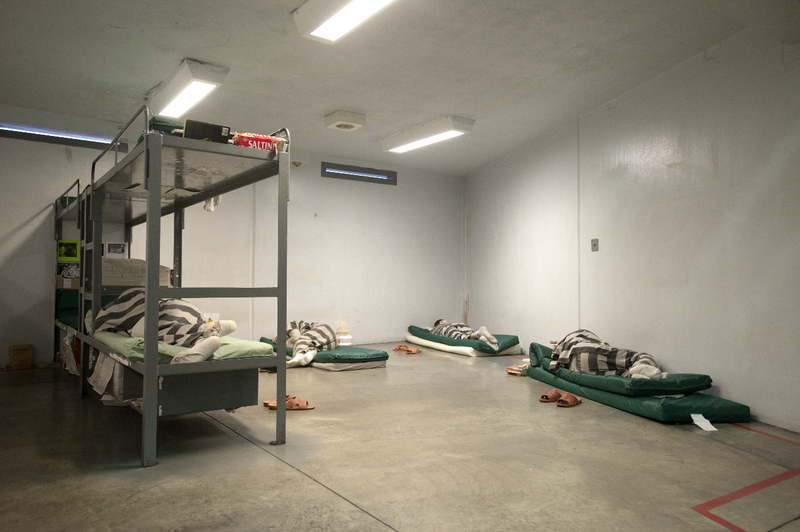 In this Feb. 14, 2014, file photo, inmates rest in their beds at the Washington County Jail in Fayetteville. - Photo by Anthony Reyes
"A problem clearly stated is a problem half solved."
-- Dorothea Brande, American writer and editor
What's the point?
Two resolutions about keeping federal and state inmates in the Washington County jail are interesting, but offer no funding solutions to establish long-term stability in the local criminal justice system.
Washington County isn't alone in Arkansas in its experience with a crowded jail, but the contentious nature of its discussions reflect serious differences of opinion about what constitutes the problem and what will solve it.
Once or twice upon a time, jails were as likely as anything to garner strong support among residents, many of whom wanted to ensure local law enforcement and judges had tools at their disposal to lock up those who broke laws and purposely caused community problems. Washington County taxpayers in the early 2000s built a new jail with a temporary sales tax (and an ongoing sales tax to help fund operations, but not fully), with recognition that Northwest Arkansas' trajectory of growth would one day demand expansion. The jail in south Fayetteville was designed with expansion in mind, with projections back then it would be necessary in 15 years or so.
That's right about now, but the reality is the county jail filled and crowding became a problem far more quickly than anyone planned. What at one time was a small problem has blossomed into a serious one as cities, such as Fayetteville and Springdale, ceased operating their own jails and began relying on county jail space. The Madison County jail was closed in 2014 after failing to meet standards established to ensure humane treatment of inmates.
The demand for jail space remains strong, and Washington County has a problem. Inmates are sleeping on the floor as its population exceeds capacity. It's a recipe for lawsuits and the situation demands releasing people the judicial system would rather see spending some time in jail.
But there's hardly agreement among county leaders as to what the real problem is. Sheriff Tim Helder, the elected official responsible for the jail's operation, has said for years the jail needed to be bigger, and finally formalized that concern with a 2018 request that the county fund a $38 million, 600-bed expansion. (By the way, the combined sheriff's office and 700-bed jail opened in 2005 cost about $24 million, reflecting how time inflates prices.)
The Quorum Court is responsible for budgeting for all county offices and must approve any funding plan for an expansion if one is to happen. In other words, none of this gets solved until the Quorum Court helps solve it. The 15-member elected body hasn't welcomed Helder's expansion proposal. Instead, it's hired the National Center for State Courts for around $70,000 to study the local criminal justice system, with a report slated for midyear. It's also embraced calls by some residents to find ways not to jail people, i.e., releasing more people who are incarcerated primarily because they can't afford bail; developing alternative sentences that don't involve incarceration; and creation of diversionary programs designed to treat factors, such as drug and alcohol addictions, that contribute to illegal behaviors.
In our estimation, it will eventually become clear a solution to jail crowding won't be an either/or choice. More likely, it will involve an all-of-the-above approach. But the crisis of crowding doesn't give Washington County the luxury of sitting on its hands until all that can be worked out.
Patrick Deakins, a member of the Quorum Court, this week said the time has come to try something different. Early this week he and two other justices of the peace -- Sam Duncan and Judith Yanez -- sponsored two resolutions promoting a "Washington County first" strategy they say will immediately ease crowding. How? By ending a contract to house federal inmates in the county jail and by transferring state inmates backed up in the jail waiting for state prison beds to other county jails willing to accept them.
Problem solved, right?
Not so fast. The jail costs more than $15 million a year to operate. Housing federal inmates brings in more than $1.3 million to help with those costs. Combined with the payments for state inmates and inmates from Madison County, the jail earns between $2 million and $2.5 million a year.
Deakins says he hopes eliminating those prisoners from the Washington County jail population will reduce the overcrowding.
Helder says opening up beds will not stop the growth-fueled demand for jail space. If beds are open, local law enforcement and judges will expect them to be used for their incarceration needs, he anticipates. Those costs will fall to the county and, to some degree, local municipalities.
Those municipalities have agreed to pay a per-capita fee for jail services, based on each city's population. Helder said that flat rate removes any incentive for the cities to look for alternatives to booking people into jail.
Deakins, however, says the county jail was built to meet Washington County's needs, not to be "in the jail business" for housing state and federal prisoners. Helder says he feels a public safety responsibility to the people of Washington County to serve "all the agencies that enforce laws in Washington County," whether federal, state, county or cities.
So what about these resolutions? Well, resolutions do not have the force of law. They essentially will express the Quorum Court's opinion, but Helder doesn't have to follow them. The opinion is not unimportant, but it's no solution. The reality is this: Solutions will prove meaningful only when they deal with the dollars and cents necessary to handle Washington County's criminal justice needs.
The Quorum Court has spent a little money on a study. Some members have welcomed talk of diversionary programs and alternative sentencing raised by advocates for jailing fewer people, but we wouldn't be shocked to learn they've embraced possible "reforms" only insomuch as it serves to put off any discussion of solutions requiring a tax increases. Time will tell whether the Quorum Court is actually prepared to pay for reforms or if it's just a convenient delay tactic.
The county is really in the midst of redefining what the local justice system is going to look like -- it's a battle over how much incarceration is necessary in Washington County. It can be argued that a "lock'em up" mentality isn't a complete response to local justice needs. But ask any judge: Having the capacity to lock people up for violating the laws of our state, county and cities needs to be a real possibility or the justice system loses its deterrent effect.
Also, advocates for diversionary programs and alternative sentencing -- approaches that try to get to root causes of criminal behaviors and empower people to overcome them -- make good points and offer worthy ideas. Such approaches need to be part of the answer, but again, funding will be key. With Washington County's growing population and court case loads, it's hard to believe the solution will realistically be found in reducing the dollars going toward the jail, which will be the net effect if the resolutions are put into action, unless someone has a secret plan to shift local tax dollars to cover more of the Washington County's jail's costs. We doubt that.
Commentary on 02/13/2020
Print Headline: Washington County first!
Sponsor Content
Comments