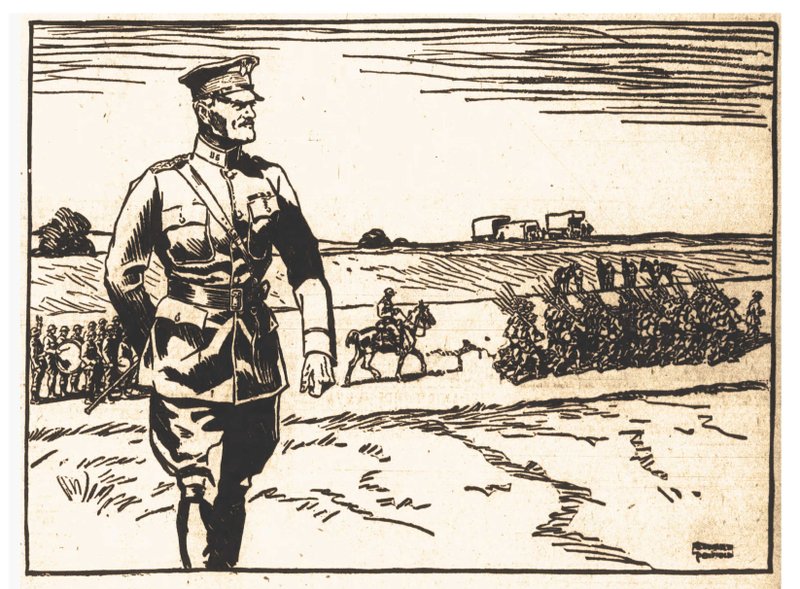 An ad from the M.M. Cohn's Co. in the Arkansas Gazette welcomed Gen. John J. Pershing to Little Rock on Feb. 12, 1920. (Arkansas Democrat-Gazette)
When murder shatters private lives, how do the shocked survivors learn that a larger, public world doesn't actually care? That time has not stopped for anyone but them?
What if the whole city throws a party?
One hundred years ago, Joseph and Lizzie East lived with their 2-year-old and their friends Mr. and Mrs. W.T. Gallegly "on" Little Rock's Pulaski Heights, in a new residential area called Pfeifer's Addition. Their nearest neighbors were Robert and Essie Wampler, who had four small children: Charlotte, Roberta, Hazel and James.
Joseph was an express driver for the American Express Co. Robert was paint shop foreman at Climber Motor Co.'s automobile factory.
The Easts kept pet rabbits. The Wamplers had chickens. The women got into a little spat when water from the Easts' yard drained into the chicken coop. But they patched things up, and the families were friends — or so Lizzie thought.
The Wamplers also owned an empty lot between their properties. There's a house on that lot today, and it appears from real estate postings that the original houses these people lived in were replaced in the 1940s. But C street still slopes downhill from Van Buren Street, and what was the Easts' yard sits a little higher than the Wamplers' lots.
About 5 p.m. Sunday, Feb. 8, 1920, the Easts and Galleglys were in their backyard, chasing loose rabbits. Joseph was whistling for the rabbits. Meanwhile, Essie Wampler was in her backyard. She made a face at him and laughed.
Joseph said, "Wonder what the idea is," and kept running after rabbits.
W.T. Gallegly caught one, but another hopped under the house.
Mrs. Gallegly would later tell the coroner that Robert Wampler appeared soon after her husband crawled under the house. Robert stood outside the fence, then walked all the way around the house toward the backyard. He called Joseph off the porch.
She saw Robert say something and heard Joseph say, "No, you are wrong about that" or maybe, "Brother, you've got that wrong." (Newspaper accounts differ.) Joseph held his right hand in the air.
Robert raised a gun and shot him in the chest.
W.T. got out from under the house in time to catch Joseph, who was falling over near the fence, and carry him indoors.
Robert just stood there, pointing his gun.
Mrs. Gallegly would encounter him a bit later at the Easts' gate on her way to another neighbor's house to telephone Healey & Roth, the funeral home. In those days, hearses were also ambulances.
She said, "You did wrong there."
He answered, "No, I didn't" and walked off to his house.
The hearse took Joseph to St. Vincent's Infirmary.
According to reports in the Arkansas Gazette, the Arkansas Democrat and Little Rock Daily News, city Patrolman Christenberry was visiting in the neighborhood. He heard women screaming and found the scene. Christenberry found Robert's gun on a shelf in his house and took him downtown to the jail at City Hall, where he was charged with assault with intent to kill.
While applying for bond, Robert told City Clerk Knowlton that he'd had trouble with Joseph before, over the chicken coop and the water. According to Knowlton, Robert said Joseph had been holding the baby on the porch while the men argued across the distance, but that Joseph then approached the Wamplers' yard and tried to crawl over a fence while holding his hand on his hip pocket. In this scenario, believing himself in danger, Robert fired as Joseph reached the top of the "small wire fence."
The young father — 26 years old — died in the hospital at 8:30 p.m. Police re-arrested Robert, charging him with first-degree murder.
The Daily News reported that he said, "It's tough luck for a man of my age to get into trouble." He was 49. He also denied the story he'd told Knowlton. And that was the last thing Robert Wampler said to the press because his attorney, Fred Isgrig, told him to stop talking.
HURRAH! HURRAH!
That same week, health officials lifted the city influenza quarantine, and homeowners and city workers festooned streets and houses with bunting and hundreds of flags. The nation's most famous military hero — Gen. John J. "Black Jack" Pershing, victorious leader of the American Expeditionary Forces — was coming through town Thursday, which was also Lincoln's Birthday.
Parties! Speeches! Parade!
Everyone was to wear roses, in honor of the patriotic American women who helped to win the war.
There was a moment of reportable shock at the state Capitol when a door opened and Arkansas Gov. Charles Brough was spotted in his chief executive office without a coat — or a vest — and with his sleeves rolled up. "In negligee," as the Democrat put it. But he was merely getting the third and last in a series of flu vaccinations. He soon emerged in the latest model cutaway tailcoat, in honor of Pershing.
Democrat reporter O.S. Williams rode the train with the general from Booneville, and found him not at all as advertised:
Not the "hard boiled" soldier that he has been acclaimed, not the stern and unrelaxing iron man that he has been pictured, but a smiling, genial and affable man of middle age and kindly smile.
He was tired from crossing the nation by rail on an inspection tour that began in December, but he was erect and snappily dressed, with closely cropped iron gray hair and mustache, and highly polished boots.
He said pleasantly but firmly that he would make no remarks about politics.
The great hero and his entourage arrived in Little Rock at 11:45 a.m. Thursday and, picking up the governor and other dignitaries, drove directly to Camp Pike to review things and attend a banquet.
After 4 p.m., they returned from Camp for a parade. It began in North Little Rock, crossed the free bridge to Main Street into Little Rock and followed Main to 10th Street, turning west on 10th to Center Street, north on Center to Capitol Avenue and west on Capitol to the state Capitol steps, where a platform had been built for speeches.
There was merry noise and a crush all along the route as thronging thousands, cheering patriots all, reached toward the open cars, eager to see a legend and possibly shake his hand.
At 7 a.m. the next morning, he would be back on his train and headed to Hot Springs for a two-day rest stop, but until then it was fifes, drums, cheers, dancing!
Meanwhile, the body of Joseph East was heading home to Rochelle, La., where Lizzie and their child would remain until Robert Wampler's trial in May.
Essie and her children remained in Little Rock. Her husband remained in the jail, denied bond and, as it turned out, certifiably insane.
Tune in next week to find out what became of him.
Email:
Style on 02/10/2020
Print Headline: Shot heard 'round the way; General visits
Sponsor Content
Comments