Bertha Gober set out to wash her 1966 Mustang one afternoon in 1969, but she didn't have to.
Jessie Washington Jr. was at the car wash in North Little Rock when she got there, and he was more than happy to do it for her.
The first time I saw my future spouse:
She says: "He was well-groomed and he was a dark, handsome man. He was tall, a height I liked, as well."
He says: "She was in a store and I saw her getting out of her car. I was just passing through. I didn't talk to her that day but I thought she was nice-looking and I was looking for an opportunity to meet her."
On our wedding day:
She says: "I was very excited. I was scared, but very excited."
He says: "I went to her home to talk to her daddy and then I left and went to the church and got ready for the big moment. She came later but I didn't see her until we got ready to march down the aisle."
My advice for a long happy marriage:
She says: "The family that prays together, stays together."
He says: "You've got to cooperate, you've got to give and you've got to take."
"He said he was impressed with the car and me," she says. "He offered to wash it. He said, 'Hey, you need some help? I'll wash it for you.' So I said, 'Hey, I'll let you do that.'"
Bertha was 20 in 1969, and she had seen Jessie, who is five years older, around North Little Rock for a while. Her family knew his family, who had recently moved from Scott to North Little Rock. Their fathers had gone to church together in Scott, and Bertha knew Jessie's sister, who was a friend of her sister's.
Jessie was cleaning his 1967 Chevrolet Caprice when she rolled into the car wash.
"I didn't know that much about her, but I had seen her and kind of wanted to talk to her," he says. "This was my chance."
When he finished Bertha's car he was getting ready to go back to work on his own. First, though, he asked for her phone number
Jessie's family didn't have a phone, but he could call her on the party line from the home of his neighbor, someone who went to church with the Gobers. Sometimes, he sent messages through that neighbor, letting Bertha know she could call him at a certain time, and the man would go get Jessie so they could talk.
They kept their conversations to 20 minutes or so at a time because they knew other neighbors might also be waiting to use the party line.
"We didn't want to tie up the phone," she says.
They talked for several months before they went on their first date, to a restaurant where they could dance after they ate.
"We did the Twist, the Chicken, the Jerk ... you know, all the dances of that day, with Chubby Checker and all of them," Bertha says. "Our favorite song was by the Supremes and it was 'Someday We'll Be Together.'"
After that, Jessie called Bertha sometimes to ask if it was OK for him to visit her at her house.
"We usually had Wednesday nights set up for visits," she says. "A lot of times we didn't go out, we would just stay at my house and visit. We didn't do a lot of going out because it was the middle of the week and on the weekends I was busy because I was a musician -- I sang in the church choir where I attended."
Bertha's parents were fond of Jessie, and he got to know them well during his visits.
"I liked her family -- they were nice people and all. And it just grew and grew until ... here we are," he says.
They got engaged about seven months after they met.
"We had gotten pretty close," she says.
They were married on Feb. 22, 1970, in the church where Bertha grew up.
"We got married on George Washington's birthday, it was the third Sunday in February, and it was in the evening. And it was in the church I attended, and it was about three houses from where I stayed."
Their wedding was large, with lots of guests by the standards of the day.
"We had quite a few bridesmaids and groomsmen. Back in the '70s everything you needed for your wedding you could rent. We rented my dress and the bridesmaids' dresses and the decorations, and all the church was decorated in red because it was in the month of February," Bertha says. "We went on a honeymoon, but we didn't go far."
Their honeymoon consisted of setting up their first home, a little place they rented in North Little Rock, she explains.
They bought some furniture before the wedding but were far from being finished and set up for living together as newlyweds.
Bertha retired from the Veterans Administration after 22 years. Jessie retired from Windsor Door after 32 years.
They have one daughter, Jessica, who lives in North Little Rock. They have one grandchild -- Calandria Evans, also of North Little Rock.
Jessica is planning a private celebration for her parents' 50th anniversary.
"It's just flown by," says Bertha of their half-century-long marriage. "I don't even feel like I'm the age I am."
She knew all those years ago that Jessie was the one for her and though things haven't always been easy she has never doubted her decision.
"He was the first person I had feelings for," Bertha says, "because I never had a boyfriend in school. It was meant to be that we met -- I felt that he was the right one."
He has been the right one all these years, she maintains.
Jessie says some things have changed since they met -- and some things have stayed exactly the same. For example, Jessie still washes and cleans Bertha's car when it needs it.
"Yes ma'am," she says. "He sure does!"
"I'm still washing it today," he says.
If you have an interesting how-we-met story or if you know someone who does, please call (501) 425-7228 or email: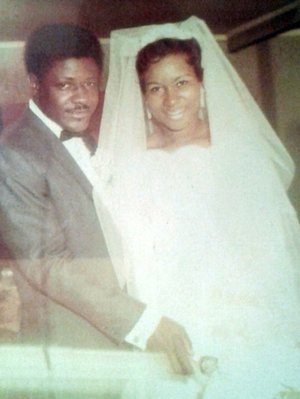 Photo by Special to the Democrat-Gazette
Jessie Washington Jr. and Bertha Gober were married on Feb. 22, 1970. They met at a car wash, when Bertha went to wash her Mustang and Jessie offered to wash it for her instead. "He said, 'Hey, you need some help? I'll wash it for you,'" Bertha says. "So I said, 'Hey, I'll let you do that.'"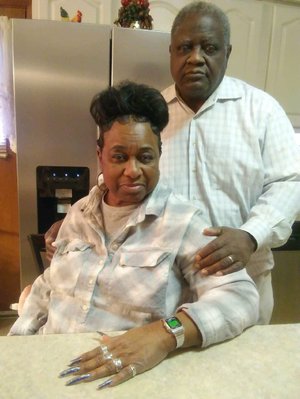 Photo by Special to the Democrat-Gazette
Bertha and Jessie Washington, Jr. will celebrate their 50th wedding anniversary later this month. "She was a nice young lady. She was very attractive, good looking, smart and intelligent, she was a pianist at a church — she was in church — she had a job and she was going to college," Jessie says. "She was just everything I was looking for."
High Profile on 02/09/2020
Print Headline: Car-washing offer still stands some 50 years later
Sponsor Content
Comments