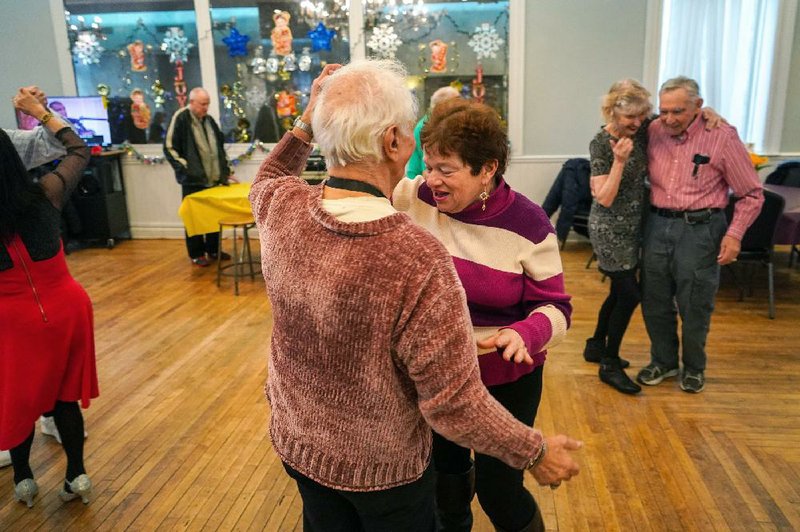 People socialize and dance at the East Midwood Jewish Center in Brooklyn in New York on Jan. 27.
NEW YORK -- The East Midwood Jewish Center in Brooklyn needs $250,000 to replace its aging roof and another $250,000 to repair the water-damaged ceiling of its sanctuary, its director said. Then there is the aging boiler -- the size of a small apartment -- that has needed $20,000 worth of maintenance so far this winter.
Looming over those everyday concerns is something more existential: keeping everyone in the 96-year-old building alive and well at a time of rising anti-Semitism in New York and around the country.
Enhancing security for Jewish institutions, and how to pay for it, has become an urgent issue for religious leaders and local and state governments.
"I lose sleep over this building every night because I care about this institution and I want to protect it and I need the money to do it," said Wayne Rosenfeld, the executive director of the synagogue, which provides Hebrew lessons for 50 students twice a week and social events for 150 older people daily.
New York, with roughly 1 million Jewish residents, has the biggest Jewish population of any city in the United States, and anti-Semitic violence in the region has become more frequent than at any time in recent memory.
Jews were the victims in more than half of the 428 hate crimes recorded in New York last year, according to the police department.
Since December, the region has experienced a wave of street attacks in Brooklyn, a shooting that killed three people at a kosher supermarket in Jersey City, N.J., and a knife attack that injured five at a rabbi's home in Monsey, N.Y.
The violence has unfolded against a deepening sense of dread throughout the country fueled by attacks on synagogues that killed one person in Poway, Calif., in April and 11 people in Pittsburgh in 2018.
Rosenfeld said that the anti-Semitic incidents had forced synagogue leaders to face "reality."
"The world is not going to get better," he said. "Things like this aren't going to go away. And whether we have the money or not, we need to do something."
Synagogues have struggled to find the money for security improvements that can range from relatively inexpensive one-time purchases such as security cameras and locks to significant recurring costs including salaries for armed guards.
Other options include electronic key cards, perimeter fencing and lighting, shatterproof glass and reinforced doors.
"It presents a real substantial issue for us to be able to pay for those improvements," said Michael Schwartz, the president of the East Midwood center, a Conservative Jewish synagogue built in 1924. "It is a constant tug of war between the demands of an aging infrastructure and trying to respond to the realities of what is going on today."
Synagogues have tried to find the money by raising annual dues, adding new security fees or organizing fundraising drives. Many have also tried to obtain city, state and federal grants, but Jewish leaders complain that the application process can be daunting and that state money often comes with burdensome requirements.
Rosenfeld said he was not sure whether his synagogue met the requirements for state funding and that the Department of Homeland Security had rejected the center's application for a grant last year. He said the application process was arduous, but he planned to apply again.
He was not alone. Edward Fox, the executive director of Yeshiva Har Torah, a Jewish school in Queens whose application for state security funding was denied last year, called the process of applying "difficult, complicated and confusing."
"It wasn't clear exactly what they wanted us to do," Fox said. He was one of hundreds of people at a conference on security-related state grants last week that was organized by Gov. Andrew Cuomo's office, which pledged to make the process easier.
"Eventually, we figured it out," said Fox, who said he planned to apply again this year. "But it took an inordinate amount of time."
At the state level, $45 million in grants is available to nonprofit schools, day care centers and other entities that could be vulnerable to attack. Houses of worship are not eligible unless they are attached to such establishments.
That amount is dwarfed by available federal funding, which has risen from $60 million in 2019 to $90 million this year. Last month, President Donald Trump authorized an additional $75 million in security grants for the next five years.
Cuomo said at the conference last week that he had included $25 million in new security grants in his proposed state budget, which is supposed to be approved by April 1. He said that the new grants would not require applicants to be attached to schools or community centers.
"I will tell you the truth: I am still shocked at what is going on," Cuomo said, before listing a number of high-profile hate crimes, including the October 2018 shooting at Tree of Life Synagogue in Pittsburgh that killed 11. "I never believed it could happen here in New York."
Hate crimes in New York accelerated as 2019 drew to a close and a new year began, with 43 across the state from Dec. 1 to Jan. 6, according to the Anti-Defamation League. Attorney General William Barr on Jan. 28 announced federal hate crimes charges in one case, a string of anti-Semitic assaults in the Crown Heights section of Brooklyn on Dec. 27.
"Over the last several years, we have witnessed a change in the mindset in the community," said Michael Masters, the national director of the Secure Community Network, which works with Jewish groups across the country. Since the Pittsburgh shooting, he said, reports of anti-Semitic incidents to the organization had increased 729%.
"Whereas before people may have asked whether it was really necessary to have an organized, formal security program, now they are asking much more frequently, 'How do I do it?'" Masters said.
There is no one-size-fits-all answer to that question. Security arrangements can vary widely based on a synagogue's age and physical layout, how deep its pockets are and whether its members feel comfortable praying while an armed guard watches the door.
That means the cost of securing a building can also vary widely. An armed guard is the most expensive option and can cost hundreds of dollars for a few hours of work a week, said Joshua Gleis, the president of Gleis Security Consulting.
But any measure could be a waste of money if it is not part of a comprehensive strategy that includes training community members, he said.
"In most places, $100,000 is going to go a long way, but it won't do everything," Gleis said. "In some places, people spend $100,000 on cameras but they can't lock their doors."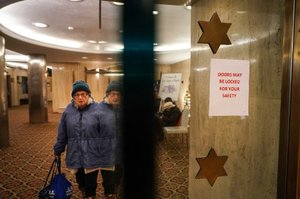 Photo by The New York Times/Chang W. Lee
Magnetically locking doors were recently installed at East Midwood Jewish Center in Brooklyn. Enhancing security for Jewish institutions, and how to pay for it, has become an urgent concern for religious leaders and local and state governments.
Religion on 02/08/2020
Print Headline: Rush is on to make synagogues safe
Sponsor Content
Comments