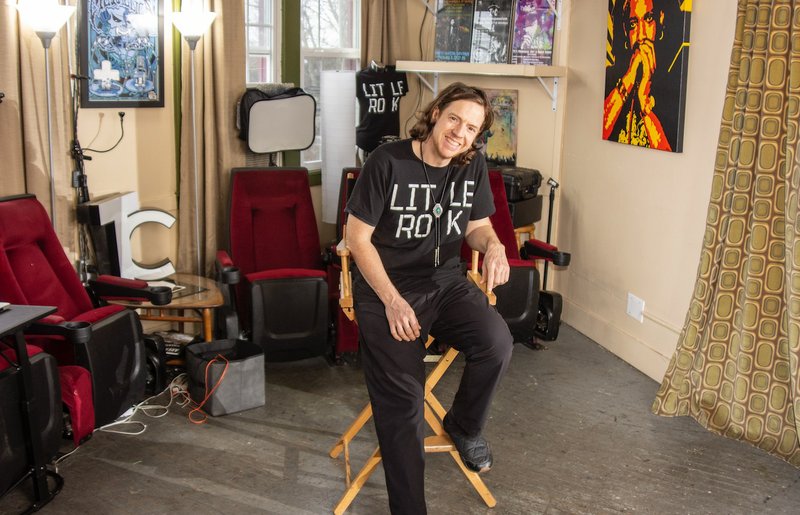 Mike Poe (Arkansas Democrat-Gazette/Cary Jenkins)
Mike Poe
Where I live: Stifft Station, Little Rock
Occupation: Filmmaker, 24P Studios
My favorite space: my studio
Why: I love Stifft Station. My family has history here for a century. My parents lived in this neighborhood, as did my father with his mother, my grandmother, who lived in her parent's house just a few blocks from this spot.
It was my dream to have this particular art studio after my artist friend the late Christina Forbes brought me up here in the 1990s. When she first showed it to me I felt like Tank Girl had chosen me as her sidekick, and her hideout seemed to appear out of nowhere from a hidden door just steps away from her beloved Addams Family pinball machine. I've lived here for nearly 20 years. And over a decade of that was with my best friend and brother TC Edwards, who was my roommate for a bit, and then still came by every day and crashed here often until he was murdered in late 2014. TC is the subject of our documentary and now forthcoming podcast, "TC & Me." This tiny studio has his history and imagery in artwork on every wall and it is a powerful magnet for magick and energy. I plan to conjure and curate this TC & Me museum as long as I live.
If I could do one thing to improve this space, I would: I'd have TC and Christina back here living with me. I imagine us listening to records, making art and eating mac 'n' cheese.
— Kelly Brant
HomeStyle on 02/08/2020
Print Headline: Personal Space
Sponsor Content
Comments