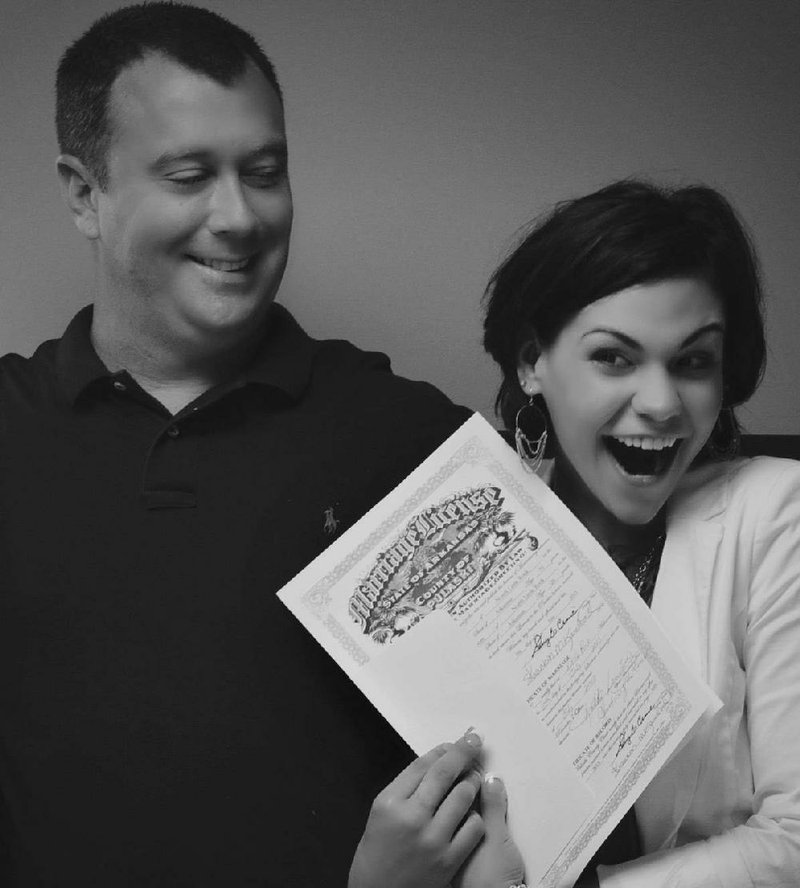 John Woolf and Maggie Moore were married on July 5, 2013. "I have been with this man every day, except for maybe four, since then," Maggie says. "We've had our ups and downs but this man has been my Prince Charming, the most wonderful man, husband and daddy." (Special to the Democrat-Gazette)
Maggie Moore was ready to go back home even before she left. But if she hadn't gone out, she wouldn't have met John Woolf.
"Our story is great because it just almost didn't happen," she says.
The first time I saw my future spouse:
She says: "He was smooth and confident."
He says: "She was beautiful."
On our wedding day:
She says: "I was late. I got up there and he goes, 'I already let two couples go ahead of us.'"
He says: "I was just kind of mad because she was late. She's always late and I'm never late."
My advice for a long happy marriage:
She says: "Have openness, honesty, being upfront — no omission of things because that gets you into trouble. Don't have secrets. And be friends."
He says: "Be vocal. Communicate."
Maggie's friend wanted to meet a guy at the Fox and Hound in North Little Rock in June 2011, and she begged Maggie to be her wingman.
"My girlfriend just kind of dragged me out," says Maggie, who had ended a serious relationship a few months earlier and was happily settling into a solitary life. "I'm just like, 'You know what, just let me go home and go to bed.' And I remember vividly, she looked at me, and she goes, 'You are never going to meet someone if you don't get out.' So I said 'OK, fine, whatever.'"
They got a table at Fox and Hound and ordered a couple of drinks while they waited, and Maggie spotted a nice-looking guy standing by the door.
"I kind of noticed him because he's a tall, giant man. He's like 6-foot-3 or 6-foot-4 and broad-shouldered. And, you know, we're talking almost 10 years ago, when guys really slouched their pants, and I'm thinking, 'This guy, he knows how to wear a pair of dress slacks.' They were on his hips where they were supposed to be," Maggie says. "I just was doing the flirty eyes, and I made sure that I made eye contact with him. But I wasn't about to go up and talk to him or anything."
Time ticked by and still no guy. Maggie had to work the next morning so she finally convinced her friend it was time to go. But right after they settled their bill, they saw a group of guys walking past the windows and toward the entrance. Maggie's heart fluttered when she realized that one of them was the man they were there to meet.
They came inside, where they were joined by the guy Maggie had been watching.
"He was with them," she says. "My stomach starts giving me those butterflies, I start getting nervous. OMG, this hot guy I've been watching, who's been watching me, is coming over to me. I think to myself he's probably going to someone behind me. And then he sits down. We talk, and I do my best to use my words and personality to get this guy interested."
It worked. At the end of the evening, the guy, John Woolf, asked for her number. She didn't want to be disappointed if he didn't call, though, so she told him to look her up on Facebook.
"I had to write her name on my hand because I'm terrible with names," says John, who had pulled a pen from his pocket to jot down her information while she wasn't looking.
John, as it turned out, had been about to leave when his friends arrived. They had been more than 30 minutes late and hadn't responded to his calls or texts. He had been walking out to go home when they got there.
"I was just ready to leave," he says.
He was, of course, glad he stayed after he met Maggie. He sent her a Facebook friend request the next day and they exchanged messages and then talked on the phone for two hours. They met that night at the Fox and Hound, where John was judging a swimsuit competition.
Maggie asked a friend to go along with her -- even offered to pay her tab if she would go. John was busy when they got there, but he had saved Maggie a seat and had already instructed the server to add her to his tab.
"He was such a gentleman and so smooth," she says.
On Dec. 15, which marked six months of dating, John presented Maggie with a pair of purple suede stiletto heels she had admired while shopping with his mother a couple of weeks earlier.
He knelt on the floor in front of her to help her put them on, so he was already down on one knee when she discovered the engagement ring he had taped to the insole.
They were married two years later, on July 5, 2013, at the Pulaski County Courthouse.
"That was kind of our gift to ourselves," Maggie says of their wedding venue. "It was no rush, no stress, just for us."
Their wedding put some formality to what John had promised soon after they met.
"We were at Crazy Hibachi, and we were talking. And he asked me what I wanted or something like that. I said, 'I want forever, John Woolf,'" she says. "He wrote on a napkin, 'You for forever -- per John Woolf.' I've still got the napkin."
Maggie and John, the manager of Russell Chevrolet in Sherwood, live in North Little Rock with their three children, Elizabeth, 7, Kathryn, 3, and John, 1.
"I have been with this man every day, except for maybe four, since then," Maggie says.
"We've had our ups and downs, but this man has been my Prince Charming, the most wonderful man, husband and daddy."
If you have an interesting how-we-met story or if you know someone who does, please call (501) 425-7228 or email: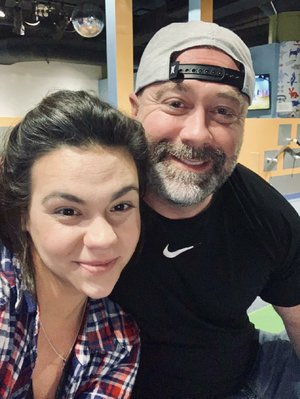 John and Maggie Woolf have been together for nine years and they have been married for six. John proposed by attaching a ring to a pair of purple suede stilettos. He had asked for her mother's blessing ahead of time, giving her a chance to pick up a bottle of champagne to help them celebrate. (Special to the Democrat-Gazette)
High Profile on 02/02/2020
Print Headline: Wingwoman stays long enough to meet her Prince
Sponsor Content
Comments