Editor's Note: Throughout this year, we've a featured called Maker Space to introduce you to more of the artisans who call Northwest Arkansas home. This is our final installment for 2020.
"Discarnate Landscapes" marks the ninth exhibit -- some virtual, some in-person -- that the Northwest Arkansas artists' collaborative Art Ventures has produced since mid-March, when the world turned inward in the face of covid-19. Though the organization's leaders have struggled with the same issues other arts organizations have -- smaller crowds and complex covid-19 safety guidelines -- the successful pivot to transferring their rich artistic studies online and acquisition of a new gallery space in the historic house at 20 S. Hill Ave. in Fayetteville are high points in a difficult year. Their newest exhibit, according to a press release, "contemplates and explores the relationship between the human body and the landscape of the environments in which we live."
"The theme of 'Discarnate Landscape' was absolutely affected by the pandemic," says James Jackson, Art Ventures' internship and operations manager. "When the semester started, we were teaching our interns our traditional curating practices, including receptions and other publicly attended gatherings. When the pandemic shut everything down in March, we had to re-imagine what it meant to be a functioning small gallery with no visitors. As we went virtual, our interns began to ask that very question of how we relate to our environment since we were all confined and many of us having to become more intimately familiar with that environment than we ever could have imagined. [Spring intern Jordan] Jones took those questions and linked the connection our bodies feel to our current landscape."
Jackson and Art Ventures Board President Sharon Killian have emphasized in the past how important it is to them that Art Ventures' interns receive as hands-on an experience as possible.
"We feel successful in teaching our curatorial interns the sophistication of and relevance to diversity and equality in humans as reflected in art surrounding one concept," notes Killian. "Jordan Jones, Art Ventures curatorial intern [for] spring 2020 devised this exhibition, including selecting the artists and artist works."
While several of the organization's events have been in-person exhibits, "Discarnate Landscapes" can be accessed online only.
"Art Ventures historically put effort into reaching an online audience, and those people have been very excited about our online exhibitions," says Killian. "We have also gotten a great response from constituents and partners, including some artists, who normally look forward to emails or the written word, but now also enjoy getting an exhibition in the mail, so to speak. An unexpected plus for us is the ability to extend our curatorial program to fully include the online platform. This experience, including now learning to design the exhibition in a virtual space, will be a new valuable skill in the arts marketplace which students coming through the Art Ventures program will have."
The exhibit features four artists, all local to the Northwest Arkansas area.
"LaDawna Whiteside, Lee Ann Dodson, Kristoffer Johnson and Jessica Mongeon bring unique ways of seeing and connecting the human body (environment) and the landscape (body) environment," says Killian.
Whiteside, Dodson and Mongeon answered some questions about their participation in the exhibit for Our Town.
Lee Ann Dodson
Tell us a little bit about how you interpret the theme for this exhibit, "Discarnate Landscape"? What pieces did you choose to exhibit, and why?
I had to look up the word discarnate -- without flesh. It has been such a strange year, but I began this series in 2019 after spending a few hours in my underground tornado shelter during a wild April afternoon of storms and tornado warnings. Tornadoes are without flesh or body. They are ephemeral and powerful. They can drop down with little to no warning and wreak havoc, destroying lives and communities. In a profound way, each tornado painting I've done is a self portrait.
I latched onto tornadoes as a subject because they were so illustrative of my mind and the turmoil in this country. Beginning this series in 2019 was prophetic for the storm to come in 2020. We have so many environmental concerns. [The year] 2020 has brought our country the most named storms ever. It seems that between the floods, the fires, the hurricanes and tornadoes, droughts, etc., Mother Nature is pretty [annoyed]. The pandemic is a different kind of storm that may very well bring us to our knees.
It has been very difficult for me to paint since the pandemic began. I have continued working on the tornado series -- now in oils -- but like many, I have had problems focusing on anything. Luckily, I live on 120 acres of family land that is mostly woods. The best activity to control my loneliness and anxiety has been to work outside, digging, planting, hiking, building walkways, etc. I was on an extension ladder in May sawing down a dead limb from a 150-plus-year-old oak tree, and unfortunately, when the limb gave way, it swung towards where I was standing on the ladder. Somehow my instinct told me to turn around and jump off before I was knocked off (the limb badly dented both rails of the ladder). I broke my left calcaneus (heel) and fractured two vertebrae. Anyway, the months of being flat on my back with my foot elevated, or on a knee scooter or crutches trying to just take care of myself, did not improve my ability to paint during these days.
Luckily, I healed well, and I'm back to working. Although the results of the presidential election have eased my anxiety, I still do best when I spend as much time outside working as possible.
How is it different as an artist to exhibit your work online, versus in person?
I was thrilled to be invited to be a part of this online exhibit. I love all the artists' works in the show. There is wonderful variety in approach, mediums and interpretation. It is not the same as having a show in the gallery, but since many aspects of our lives are going to "virtual," it makes complete sense for art to be accessible online too!
LaDawna Whiteside
Tell us a little bit about how you interpret the theme for this exhibit, "Discarnate Landscape"? What pieces did you choose to exhibit, and why?
In search for meaning and new perspectives, my work is built out of abstraction. I chose to create works in layers over time. We are all conditioned by our past. I come from a lineage of faith healers and believers. I didn't choose the work as much as it chose to come to the surface through my mind and hands over time.
Has it been helpful for you to continue creating during the pandemic?
Making work is an ongoing part of my being here during this time and place. In my lifetime, I have witnessed the aftermath of many wars, as well as racism, sickness, cancer, AIDS and deaths of people who still walk the earth. Making work probably does help me keep going. It helps to process and to try to build a narrative around the ineffable.
How is it different as an artist to exhibit your work online, versus in person?
The virtual format is a powerful way to reach people and to open space to creative exposure to multitudes of people. The physical presence is another experience all together. I am honored to be included as I know and will always remember what it is like to be excluded.
Jessica Mongeon
Tell us a little bit about how you interpret the theme for this exhibit, "Discarnate Landscape"? What pieces did you choose to exhibit, and why?
To me, this theme is about the relationship between humans and nature, which is also the overarching concept in my artwork. It speaks to our senses, and how we interpret our environments through the body and process them emotionally. I experience the landscape through walking in nature; those experiences feed into my paintings through my use of expressive rather than realistic color. I chose pieces from my "Licheneuron" and "Origin" series. Those pieces highlight the similarities between systems of nature and human biology including human brain neurons, trees/branches, lichen and moss.
"I Found Myself Within a Forest Dark" is named after a phrase in Canto I of "Inferno," in "The Divine Comedy" by Dante Alighieri. "The Divine Comedy" speaks to the faults of humankind that have prevailed for centuries. I included imagery of two types of neurons found in the human brain in a dreamlike forest atmosphere. The trees are from a photo I took of old-growth forest at Mount Magazine State Park, and the lichen and moss are inspired by that same trail.
All of my paintings are based on my personal experiences except for "The Revelation of Joshua," where I depict the destruction at Joshua Tree National Park that took place during the government shutdown last January. I was trying to make sense of how people could destroy nature so carelessly and to memorialize the damaged ecosystem.
"Origin" is the start of a new series that is inspired by a placenta print that I made after my son's birth. The placenta symbolizes new life because it is how the mother nourishes her child while still in the womb. I camouflaged it with lichen to show the similarity between humans and nature.
Has it been helpful for you to continue creating during the pandemic?
Yes, it has been both important and helpful. My first child was born at the beginning of March, which also happened to be the beginning of the pandemic. Painting has been a way to find my identity again and to escape the isolation and anxiety of new motherhood and life during a pandemic. The power of art is that it can express ideas that cannot be put into words and can only be felt on a visceral level. Painting tends to be a solitary activity which is suitable for quarantine life. This time has provided a unique opportunity for self reflection.
How is it different as an artist to exhibit your work online, versus in person?
The accessibility of an online format is definitely an advantage, especially in this phase of life as a new parent. I am excited about the opportunity for a new audience to see my work, not just those who have time or feel comfortable visiting an in-person gallery. It's also been a great way to share my work with friends and family who live far away. I do miss the in-person aspect because there is a power to standing in front of the physical painting that can't be replicated in an online format. There are some surface qualities to the work that have a glittering/shimmer effect that interacts with the light that are difficult to capture. I hope that collectors will be interested in displaying my work in their homes so that they can experience it as part of their daily lives, and perhaps it can give them a sense of escape as they spend more time at home.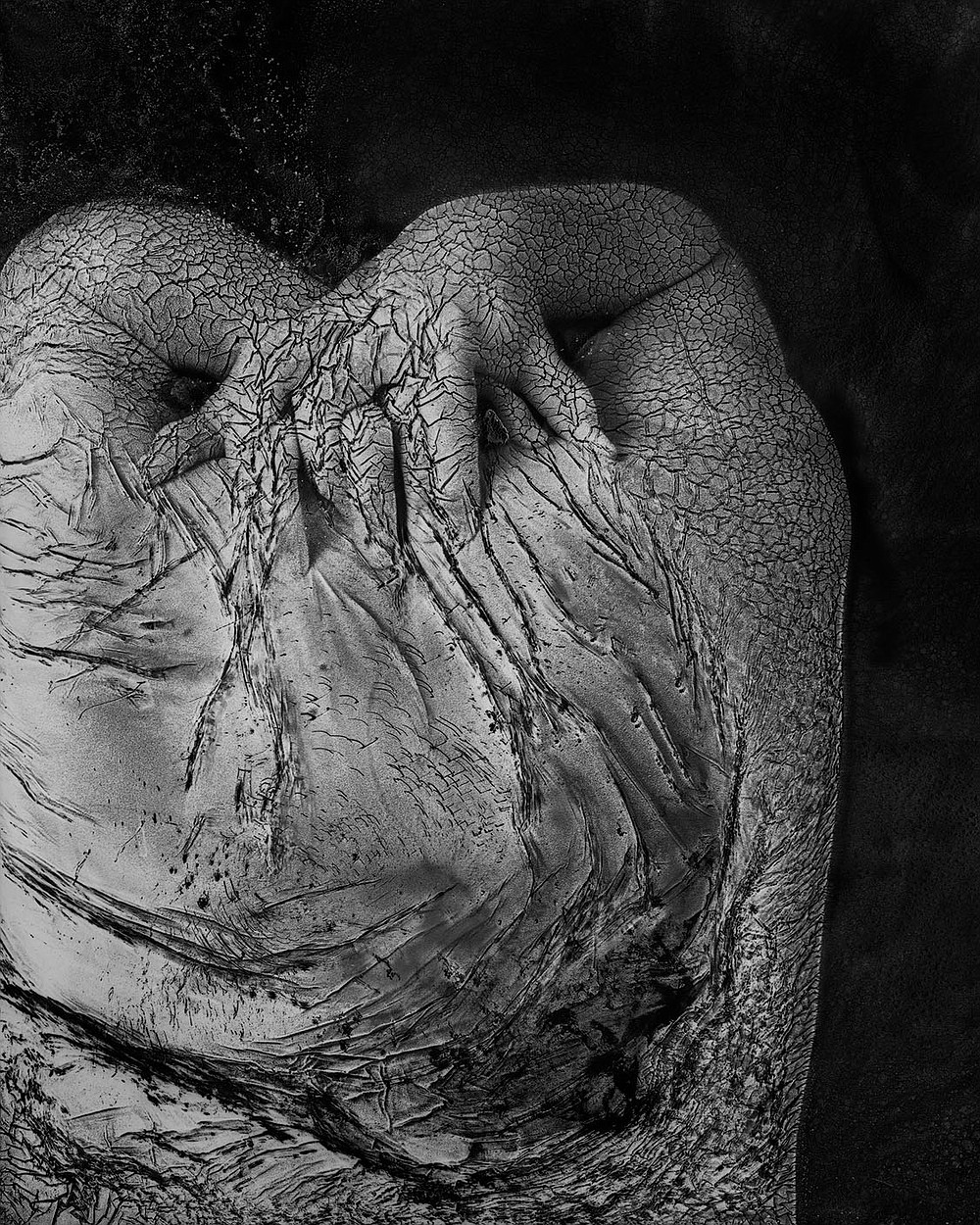 "To Which We Return 57" by Kris Johnson. Archival pigment print, 22-by-28 inches Inquiries: [email protected] (Courtesy photo)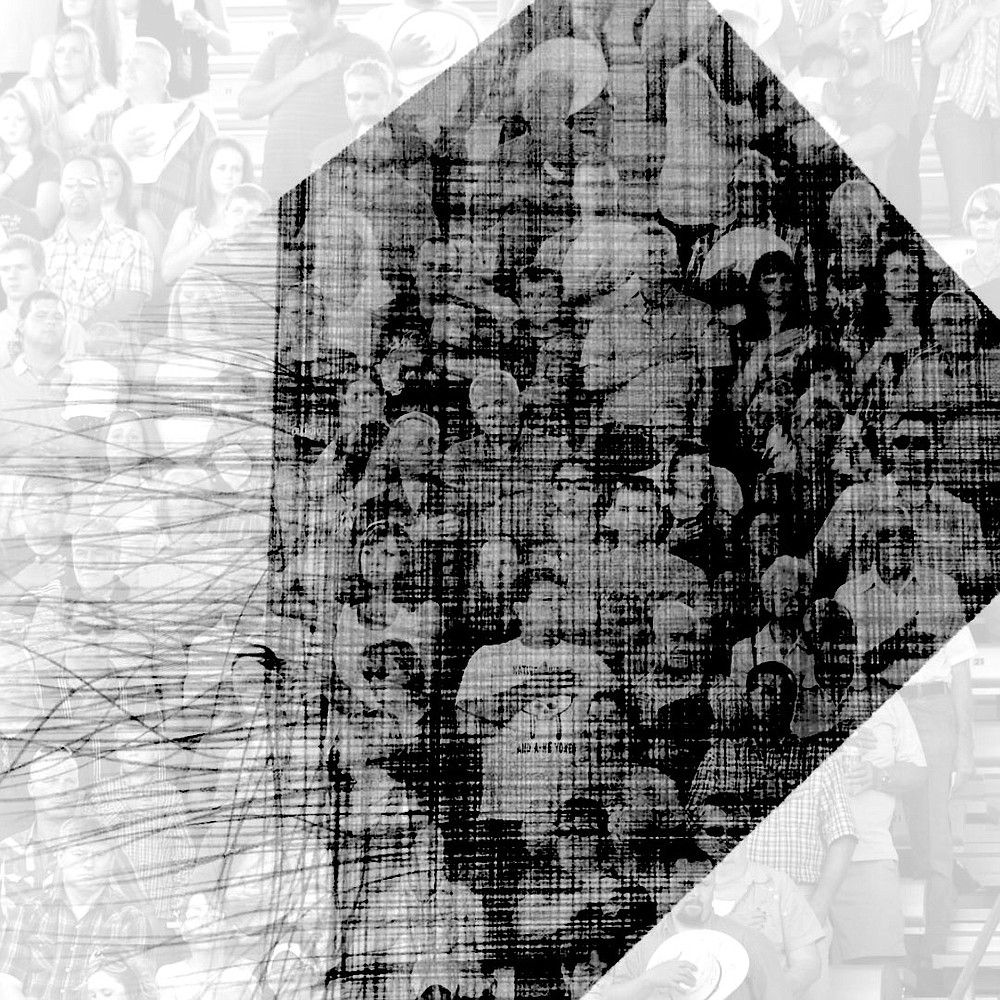 "Fiber Body 3" by LaDawna Whiteside. Layered drawings and photographs, 15-by-15 inches Inquiries: [email protected] (Courtesy photo)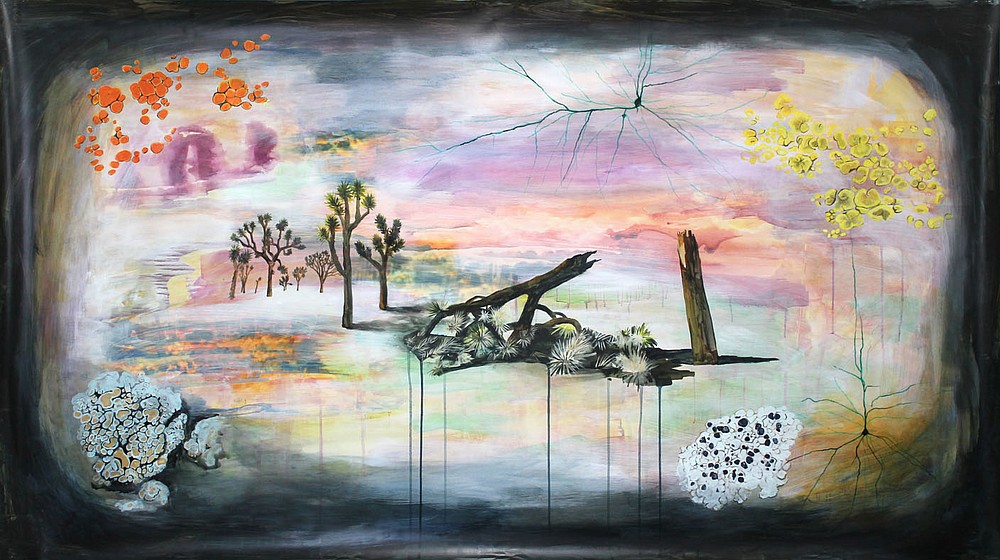 "The Revelation of Joshua" by Jessica Mongeon Acrylic on tree-free paper, 40-by-70 inches Inquiries: [email protected] (Courtesy photo)
More News
'Discarnate Landscapes'
When: Through Jan. 31, 2021
Where: Art Ventures online
Cost: Free
Information: artventures-nwa.org/programs