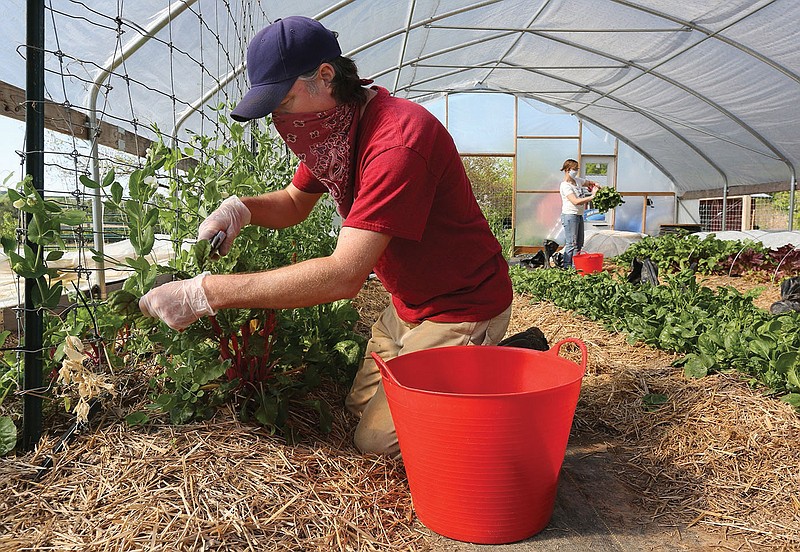 Cale Nicholson, farm manager at the Apple Seeds Teaching Farm in Fayetteville, harvest rainbow chard Monday, April 20, 2020, inside the high tunnel on the farm in Fayetteville. The fresh produce is bagged and partnered with an educational recipe book for distribution. This week's harvest is going to Fayetteville's Outback Pantry. Over the past weeks produce and recipe books have been distributed to students at Owl Creek Elementary school in Fayetteville, and four schools in Springdale. Visit nwaonline.com/200421Daily/ and nwadg.com/photos for a photo gallery. (NWA Democrat-Gazette/David Gottschalk)
Northwest Arkansas is blessed with a large number of nonprofit agencies that, together, meet just about every need. These organizations are supported by the generosity of the community.
Continuing today and for the next few weeks -- in keeping with a holiday tradition -- the Northwest Arkansas Democrat-Gazette will share "wish lists" from local charitable organizations. Even in this unusual holiday season, we hope to give you, our readers, opportunities to play Santa and give something back to those who spend all year giving.
And if you're one of those nonprofits, whether you produce theater, serve those with disabilities, fight for healthier Arkansans or showcase art, let us help your organization spread the word by sending your wish list to [email protected] Wish lists will continue through Jan. 7 in the Our Town section.
Apple Seeds
What we do: Apple Seeds mission is to inspire healthy living through garden-based education. We serve Northwest Arkansas, teaching children where their food comes from and introducing them to just how great good-for-you foods can be! We empower by teaching basic cooking skills such as how to read a recipe, how to use a knife or cutting tool. And we share the harvest of our teaching farm with children who need it most along with kid-pleasing Apple Seeds tested recipes.
Address: 2648 North Old Wire Road in Fayetteville
Website: appleseedsnwa.org
Contact: Mary Thompson, executive director, (479) 200-8318 or [email protected]
Wish list: Gas gift card (so we can deliver fresh produce to children each week); Office Depot gift card (so we can keep printing and sharing kid-pleasing recipes along with that fresh produce); pens, pencils, printer paper, Post-It notes; gift certificate for Johnny's Seeds -- johnnyseeds.com; gift certificate for Southern Exposure Seed Exchange -- southernexposure.com.
Our wish this year is that all children should have access to fresh fruits and vegetables; that they should have the opportunity to build a life-long love affair with nutritious foods; and that they can be empowered with skills and knowledge for better food choices. Mostly, we wish for all children to feel a sense of belonging when sitting down at the Apple Seeds table, in person or virtually.
Crystal Creek Cat Rescue of Bentonville
What We Do: Crystal Creek is a nonprofit 501(c)3 group of volunteers dedicated to saving cats through spaying, trap-neuter-release, adoption, education and assistance to the Northwest Arkansas community with cats.
We partner with the community to address needs regarding feral cat colony management, TNR, owner surrenders and rescues. We rely on community involvement and cooperation to make our mission possible. This includes everything from adopting out cats and kittens who need homes to bringing awareness and acting to solve the out-of-control local cat overpopulation in humane, healthy ways.
We began in May of 2016 and to date have placed more than 2,000 cats in homes. We never euthanize cats due solely to FIV or FeLK positive conditions.
Address: Bentonville
Website: Crystalcreekrescue.com
Contact: Cheryl Canfield, TNR coordinator, [email protected]
Wish List: microchip scanners (2), TruCatch humane traps, Instinct canned cat food, World's Best unscented kitty litter, Breeder's Edge kitten milk replacement, cat carriers, large dog kennels, Nutrical Kitten gel, used, clean towels sheets and blankets, materials to make feral cat shelters (request specific list please), volunteers to foster cats and kittens and coordinate fosters, volunteers to handle social media and website, volunteer bookkeeper, volunteers to transport cats to vet visits, etc., trappers for TNR, volunteers to assemble feral cat shelters.
-- Carin Schoppmeyer
Sponsor Content
Comments