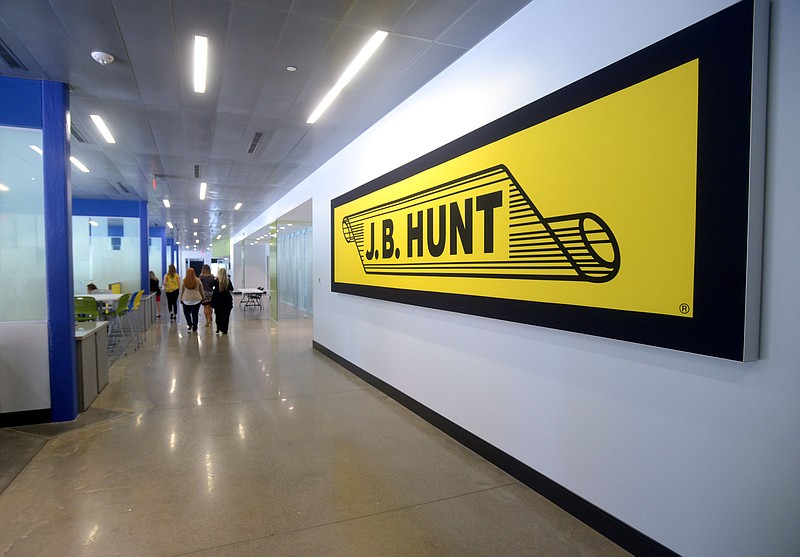 A view of the break area inside the new expansion Thursday, July 6, 2017, at the J.B. Hunt Transport headquarters in Lowell. - Photo by Ben Goff
Trucking company J.B Hunt Transport Services Inc. is teaming up with the University of Arkansas at Fayetteville through a $2.25 million grant to improve inclusion, diversity and sustainability in the transportation and logistics sector, according to a Tuesday news release.
To fund the project, Lowell-based J.B. Hunt will gift $1.5 million incrementally to the Sam M. Walton College of Business and reallocate $750,000 from the J.B. Hunt Innovation Center of Excellence.
According to a release, the J.B. Hunt Transport Services, Inc. Inclusion Education and Thought Leadership Fund will encourage diversity through education by assisting the college's staffing and efforts toward diversity, equity, and inclusion in the industry. The J.B. Hunt Transport Services Inc. Sustainable Supply Chain Management Research, Innovation, and Education Fund will support education aimed at sustainable business practices and encourage industry experts to address environmental, social, and corporate governance issues.
"Through this collaboration, we will help educate and promote the value of an inclusive workplace, one that respects the individual and creates a welcoming environment for all ideas, values, and beliefs," John Roberts, chief executive officer of J.B. Hunt, said in a statement.
Sponsor Content
Comments