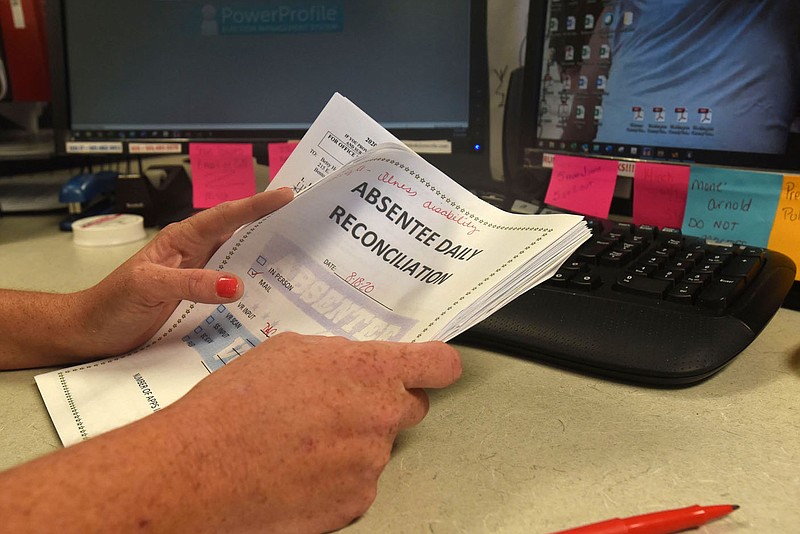 Dana Caler processes absentee ballot requests on Tuesday Aug. 18 at the Benton County clerk's office in downtown Bentonville. (NWA Democrat-Gazette/Flip Putthoff)
BENTONVILLE -- Absentee ballot applications in Benton and Washington counties continue to flow in, officials said.
More voting by absentee ballot is expected in November than in previous general elections because of covid-19 and guidelines to avoid public gatherings like a vote center to stop the disease's spread.
Arkansas Secretary of State John Thurston said June 25 state law provides sufficient latitude for voters concerned about the coronavirus to request an absentee ballot for the November general election. The law allows a voter to request a ballot if he will be "unavoidably absent from his or her voting place on the day of the election."
Gov. Asa Hutchinson signed an executive order earlier this month allowing election officials to begin preparing absentee ballots for counting up to 15 days before the Nov. 3 general election. The election includes federal, state, county and municipal races. Some ballots will contain school board, community college and judicial runoff races.
"They can prepare the absentee ballots without opening up the envelope but still getting it prepared so that on Election Day it is quicker to count, and they will be a little bit ahead with the number of absentee ballots that we expect," Hutchinson said.
The rule for preparing absentee ballots was seven days before the election prior to Hutchinson's order, said Kim Dennison, Benton County election coordinator.
The Benton County Clerk's Office processed 5,813 absentee ballot applications by Thursday morning with another 300 or so awaiting processing, said Dana Caler, county clerk elections administrator/voter supervisor. Benton County has 163,239 registered voters as of Thursday.
In Washington County, more than 4,936 absentee ballot applications were processed as of Thursday morning, said Jamie Williams, deputy clerk. There were 136,244 registered voters Thursday in Washington County, Williams said.
The Benton County Clerk's Office tries to contact a voter when there are issues with an application so it can be corrected, Caler said. The most common reason for an application to be rejected is because someone isn't registered to vote, Caler said. The deadline to register to vote is Oct. 5, she said.
Election officials said they will begin to mail absentee ballots Sept. 18.
In the 2018 general election, 1,387 votes (0.08%) were cast as absentee in Benton County. That number was 2,845 (1.9%) in the 2016 presidential election, according to the clerk's office.
Some states send a mail-in ballot to every registered voter in a county or state. Arkansas uses an absentee ballot system.
A voter may request an absentee ballot application by contacting the county clerk in the county where he's registered to vote, according to the Arkansas Secretary of State website.
Voters may download the application from the county or Secretary of State websites.
The application can be submitted by fax, email, in person or mail, Jennifer Price, executive director of the Washington County Election Commission, has said.
The deadline to request an absentee ballot by mail or fax is Oct. 27, although a voter can pick up an absentee ballot in person until Nov. 2, the day before the election.
All absentee ballots must be returned by 7 p.m. Nov. 3 to be counted, Thurston said.
The U.S. Postal Service warned states in a letter earlier this month it cannot guarantee all ballots cast by mail for the November election will arrive in time to be counted, even if mailed by state deadlines, according to the Associated Press.
Early voting
Early voting also will be a popular option for voters in the two-county area. Early voting starts Oct. 19.
Benton County counted 47,170 early votes of 77,919 cast in the 2018 general election, according to Caler. In the 2016 general election, 66,721 early votes were cast of 97,738.
"We are definitely seeing a large increase in the number of absentee requests this year compared to years past," Caler said. "I am sure this will impact the number some during early voting and election day, but with having over 160,000 registered voters going into this election I would still predict a good turnout of in-person voting."
Benton County election officials established covid-19 precautions during a runoff election in March and the Bethel Heights annexation election earlier this month, Dennison said.
Voters used a Stylus pen to sign at the voting sites, then took the pen to a voting machine and used it to touch the screen instead of using their fingers. The pen was then dropped into a sanitizing bucket after each use, Dennison said. The touch screens also were cleaned after each use, she said. Acrylic shields separated poll workers from voters, too, she said.
The county has 150 acrylic shields for early voting, said Bryan Beeson, facilities administrator. The county also will use its Clorox360 sanitizing machine before voting starts and after it ends at the early voting sites, Beeson said.
"We have had all summer to think through everything ensuring our poll workers as well as our voters are safe at the polls," Dennison said.
Benton County will have 11 early voting sites, up from 10 used in the 2016 presidential election, she said.
Early-voting hours are set by state code, Dennison said. Hours are 8 a.m. to 6 p.m. Monday through Friday, 10 a.m. to 4 p.m. Saturday and 8 a.m. to 5 p.m. the Monday before the election, she said.
In Washington County, the overall vote total was 66,147 with 33,729 cast early in the 2018 general election. In the 2016 general election, 82,607 votes were cast with 47,741 early, according to Price.
"Washington County is encouraging voters who would like to cast their ballot in person to take advantage of early vote," she said.
"This will allow the voters to be able to cast their ballot sometime in the two-week early voter period, when the lines will be less crowded than on Election Day. We anticipate that early vote will be just as busy this year as in previous years."
Washington County should have its early voting sites determined this week, Price said.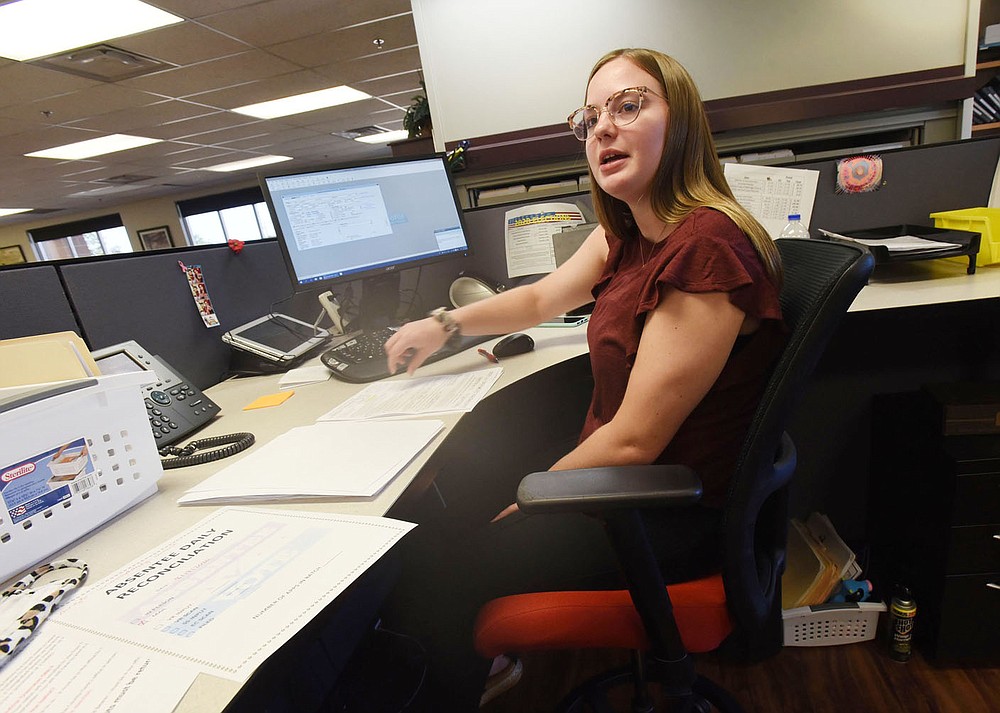 Kelsi Crawford processes abentee ballot requests on Tuesday Aug. 18 2020 at the Benton County clerk's office in downtown Bentonville. (NWA Democrat-Gazette/Flip Putthoff)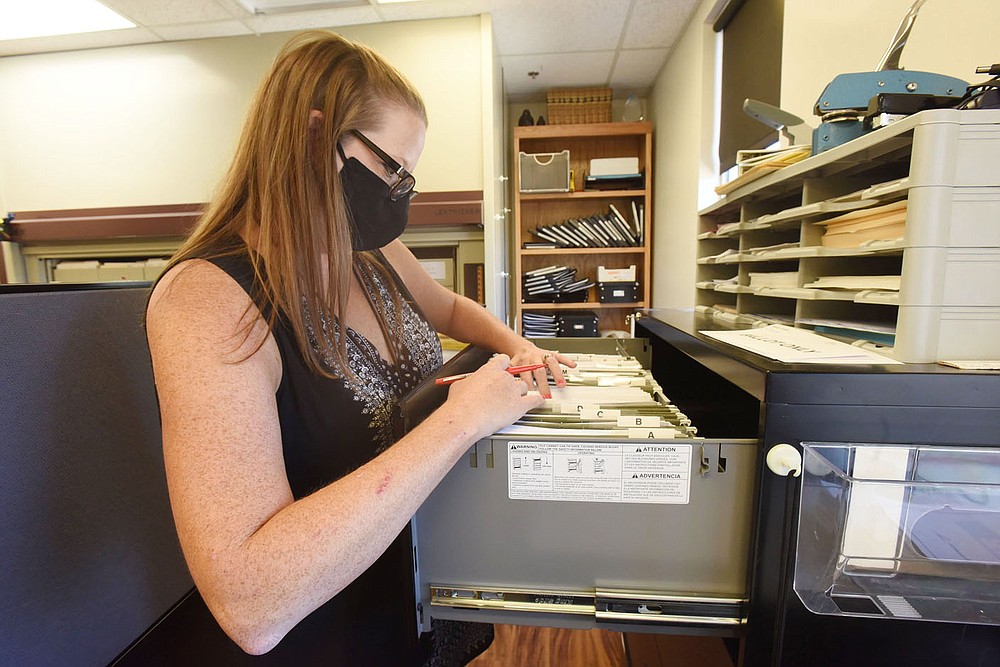 Dana Caler with the Benton County clerk's office shows absentee ballot requests on Tuesday Aug. 18 that have been processed at the office in downtown Bentonville. (NWA Democrat-Gazette/Flip Putthoff)
More News
Voting information
County Clerk's Offices
• Benton County: 479-271-1013
• Washington County: 479-444-1711
Secretary of State
• Voting information can also be found at www.sos.arkansas.gov
— NWA Democrat-Gazette
Mike Jones can be reached by email at [email protected]
Sponsor Content
Comments