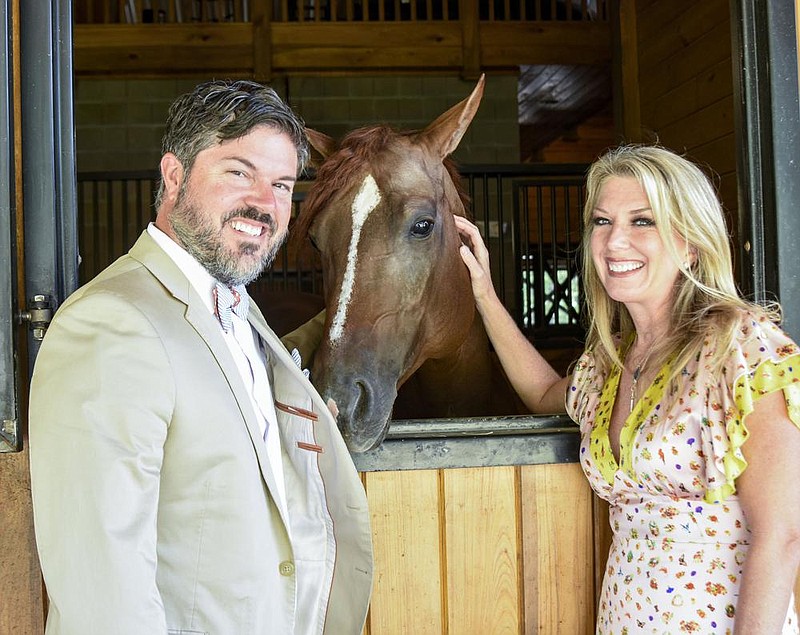 Dylan and Angie Potts are co-chairing this year's Southern Silks soiree for Methodist Family Health. The annual event coincides with the finish of the Kentucky Derby, which was moved from May to Sept. 5 because of the covid-19 pandemic.
(Arkansas Democrat-Gazette/Cary Jenkins) - Photo by Cary Jenkins
The horses are on the track. But where are all of the fans?
Churchill Downs will run its 146th Kentucky Derby on Sept. 5 with only essential personnel permitted on the property. But nonprofit organizations like Methodist Family Health are striving to keep racing fans excited by hosting virtual events.
For the past six years, Methodist Family has hosted its Southern Silks soiree, a major fundraiser for the organization that provides mental health services to children ages 3 to 17 and their struggling mothers.
But this year, the organization is moving the event to a digital platform, hosting a post-race party where guests can win prizes, bet on faux horse races, bid on auction items and compete to win the title of best homemade fascinator. Southern Silks begins at 6 p.m. Saturday on Methodist Family Health's Facebook page and YouTube channel.
Angie and Dylan Potts agreed to co-chair Southern Silks before the covid-19 pandemic forced the Kentucky Derby to change the race from the first Saturday in May to September. Methodist Family moved its event to coincide with the derby.
Dylan Potts is a lawyer with Gill Ragon Owen in Little Rock, the firm that has represented Methodist Family for more than 30 years. Gill Ragon Owen is this year's presenting sponsor.
"Seeing firsthand the number of children in Arkansas [who are affected] by mental illnesses is certainly eye-opening," Potts says. "To be able to serve the mission through the legal needs of the organization, but then also contribute financially through the support of the foundation and this event, is a really great opportunity not only for Angie and [me] but also for our law firm."
The Pottses are the parents of three happy, healthy children -- a college freshman, a high school freshman and a fifth-grader.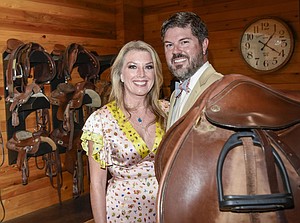 Photo by Cary Jenkins
Angie and Dylan Potts are looking forward to this year's Southern Silks party for Methodist Family Health. Due to covid-19, this year's event will be an online party after the finish of the Sept. 5 Kentucky Derby.
(Arkansas Democrat-Gazette/Cary Jenkins)
"Anyone's child could be [affected by these problems] at any point in time," Potts says of the situations that bring children to Methodist Family. "Adolescent depression or more significant issues like bipolar can strike at any time. Having kids makes us appreciate their health, but also we understand there are obligations to take care of those who aren't as healthy and that can change at any point."
Angie Potts, who volunteers for a number of nonprofits, agrees.
"I like to see that every kid has the best opportunity that they can to succeed regardless of outside influences," she says.
Methodist Family Health offers outpatient counseling clinics, grief counseling services, psychiatric residential treatment centers, therapeutic group homes, school-based counseling services, therapeutic day treatment programs for kindergarten through 12th grades, and services for mothers struggling with substance abuse and/or a mental health problem.
In its residential facility, Methodist Family houses about 40 children. Another 60 are at the agency's hospital, and eight are in group homes. The agency also has about 20 children in a residential facility near Jonesboro, as of last month.
The Pottses plan to watch the Kentucky Derby either from Oxford, Miss., where their daughter is attending college, or with a small group of friends in Little Rock. Like other Methodist Family supporters, the Pottses will then log on to attend the virtual Southern Silks post-party.
And Arkansans have a lot of choices to root for in this year's derby. Jennifer Hoyt, media relations manager at Oaklawn Racing Casino Resort, put together a list of the horses with Arkansas ties expected to be in the Kentucky Derby.
"This year there could be up to six runners in the expected 20-horse field of the Kentucky Derby that competed at Oaklawn earlier this year including King Guillermo and Finnick the Fierce, who were second and third, respectively, behind Nadal in the second division of the Arkansas Derby, and Winning Impression, who was third behind Charlatan in the first division of the Arkansas Derby," Hoyt wrote in an email. "Both Nadal and Charlatan suffered injuries and won't be competing in this year's Kentucky Derby."
Hoyt said other horses that raced at Oaklawn that are likely to run in the derby are Storm the Court, Rushie and Thousand Words.
More information about Southern Silks is available at methodistfamily.org/southern-silks.html.
Sponsor Content
Comments