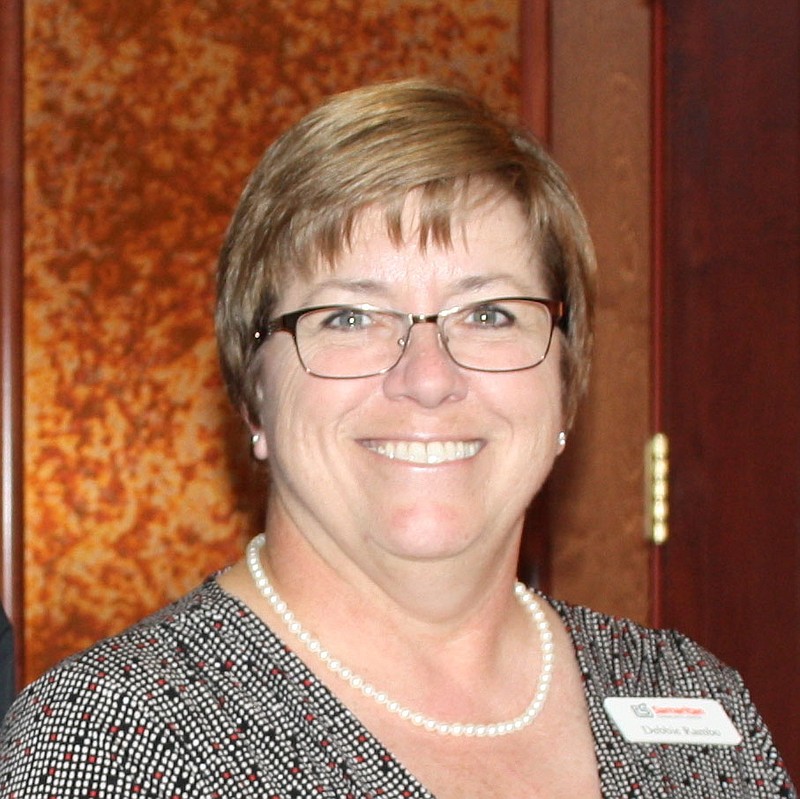 NWA Democrat-Gazette/CARIN SCHOPPMEYER Maxie Carpenter (from left), Debbie Rambo and Mary Mann represent Samaritan Community Center, Quality of Life honoree at the Plant a Seed Soiree.
Tell us about your organization:
• Mission: The mission of the Samaritan Community Center is to serve the hurting and hungry with dignity and compassion, encouraging all who enter our doors to find hope and experience positive life change.
• Services provided: We have a wide array of services that center on our Samaritan Care program, which provides case management, advocacy and referral information by our four "care advocates," three of whom are licensed social workers. Within our organization, client families can receive groceries and personal care items through our Samaritan Market, nutritious meals through our Samaritan Cafe, counseling through our internship program with John Brown University, clothing and household items through our Samaritan Shops, and adult dental care through our charitable Samaritan Dental Clinic. We also work directly with 168 schools across Northwest Arkansas to provide weekly bags of food to 6,000 children at-risk for hunger through our SnackPacks for Kids Program and backpacks filled with school supplies through our Fresh Start: BackPacks for Kids program.
Due to covid-19, we have adjusted our feeding programs to a drive-through model to limit potential risk for clients as well as our staff and volunteers. Our care program is accessible via telephone. Our dental clinic has reopened but only sees patients by appointment.
• Who is eligible? We welcome anyone who is need of assistance to come and be served. We do ask that clients come only once per month for groceries to ensure we can serve all who are in need. Our dental clinic only serves low-income, uninsured adults.
• How can services be accessed? Our Rogers and Springdale locations offer drive-through services (cafe, market, SnackPacks). Our care advocates can be reached by calling (479) 636-4198 Monday-Thursday 9 a.m.-3 p.m. and Friday 9 a.m.-noon. Counseling (479) 636-4198 and dental (479) 636-0451 are available by appointment only.
• What are your organization's most pressing needs? Food and personal care donations are critical to our ongoing ability to serve, especially shelf-stable food items such as peanut butter, beans, pasta and canned vegetables and personal care items such as shampoo, deodorant, toothpaste and soap.
• Are there volunteer opportunities in your organization? What are they? We need volunteers to help with packing snackpacks, assisting with prepacking food bags for our markets, and helping sort and price donated items at our two thrift stores. One-third of our income comes from the thrift stores, so this is a critical need for us!
• What other ways may people help? We are always in need of gently used, quality furniture and appliances for resale in our thrift stores and to provide at no cost to families in crisis. We offer furniture donation pick-ups by calling our shops in Springdale or Rogers.
• Why do you work for a nonprofit organization? Do you have a personal connection to the mission? If so, what is it? A teacher friend told me a story 20 years ago about a kindergarten student who had collapsed on a Monday morning at school. Upon visiting with the child, the school nurse discovered that the last meal the child had eaten was the previous Friday at school. I found this story to be almost too hard to believe, but confirmed that childhood hunger was not only real, but it was affecting one out of every four kids.
When I was diagnosed with MS a couple of years after hearing this story, I decided that I wanted to spend the second half of my life helping ensure that children (and their families) would not go hungry in my back yard.
More News
Samaritan House
Drive through food services — Cafe, Market, SnackPacks
Where: Rogers — 1211 W. Hudson Road
When: Tuesdays, Wednesdays, Thursdays, 10:30 a.m.-12:30 p.m
Where: Springdale — 1300 N. Thompson Ave.
When: Tuesdays and Thursdays, 10:30 a.m.-12:30 p.m.
Samaritan Shop
Where: 2115 W. Walnut St. in Rogers — (479) 246-1060
or 2300 W. Sunset Ave. in Springdale — (479) 751-3440
When: 10 a.m.- 6 p.m. Monday-Saturday
To volunteer: (479) 636-4198
To donate: samcc.org/donate or P.O. Box 939, Rogers 72757.
— Carin [email protected]
Sponsor Content
Comments