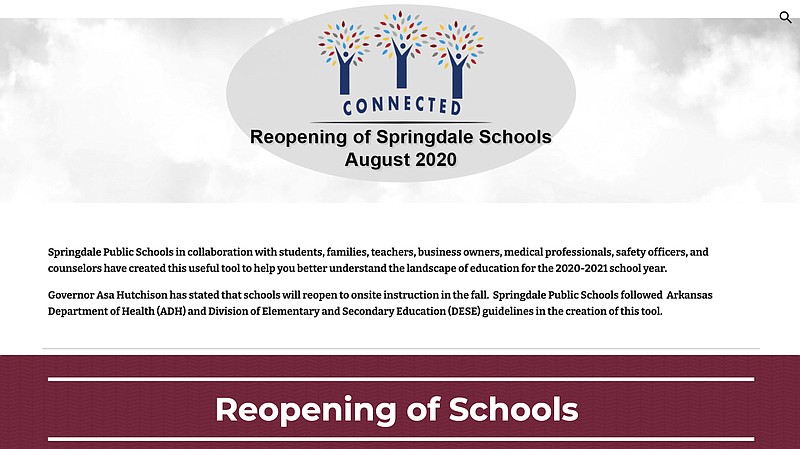 Screenshot of the Springdale School District reopening webpage.
SPRINGDALE -- The School District has launched a webpage to help families navigate going back to school during the covid-19 pandemic.
The webpage went live about two weeks ago and took two months to develop, said Rick Schaeffer, district media relations specialist.
"This has been in the planning stages since March 16, because the last day we were in class was March 13," Schaeffer said. "We had to start thinking long-term even at that point."
The webpage includes frequently asked questions and answers, as well as information about educational resources, the district's Ready for Learning plan, student programs, basic back to school information and official covid-19 guidance from state and federal entities.
The webpage was created to support families of the district's 23,000 students in collaboration with business leaders, teachers, principals, parents, students and medical professionals, Schaeffer said.
"You've got a lot of different thought processes there, because obviously looking at it from a parent's standpoint is going to be different than a teacher's," he said.
Julie Swope, 44, of Springdale served on the task force that met in June to provide input on what the webpage would feature, she said.
Swope said she'll have a son attending Har-Ber High School and another attending Central Junior High this fall.
"I felt like they really, really tried to cover as many bases as possible," she said of the district.
The site is easy to navigate, Swope said.
"It helps people feel like they're making an informed decision for what they're going to do this year," she said.
The Bentonville, Fayetteville and Rogers school districts also have covid-19 information webpages.
Springdale's provides the opportunity to direct questions through its page. Questions will be answered in about 24 hours and the questions and answers will be added to the webpage, Schaeffer said.
The webpage will help take a burden off schools, Schaeffer said.
"Our first tendency is to pick up the phone and call your school," he said. "You could inundate their offices doing that."
Karen Johnson, Southwest Junior High assistant principal, said calls to the school increased significantly as the Aug. 24 start date for school gets closer.
"The majority of calls are questions about the different learning models that Springdale is offering for the upcoming school year," she said, adding the webpage is taking some of the strain off her staff.
Students have the option to attend Springdale schools on-site daily, through a blended learning model of on-site and remote instruction or online, according to the Ready for Learning plan.
Johnson anticipates families will call the school when they have questions specific to their child.
"At SWJH, and I think I can speak for all Springdale schools, we welcome parents calling us with any questions, suggestions or concerns," she said.
The webpage was created at no additional cost for the district, which pays an annual fee for website maintenance, Schaeffer said.
He said he hopes the next step in the process will be opening schools for the first day of school Aug. 24.
"You can give information, information, information and, eventually, there comes that time where you actually have to execute the plan," Schaeffer said.
The information relating to covid-19 will be updated routinely on the webpage as new guidance is received from the state and as preparations to get students back in classrooms progress, he said.
"I think we're all going to have to have a level of patience and grace this year. Things are ever-changing," Swope said. "I know everybody is working as hard as they can, and it's going to be a challenging year, but I think it's certainly something we can get through as a community."
More News
Districts covid-19 information
Information for attending school during the pandemic can be found on the following district websites:
Bentonville: https://www.bentonvillek12.org/
Fayetteville: https://district.fayar.net/o/fps/page/covid-19-updates—67
Springdale: go.sdale.org/reopening
Rogers: https://www.rogersschools.net/
Source: Northwest Arkansas Democrat-Gazette
Mary Jordan can be reached by email at [email protected] or on Twitter @NWAMaryJ.
Sponsor Content
Comments