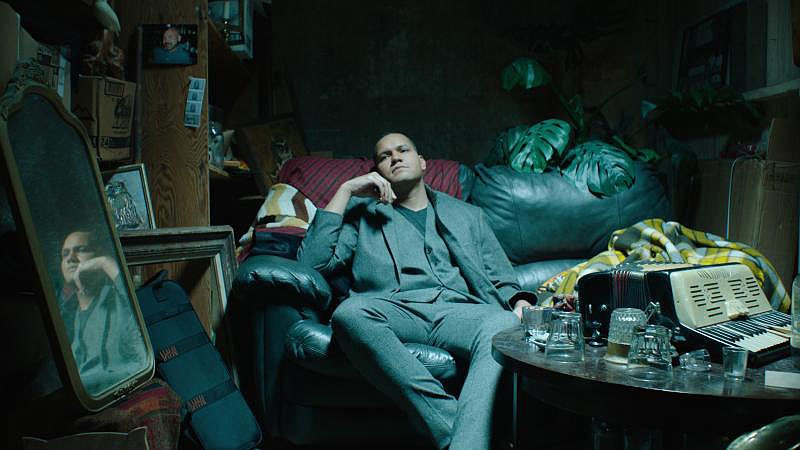 'Thin Skin' Competing in Feature Narrative category (Courtesy Photo/Sean Kirby)
The sixth annual Bentonville Film Festival may have adjusted its month and its format, but the festival's dedication to sharing underrepresented perspectives, in front of and behind the camera, is as prominent as ever. Through a hybrid of virtual events and drive-in viewing opportunities, BFF soldiers on in its pursuit of equity and inclusion. Here, six filmmakers highlight just four of the 68 films that will be showcased — available to stream on-demand for the duration of the festival through the BFF Film Festival platform.
The films offer just a glimpse of the variety being presented at this year's festival, but each also plays into the Bentonville hallmark of inclusion in its own way, shares John Wildman, the festival's PR spokesman.
"Yes, 'My Darling Vivian' has a little local touch," Wildman begins, "but it also brings to light an unheralded and little known story of Johnny Cash's first wife. 'The Donut King' is not just directed by a woman but is one of the all-time and enjoyable tales of an immigrant who succeeded in the U.S.
"'The Planters' and 'Thin Skin' are both not just incredibly creative and entertaining films, but just as importantly, they are prime examples of the indie filmmaking spirit, and the kind of films that Bentonville film fans depend on this film festival to pull the curtain back on as a counter to the usual multi-plex big studio movies we get during the rest of the year."
'My Darling Vivian'
Director: Matt Riddlehoover
Competition: Documentary
About: Turning the documentary lens on Vivian Liberto, Johnny Cash's first wife and the mother of his four daughters.
Q. Rare, beyond the truly hard-core and in-depth Johnny Cash fans, is more than a cursory knowledge of the relationship between Cash and his first wife Vivian Liberto. When you have that kind of canvas of discovery to work with, where did you choose to start? And what was a genuine surprise that you discovered during the course of making the film?
Riddlehoover: Out of necessity, I started by poring over the wealth of primary materials that I had access to. Family scrapbooks, home movies from the 1950s and 1960s, the thousands of love letters Vivian and Johnny wrote to each other — it was incredible. From there, I went to Vivian's own memoir to create the outline for the interviews with her daughters. The story told itself; I just needed to listen. The thing that surprised me the most was that these four women, Vivian's daughters with Johnny, all had the same upbringing, but they had very different childhoods. It was fascinating.
Q. The making of the film involved a number of family members, whether it be through production or simply the interviews throughout. When you do interviews for a project like this, you have questions that you want to ask to fill in details and insight on your subject. However, sometimes, the interview subjects have something they "want to say" about the subject that you didn't prompt. Did that happen here and if so, what did Vivian's family, etc. "want to say" about her?
Riddlehoover: Sure, it happened here. I think the daughter who was the most "independent" during the interviews was Rosanne. It was helpful, though, as I'd ask her a question from my outline and in turn she'd answer five. She's a professional — she'd done this before, though she's never spoken in such depth about her Mom. It was incredibly helpful. Naturally, though, as grown children the deeper we dug into their childhood the more cathartic, I think, the experience was.
Q. Johnny Cash became a genuine icon in the music world for a number of reasons. Beyond his music talent, what came out during the exploration of his and Vivian's relationship and marriage (and his career's beginnings) that, from a distance, is very telling on that front?
Riddlehoover: There was a letter Johnny had written to Vivian when he was overseas, before they married, in which he perceived that she had an inferiority complex. This wasn't something she had opened up to him about. I was stunned by the level of sensitivity in him as a 19- or 20-year-old man. It's prominent in the home movies from the 1950s as well — he's clearly in love with Vivian and fawning over his young family. It's a side of Johnny Cash I don't think the world has seen and was news to me as well.
———————
'The Planters'
Co-writers and directors: Alexandra Kotcheff and Hannah Leder
Competition: Feature Narrative
About: A dark comedy about a reclusive telemarketer grieving the loss of her parents who forms an unlikely friendship with a Jesus-loving vagrant with multiple personalities.
Q. The "crew" for this film was only the two of you. How exactly did that work? Who ran the camera, did lights, sound and everything else while the two of you were both in the scene together?
Kotcheff and Leder: Through magic! For real though, it was just the two of us running the camera, setting up the lights and sound. Doing our own hair and makeup. We would set up our shots on tripods and do test shots, hit record and run in the frame. We rigged shotgun mics to apple boxes with gaffers' tape when framing wouldn't allow for mic stands. It was an unusual, insular process which ultimately allowed for maximum creative expression.
Q. It took 127 days to shoot "The Planters." That's a long shoot for even a mid-range studio film, so can you offer some insight into what went into that shoot schedule?
Kotcheff and Leder: Ultimately, the great length of the shoot had to do with the fact that we shot the film without a crew. With only four hands and legs, there was only so much we could get through (and accomplish) in a day. What might take a full crew a day to shoot would take us a few days.
Q. Every film shoot has its tough moments where it looks like all is lost until someone keeps the ship sailing, so to speak. Which one of you more often would cheer both of you back into action and keep it going? Or did that role alternate between the two of you throughout production?
Kotcheff and Leder: One of our actors (Phil Parolisi who plays "Richard Cox") liked to call us "Hanzandra — two bodies, one brain." We really functioned as a unit. It was a true seesaw. When one of us was having a tough day, the other would be the motivator. It flip-flopped quite evenly. We've known each other since we were 8 years old, so there's a real synchronicity to our ways!
——————-
'Thin Skin'
Director: Charles Mudede
Writers: Mudede, Ahamefule J. Oluo, and Lindy West
Competition: Feature Narrative
About: A film adaptation of Oluo's Off-Broadway hit musical play "Now I'm Fine," about a harrowing period in the comedian and musician's real life. It's challenge enough to hold your family together and keep a grip on everything without literally having your body fall apart at the same time.
Q. This is an adaptation of a popular and critically successful stage production. Can you describe some of the elements that worked wonderfully in a live theater setting that needed to be changed or developed for that same material to work for on-screen audiences?
Oluo: The stage and screen share so much in common; you can do so much with sound, and so much with light, and so much with movement, but there are also ways in which they are vastly different. When I'm telling a story on stage, there are no boundaries to that story, I can be anywhere with anyone, doing whatever we're doing, And I can lay out the entire setting in vivid and extravagant detail because words are free, and that's the beauty of creating a world through words.
But on the screen, you have limits imposed upon you from all directions. Every elaborate thing that you create with words, then has to be brought to life on a set, or in a parking lot or in a sushi restaurant, and you have to do it all as cheaply as possible, as quickly as possible, as efficiently as possible, with as few extraneous things as possible. But at the same time, in film, you have the ability to edit. You have the ability to put this next to this next to this, and tell the story as tightly, as clearly as possible. You can't edit on stage, that's just called a mistake. There are benefits and drawbacks to everything.
West: To me, the biggest challenge, and the most rewarding one, was translating the live music of the stage show to the screen. When you're in the theater with that brass orchestra, it's overwhelming; it gets in your bones. Trying to transmit that feeling through a camera, in a narrative setting, required a lot of innovation and coordination and brilliant work from the crew. We shot all the musical sequences live — you'll never see an actor pantomiming along to a pre-recorded track — and that's just almost never done in film, especially low-budget indies. The fact that we pulled it off, and I can feel the same emotional surges watching the movie that I get from the stage show, is such a joy.
Q. When you are telling your own life story — and have told and literally performed a version of that life story for some time — it takes a tremendous amount of trust to allow a director, a writer, cast members to perform their versions of people from your life in some very different ways. How difficult was that? Or did you find it freeing to release that hold?
Oluo: Trust is the most important part of any creative collaboration. If you can't trust the person you're working with, then you're never going to get the best out of them. But it's not just trust in regards to their artistic abilities, it's also trust in how they see you as a person and in how they see your story. And when I say trust, I don't mean it in a "I have your back till the end, you can always rely on me" kind of way. I mean it more in a way that says, "I'm going to listen to you, and I hope you listen to me, and I hope we can put our egos aside and try to make something beautiful." This is what I always felt with my creative collaborators on this film.
Q. The relationship of music to movie storytelling is so intertwined that there are classic film images that would never replay in our minds without that accompanying soundtrack. Your music was also the bedrock of the play prior to the film. How was the music approached here — a set soundtrack to lay images over in a way, or was that also reimagined along with everything else?
Oluo: Because I had spent so long working on the music for the play "Now I'm Fine," and I was very happy with that music and those themes meant a lot to me and they felt really tied to the story, I didn't feel the need to construct new music from scratch. In fact, I thought to do so would be in contrast to the feel of the film. So that left me with a body of existing work which I could radically re-adapt to fit this new thing. With the burden of creating new pieces taken off of my back, it freed me to think about new and different ways that I could have the score interact with the film, and because I was so familiar with that music, it was very easy for me to interpret it in a multitude of ways. Some things for the score were written before we even finished filming, and some things were sketched out before the final recording session just two days before the lockdown order for covid. For me, the goal was to have an abundance of music, and abundance of music built through an abundance of approaches. And I feel like that was very successful; I don't think there's another score like this in film.
——————-
'The Donut King'
Director: Alice Gu
Competition: Documentary
About: The near classic story of Ted Ngoy, a Cambodian refugee, who escaped the Khmer Rouge in the '70s, made his way to the States and built the unlikeliest of empires based on baking America's beloved pastry, the doughnut.
Q. The film balances much more than one might be expecting going in. What part of the story became more prominent as you were editing versus when you first began filming and gathering footage?
Gu: Hmmm. Tough question! This was a film that, from the beginning, I knew would be challenging and complex to tell. There were so many different layers to all the different stories — the American Dream story, the rags-to-riches story, the David and Goliath story, the next generation story — and we very much tried to prep accordingly to cover ourselves in telling Ted Ngoy's story in a rich and robust way. What really became more prominent in the edit was the next generation story, the legacy story. I loved the perspective of what I called, "Donut 2.0," and all the modernity, innovation and American thought that went into revamping their parents' businesses.
Q. The use of animation oftentimes can make or break a documentary when it comes to assisting in the storytelling. Can you explain why you felt it was essential for "The Donut King?"
Gu: Animation was essential for "The Donut King." Ted's life was and still is, larger than life. Due to war and how expensive photography was at the time, there was very, very little personal archive. Ted's stories were so filled with detail that I knew the only way we could achieve this visually was through animation. I really longed to find a Cambodian artist, and when I learned of the work of Andrew Hem, I just knew instantly that it had to be his artwork setting our look. Andrew went to Pasadena Art Center, is a prolific fine artist, and is a "doughnut kid" himself. One of my great joys (and challenges) was trying to get all the details right. In particular, for Suganthini's villa, I spoke at length with Suganthini and her sister, where they detailed out the floor plan, the cars in the driveway (Citroën Deux Chevaux, a Nash convertible, a Jeep), down to the Belgian Malinois with the guards.
Q. "The Donut King" was awarded a Special Jury Prize from SXSW this year. As a filmmaker introducing her very first feature length film into the world — and then having the expected film festival tour of various cities and audiences thwarted to an extent and then re-imagined on the fly — did that award maybe take on an even greater significance in buoying you for the next steps in that journey?
Gu: This year has been quite the ride, and it's not over yet! It's difficult to find the words to express all the emotions of the year. We were ecstatic to get into SXSW, gutted to have it canceled, and just ecstatic again upon winning the Special Jury Prize. I'm very proud of the award and so grateful to the team at SXSW for running the competition in spite of the festival being canceled. I think the award has certainly been helpful in getting the film a bit more on the radar. Our biggest fear was for "The Donut King" to end up a "ghost film" that would never be seen or thought of again. To know that we will be participating at the Bentonville Film Festival brings great joy to myself and the team.
*Visit the online version of this story to read more from the filmmakers. Questions were selected for the filmmakers by John Wildman, a filmmaker himself.
Why BFF?
Q. Aside from being an important stop on the regional film festival tour, Bentonville has a national prominence due to the mission of inclusion of the organization and Geena Davis's leadership. What was primary in your mind as a reason you wanted your film to screen at BFF?
Riddlehoover: I've admired the Bentonville Film Festival for years. The emphasis that it places on voices underrepresented in film is inspiring. Vivian Liberto's life story itself was excised not only from the biography of Johnny Cash but from history in general, and I'm grateful to the Bentonville Film Festival for giving Vivian and her voice a role in its chorus.
Kotcheff and Leder: Being women in the industry, we're grateful to be a part of a festival that really encourages and encompasses inclusion. We've come a long way thanks to women who've paved the path before us, but still have a long way to go. We appreciate BFF in their powerful mission to keep paving the path forward.
Oluo: Bentonville has a short but great history of presenting unusual films that represent unique viewpoints. This is such a Seattle film, with so many Seattle people in it and so many Seattle landscapes that we really wanted to take the movie far away from Seattle, and take it to a place where it had to exist on its own without context. Bentonville is a great size for the film to not get lost in the shuffle, but it also has a wonderful history of films getting distribution, and films getting seen by the right people. At the end of the day, I'm just excited for people to see this movie.
West: I'm so thrilled to be premiering at Bentonville and deeply grateful for their support. "Thin Skin" is a Black movie telling a Black story, and to be able to premiere it at a festival with a committed diversity focus, and knowing Geena Davis's background in fighting the entrenched inequalities in the film industry, I know "Thin Skin" is in great hands.
Gu: I've always heard great things about the Bentonville Film Festival for being very progressive, very supportive of female filmmakers, and very well-curated. The city of Bentonville is known for being very supportive of the arts and culture, and I very much wanted to be part of that. It is bittersweet that I won't be able to see it in person for this edition of the Bentonville Film Festival, but I'm very proud to be included and cannot wait to come visit.
FAQ
Bentonville Film Festival
WHEN — Aug. 10-16
WHERE — Online, 112 Drive-In Theater in Fayetteville, and Louise Thaden Field in Bentonville
COST — $12-$225
INFO — bentonvillefilm.org
FYI -- See The Films
Competition and Spotlight Films will be available to stream, along with Q&As with filmmakers and talent, on-demand through the BFF Film Festival platform. Unlimited streaming passes can access all film content, or tickets for single screenings can be purchased at $12 apiece. Select Q&As will be available at an additional cost. More information about virtual panels and events can be found at BFF's full schedule.
Sponsor Content
Comments