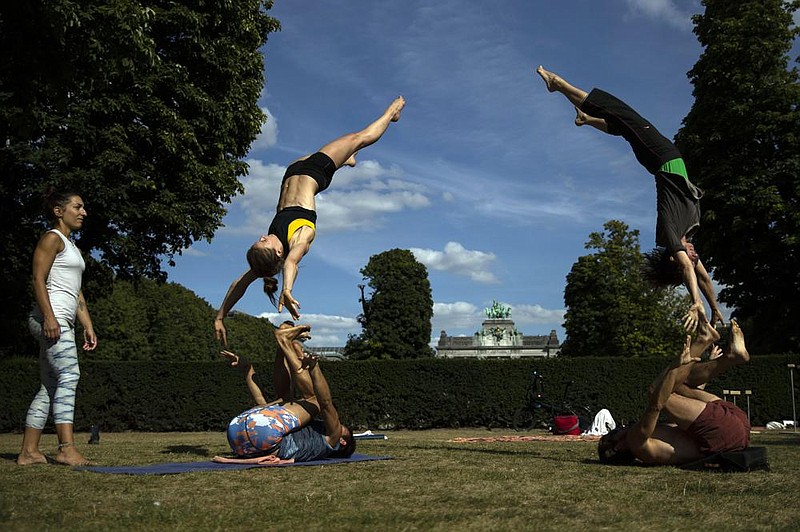 Acrobats perform gymnastic stunts Tuesday as they work out at the Cinquantenaire park in Brussels.
(AP/Francisco Seco)
Status of jailed American questioned
MOSCOW -- The U.S. Embassy in Moscow said Tuesday that it had no information on the whereabouts of an American convicted in June of espionage, despite reports that he is being transferred to a prison colony in central Russia.
Paul Whelan's brother David said Tuesday on Twitter that he "appears to now be in Mordovia, on his way to prison camp IK-17." The republic of Mordovia, about 210 miles east of Moscow, is home to several prison camps.
The Interfax news agency cited David Whelan as saying he received the information from the British Embassy. Paul Whelan holds American, British, Irish and Canadian citizenship.
U.S. Embassy spokeswoman Rebecca Ross said on Twitter: "We have not received official notification from Russian authorities of any such move, despite our repeated recent attempts to gain consular access to Paul."
Paul Whelan, a former corporate security executive from Michigan, was arrested in Moscow in December 2018. He was convicted in June and sentenced to 16 years in prison. Whelan's lawyer has said his client was handed a flash drive that had classified information on it that he didn't know about.
Mexico says 18 security officials ousted
MEXICO CITY -- Top directors in Mexico's National Guard and elsewhere in the state security apparatus have been purged due to their ties to a former security secretary now held on drug trafficking charges in the United States.
Photo by AP
The moon rises Tuesday behind the Kalyazin bell tower, part of the submerged monastery of St. Nicholas in the town of Kalyaz- in about 110 miles northeast of Moscow.
(AP/Dmitri Lovetsky)
Current Security Secretary Alfonso Durazo said Tuesday that two general directors from the National Guard, as well as officials from the penitentiary system and the National Intelligence Center, have been relieved of their duties. In total, some 18 officials have been removed in recent months because of their ties to Genaro Garcia Luna, he said.
"They are positions of trust; consequently, they can be removed from responsibility precisely due to the loss of trust," Durazo said.
U.S. prosecutors say Garcia Luna took tens of millions of dollars in bribes to protect Joaquin "El Chapo" Guzman's Sinaloa cartel. Garcia Luna, who is awaiting trial in New York, has denied the allegations.
Garcia Luna led Mexico's Federal Investigation Agency from 2001 to 2005. From 2006 to 2012, he served as Mexico's secretary of public security before relocating to the U.S. He was arrested in December in Texas.
Last week, U.S. prosecutors announced charges against two other former high-ranking Mexican security officials also accused of accepting millions of dollars in bribes from the Sinaloa cartel.
Former Federal Police commanders Luis Cardenas Palomino and Ramon Pequeno Garcia had not been arrested.
Storm weakens, makes landfall in China
BEIJING -- Heavy rains and high winds were hitting China's eastern coastal region Tuesday from a tropical storm weakening as it neared Shanghai.
Hagiput was a typhoon with winds blowing up to 85 mph at its center when it made landfall in Zhejiang province in the early morning. At noon, the tropical storm had winds of up to 67 mph and was moving north at about 16 mph, China's National Meteorological Center said.
No major destruction or injuries have been reported.
As of Tuesday evening, the storm center was located near the city of Shaoxing, about 100 miles south of Shanghai, according to the meteorological center's website. Shanghai was hot and windy in the evening with sporadic showers.
Forecaster Zhang Ling told the state broadcaster CCTV that the storm was continuing to weaken as it moved.
China had ordered evacuations of vulnerable coastal areas in Zhejiang and Fujian provinces, recalled fishing boats and suspended ferry service and some trains. In the major Zhejiang manufacturing center of Wenzhou, south of Shanghai, authorities reported evacuating 200,000 people to shelters and recalling more than 6,000 fishing boats to port.
Australian visits academic held by Iran
CANBERRA, Australia -- Australia's ambassador to Iran has visited a British-Australian academic who was convicted of espionage before being moved recently to a notorious Iranian prison, and found that she "is well," Australia's government said Tuesday.
Kylie Moore-Gilbert was a Melbourne University lecturer on Middle Eastern studies when she was sent to Tehran's Evin Prison in September 2018 and sentenced to 10 years.
Concerns for her well-being escalated with news last week that she had been moved to Qarchak Prison, east of Tehran.
Australia sought urgent consular access and its ambassador to Iran, Lyndall Sachs, visited Moore-Gilbert in Qarchak Prison on Sunday, Australia's Department of Foreign Affairs and Trade said in a statement.
In 2018, Moore-Gilbert was arrested at the Tehran airport while trying to leave Iran after attending an academic conference.
The Center for Human Rights in Iran, a U.S.-based organization, said last week that Moore-Gilbert was being held with violent criminals under harsh conditions.
Moore-Gilbert has gone on hunger strikes and pleaded for the Australian government to do more to free her during almost two years in custody.
-- Compiled by Democrat-Gazette staff from wire reports
Print Headline: The World in Brief
Sponsor Content
Comments