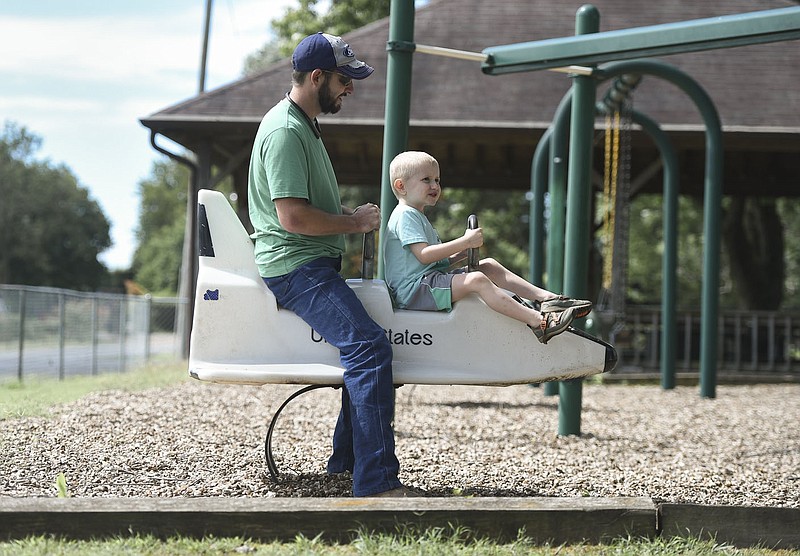 Jonathan Hutchins (from left) and Matthew Hutchins, 4, play, Saturday, August 1, 2020 at a park on Sunrise Dr. in Bethel Heights. Voters in Springdale and Bethel Heights will determine August 11 if Springdale will annex its neighbor to the north. Check out nwaonline.com/200802Daily/ for today's photo gallery. (NWA Democrat-Gazette/Charlie Kaijo)
SPRINGDALE -- Springdale surrounds Bethel Heights on three sides and might erase the town from the map if voters approve.
Early voting in both towns begins Tuesday on a ballot issue to annex Bethel Heights into Springdale. Election day is Aug. 11. A majority of votes cast in both cities must support the consolidation for the measure to pass.
Residents proposed the annexation to resolve the issue of Bethel Heights' failing sewer system. If the voters approve the consolidation, Bethel Heights sewer customers will eventually receive service from Springdale Water Utilities, which provides water to the town.
Springdale officials promise residents in neither city will incur extra utility costs or rate hikes if the measure passes. In fact, current residents of Bethel Heights might see their utility rates decrease.
Property tax rates are higher in Springdale.
The Arkansas Division
of Environmental Quality has had Bethel Heights' two wastewater treatment plants and its former operator under investigation for more than a year after confirming a neighbor's complaint wastewater was pooling on his land.
The state has told the city to close the plants and find a new way to treat its wastewater.
Benton County Circuit Judge John Scott last month ordered Bethel Heights officials to get the system in compliance or face high fines. Bethel Heights is in Benton County while Springdale straddles the Benton County-Washington County line.
Bethel Heights officials didn't respond to several requests for comments over several weeks. Their attorney, Robert Rhodes, referred all comment to Mark Henry, a political consultant working for a group of Bethel Heights voters campaigning against the annexation.
Residents on both sides of the issue have formed campaign groups.
"Our Town, Bethel Heights" is working to stop the annexation. "Citizens for a Better Government" promotes the measure.
Susie Wright, a leader in the Our Town campaign, agreed it's extremely important for the city to fix its wastewater treatment system. And she believes the city's wastewater committee and mayor have come up with an effective, affordable solution. The city will build a lift station and a 14-mile pipeline to a facility in south Bentonville.
"I'm not mad at Springdale in any way," she said. "I don't have anything against Springdale. I grew up in Springdale. But I'm very happy living in Bethel Heights and so are many other residents."
Rhonda Neal of Bethel Heights thinks the consolidation into Springdale would be a smooth transition for residents. She said she thinks she already lives in Springdale, and her home of 25 years has a Springdale address.
"That's just what I tell people, that I live in Springdale."
Neal said she would vote for the annexation even if the town's wastewater treatment wasn't in crisis.
STAYING IN TOWN
The Arkansas Natural Resources Commission has offered Bethel Heights a low-interest loan package of $11.6 million to build a pump station and 14-mile pipeline to connect the city's wastewater system to the Northwest Arkansas Conservation Authority's treatment facility in south Bentonville.
The town would have to raise its rates by 66% under the conditions of the loan, according to the commission. Customers monthly would pay a $66.40 flat rate plus $7.74 for every 1,000 gallons used, according to terms set by the commission.
Bethel Heights customers currently pay a $40 flat rate and $4.66 per 1,000 gallons, the commission reported.
In August 2019, ADEQ told Bethel Heights it must haul for treatment elsewhere 25% of its daily 80,000 gallons of wastewater -- or no less than 20,000 gallons a day until wastewater stops surfacing on the ground.
During the week of July 13-19, the city trucked 612,000 gallons of wastewater at a total cost of $54,834, according to invoices the city supplied to the state. The city sends its sewage to the Northwest Arkansas Conservation Authority's Bentonville plant and the Huntsville treatment plant on weekends when the Bentonville plant is closed.
Raymond Burns, executive director of the Rogers-Lowell Area Chamber of Commerce, said continued use of the system eventually would affect the water supply of Northwest Arkansas.
"They've got an overloaded septic system that doesn't work," Burns said of Bethel Heights, which borders Lowell to the north.
If the town remains, it will need to pay to build the infrastructure it doesn't have, he said.
"And I don't see the tax base for that."
UTILITY COSTS
Springdale residents wouldn't see their water and sewer rates increase if the city annexes Bethel Heights, said Heath Ward, executive director of the Springdale Water Utilities.
Bethel Heights residents would see a decrease in their overall rates, he said. Bethel Heights customers coming into Springdale would be charged an in-town rate for water instead of the out-of-town rate they pay, he said.
All residential customers in the consolidated city would pay $3.27 per gallon for water after the first 1,500 gallons and $3.37 per gallon for wastewater removal and treatment after the first 1,500 gallons. Sewer usage is based on water use.
The minimum fees for service will be $10 a month each for water and sewer. Those minimum service charges cover a customer's first 1,500 gallons of both water and sewer use each month, Ward said.
Springdale's City Council in November approved a hike in water and sewer rates requested by the utility to keep up with growth in the region. Ward said the utility doesn't plan to ask for another in the next five years.
Springdale customers also pay for trash, recycling and bulky waste removal through water bills. The city's contract with Waste Management is set at $16.20 per month per household or $194 a year, said Wyman Morgan, Springdale's director of administration and finance.
Bethel Heights residents are served by Inland Waste Solutions at $53 a quarter-year for trash pickup and recycling, according to Bethel Heights resident Rhonda Neal. A year's worth of service would equal $212.
Springdale's Water Utilities Commission holds about $10 million in reserve for emergencies that could be used to cover the cost of repairing and eventually closing the Bethel Heights plants, Ward said.
Chris Weiser, chairman of the Springdale Water and Sewer Commission, said the commission has about $50 million earmarked for projects in the department's 20-year plan.
"That plan changes very frequently and could include Bethel Heights," he noted.
Weiser said reports from Ward peg the cost for connection to Bethel Heights at less than $500,000. "That's a very small price in our reserve fund." Connecting Bethel Heights should take about six months, Ward said. Residents on septic tanks could continue that use, with no charge from the utility, he said.
Springdale officials also promise increased fire and police protection if Bethel Heights annexes.
"We back them up any time they ask," said Springdale Police Chief Mike Peters, noting the smaller department often works with just one officer on duty.
Springdale Fire Chief Mike Irwin said the city's new Station No. 8, opened this summer, allows quick access to serve residents on the east side of Bethel Heights. And crews at Station No. 3 on North Thompson Street, just south of Wagon Wheel Road, can arrive on the scene in seven or eight minutes, which is the response time for many current locations in Springdale.
Plus, many residents of Springdale get a cut in their home insurance costs because the Fire Department holds a Class 1 rating from the Insurance Services Office, Irwin said.
TAX BURDENS
Merger of the two cities would have no effect on the property taxes paid by Bethel Heights residents for schools or to Benton County.
Property taxes levied by Springdale would increase the rate for Bethel Heights' taxpayers by 2.3 mills -- the difference between Springdale's 5.7-mill rate and Bethel Heights' 3.4-mill rate, Morgan said.
The increase for a Bethel Heights resident with a home valued at $200,000 would be $92 annually.
Bethel Heights' city-only property tax would disappear if the cities merge, Morgan said. Residents would only be charged taxes for Springdale. Property tax bills for this year are already sent and are due in October, he said, so the increase in taxes wouldn't be imposed until next year.
Bethel Heights residents would continue to pay the Benton County tax rate of 5 mills for general operations and 1.9 mills for roads. Benton County residents also pay a 0.2 mill assessment to provide emergency medical services to rural parts of the county. Residents who live in the Bentonville and Rogers school districts also pay a 2.6 mill assessment to fund Northwest Arkansas Community College.
Bethel Heights residents would continue to pay the millage assessment for whichever school district they now reside in. The Rogers and Springdale school districts both have students in Bethel Heights. Springdale schools collect 40.5 mills; Rogers, 41.9.
Washington County residents pay 5.4 mills levied by the county and a 1.1 mill county road tax.
A millage is equal to $1 of property tax for each $1,000 of assessed value, according to the Washington County assessor's website. The assessed value of property in Arkansas is 20% of its market value, said Assessor Russell Hill.
GOING BIG
Jeff Cooperstein, a research associate at the Center for Business and Economic Research at the University of Arkansas, thinks Bethel Heights could be ripe for multifamily housing in part because it sits in the center of the region.
Cooperstein noted retail development follows residential development, then office space with people looking for that work-life dynamic.
And he said he sees a lot of empty land in Bethel Heights.
Local developers Fadil Bayyari and Phillip Taldo, both Springdale residents, agreed they wouldn't start any projects right now in Bethel Heights.
"The people in Bethel Heights are paying the price for not taking care of the sewer system," Bayyari said "This is their golden chance. They need to take it and not waste time."
Taldo said sewer service is critical for development. Sewer service and how close a property is to sewer lines are among the first issues developers consider.
"It's the most expensive thing to put in if it's not available," he said. "Everything else combined will cost less than putting in a sewage system."
LIKE IT IS
The promises of a better life in the big city make some Bethel Heights residents just want to stay home.
"Several of my neighbors and I have some concerns for the future," Wright said. "We are concerned for the fate of the town we love."
Gary Phillips on Tuesday sat under a lush shade tree in his home's backyard on Quail Run in Bethel Heights. He's lived there for 24 years.
"We've worked our whole lives for this house," he said. "And I don't think I want to be part of Springdale, to be honest."
Logan Featherston was building a fence around the front yard of his home on Rosebud Lane. He said he appreciated his town's less restrictive codes that allowed him to build his fence as he wanted.
"If it ain't broke, don't fix it," he said.
Parents are worried their children will have to change school districts, Wright noted. Students from Bethel Heights currently are zoned to both Rogers and Springdale schools, with the boundary line drawn along East Apple Blossom Road.
Jared Cleveland, superintendent of Springdale Public Schools, offered assurances that his district would not seek to annex the Bethel Heights students.
"The boundary lines were drawn back in the 1940s by the state, and the state is the only one that can change those boundaries," he said. "And the only time the state will change the boundary lines would be if school districts consolidated."
Wright added crime rates are low in Bethel Heights.
"We know most of our police officers by their first name," she continued. "And we know the first names of our neighbors, too. We see new neighbors, we meet our new neighbors."
Laurinda Joenks can be reached by email at [email protected] or on Twitter @NWALaurinda.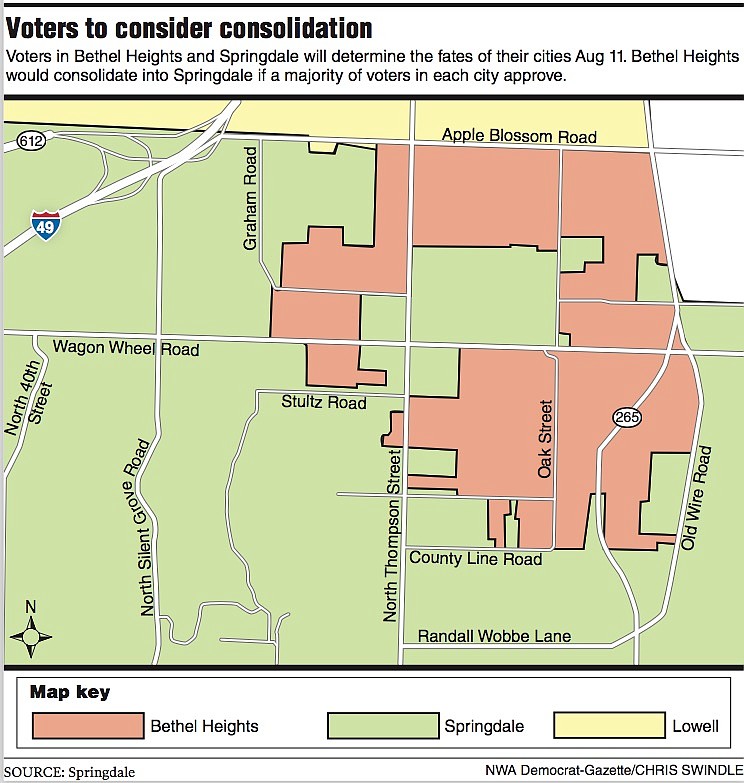 Voters to consider consolidation
More News
Annexation vote
Residents of Bethel Heights and Springdale will go to the polls to consider annexing Bethel Heights into Springdale.
SPRINGDALE
Early voting
8 a.m. to 4:30 p.m. Tuesday to Friday and Aug. 10, Washington County Clerk's office, Washington County Courthouse, 280 N. College Ave., Fayetteville
Election day
7:30 a.m. to 7:30 p.m. Aug. 11 at
• Elmdale Baptist Church, 1700 W. Huntsville Ave.
• First Church of the Nazarene, 2300 S. 40th St.
• Oak Grove Baptist Church, 499 Oak Grove Road
• Rodeo Community Center, 1423 E. Emma Ave.
BETHEL HEIGHTS
Early voting
8 a.m. to 4:30 p.m. Tuesday to Friday and Aug. 10, Benton County Clerk's office, Bentonville, 215 E.Central Ave.; Benton County Clerk's office, Rogers, 2111 W. Walnut; Benton County Clerk's office, Siloam Springs, 707 S. Lincoln St.
Election day
7:30 a.m. to 7:30 p.m. Aug.11 at the Moose Lodge, 215 W. Apple Blossom Road
NOTE
Siloam Springs residents will vote to elect city officials the same day. Bethel Heights voters won't see that ballot, and Siloam Springs voters will not see the annexation ballot.
Laurinda Joenks can be reached by email at [email protected] or on Twitter @NWALaurinda.
Sponsor Content
Comments