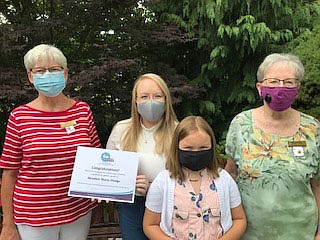 P.E.O. Chapter BL in Bella Vista recently awarded a Program for Continuing Education (PCE) grant to Heather Hodge of Rogers. Heather is attending the University of Arkansas majoring in advertising and public relations. Pictured from left are Julie Amos, Chapter BL vice president; Heather; Heather's daughter, Camryn; and Vickie Griffith, Chapter BL President. P.E.O. is an international philanthropic educational organization wherein women celebrate the advancement of women; educate women through scholarships, grants, awards, and loans; and motivate women to achieve their highest aspirations.
Writers' Colony
sets fellowships
The Writers' Colony at Dairy Hollow in Eureka Springs is offering a fellowship to a writer working on a short or long work of nonfiction focusing on how he (the writer or another) has managed, and continues to manage, mental illness.
This personal story should offer not just insight and awareness, but most importantly, hope. It should share your dreams, and how you are adjusting and fine-tuning them. Stories focused on relationships, family life, travel, employment, civic contributions, passions, along with the barriers, fears and stigmas faced, are encouraged. For the purposes of this fellowship, the writing should be nonfiction and can take the form of memoir, personal essay, profile or biography.
This fellowship entitles the recipient to a two-week stay, with meals provided, at The Writers' Colony at Dairy Hollow with a private suite with writing space, private bath and wireless internet. Uninterrupted writing time is augmented by a European-style gourmet dinner prepared five nights a week served in the community dining room, the camaraderie of other professional writers when you want it, and a community kitchen stocked with the basics for breakfast and lunch.
Fellowship applications must be accompanied by a writing sample and a non-refundable $35 application fee. There is a limit of one submission per application. Deadline is midnight Aug. 31. The winner will be announced no later than Sept. 25. Residency must be completed by Dec. 31, 2021. (Exceptions will be made if covid-19 makes a residency inadvisable.) Applications can be submitted at https://www.writerscolony.org/fellowships.
The Writers' Colony at Dairy Hollow would like to thank longtime supporter and board member Sharon Spurlin for generously funding this fellowship. For more information about funding a fellowship for a genre or cause that you are passionate about, visit www.writerscolony.org/sponsor-a-fellowship.
Also offered will be a fellowship inviting writers to explore the African-American experience. The work may be in any literary genre: fiction or nonfiction, poetry or prose, or a combination. It may take place now or in the past. It may draw upon the life of the author or probe other lives. There is no expectation of a certain attitude or type of experience. Rather, the successful application will demonstrate insight, honesty, literary merit, and the likelihood of publication.
The fellowship winner also will receive a two-week, all-expense-paid residency.
Fellowship applications must be accompanied by a writing sample and a non-refundable $35 application fee. Writers proposing more than one project must submit a separate application and fee for each one. Deadline is midnight Oct. 26. The winner will be announced no later than Nov. 23. Residency must be completed by Dec. 31, 2021.
The Writers' Colony at Dairy Hollow would like to thank author and Writers' Colony alumna Linda Leavell and her husband, Brooks Garner, for generously funding this fellowship.
Blood Center
seeks donors
Community Blood Center of the Ozarks, the sole supplier of blood and plasma to patients at more than 40 area healthcare facilities, is making a plea for anyone who is eligible to donate blood to do so.
"There are simply not enough donations coming in or mobile blood drives on the schedule to keep pace with the increase of local patient needs," CBCO Executive Director Anthony Roberts said. "While we have been able to maintain stock levels at our hospitals, our reserves on our shelves are below a comfortable level, and we need the help of our generous community donors who always step up in times of need."
Since the COVID-19 shutdown in March, more than 280 blood drives have been canceled in the CBCO service region, resulting in more than 9,000 potential blood donations being lost.
Donors who give at a CBCO donor center or mobile blood drive will receive a $5 gift card redeemable through CBCO's LifePoints Local online store. They will also receive a colorful T-shirt.
Information: www.cbco.org/donate-blood.
_
Red Cross
needs blood
Right now, the American Red Cross has an emergency shortage of convalescent plasma, a potentially lifesaving treatment for patients with covid-19. The Red Cross has seen demand for convalescent plasma more than double over the last month as the number of coronavirus cases increases across the U.S. Convalescent plasma products are now being distributed faster than donations are coming in.
Individuals who have fully recovered and received a verified covid-19 diagnosis are urged to sign up to give convalescent plasma now by completing the donor eligibility form at RedCrossBlood.org/plasma4covid.
Upcoming opportunities for routine blood donation include:
Bentonville
Aug. 6: 11 a.m.-4 p.m., Synchrony, 1801 Phyllis St.
Gentry
Aug. 3: 1:30 p.m.-5:30 p.m., First Baptist Church of Gentry, 221 W. Main St.
Rogers
Aug. 4: 11 a.m.-3 p.m., Johnson & Johnson, 3100 Market St., Suite 300
Aug. 4: 11 a.m.-4 p.m., Pinnacle Country Club Clubhouse, 3 S. Clubhouse Drive
Aug. 7: Noon-6 p.m., Elmwood Middle School, 1610 S. 13th S.
Aug. 10: Noon-5:30 p.m., Rogers Christian Church, 2501 W. Oak St.
Siloam Springs
Aug. 5: 1.-5 p.m., New Life Church, 1611 Cheri Whitlock Drive
Aug. 7: 1-5 p.m., Walmart, 2901 U.S. 412 East
Fayetteville
Aug. 5: 1-6 p.m., Rise Physical Therapy, 2668 E. Citizens Drive No. 6
Aug. 7: 11 a.m.-4 p.m., Fayetteville Auto Park, 1418 W. Showroom Drive
Aug. 10: 10 a.m.-4 p.m., University of Arkansas Lot 56, University of Arkansas
Aug. 11: 10 a.m.-4 p.m., University of Arkansas Lot 56, University of Arkansas
Springdale
Aug. 14: 9 a.m.-2 p.m., Knights of Columbus Hall, 267 N. Barrington Road
Donation appointments to give blood can be made for the coming days and weeks by downloading the free Blood Donor App, visiting RedCrossBlood.org, calling 1-800-RED CROSS (1-800-733-2767) or mask while at the drive, in alignment with Centers for Disease Control and Prevention public guidance.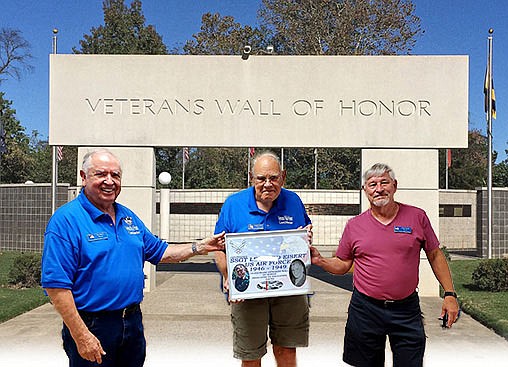 Photo submitted The Veterans Council of North West Arkansas has designated Leonard Eisert as its Veteran Honoree for third Quarter 2020. In 2001, Leonard and numerous other veterans joined together and laid the foundation for the Veterans Wall of Honor in Bella Vista. Leonard continues to be an active member of the council. Drop by the wall and visit Leonard's display and remember those who have served our country. Contact [email protected] or visit the website for donation opportunities to help with expansion or to become a member: https://www.vetwallofhonor.org.
Send news about local events, charity fundraisers and family or class reunions to [email protected] Deadline is 4 p.m. Tuesday for Sunday publication. Please include a phone number or email address for publication.
Sponsor Content
Comments