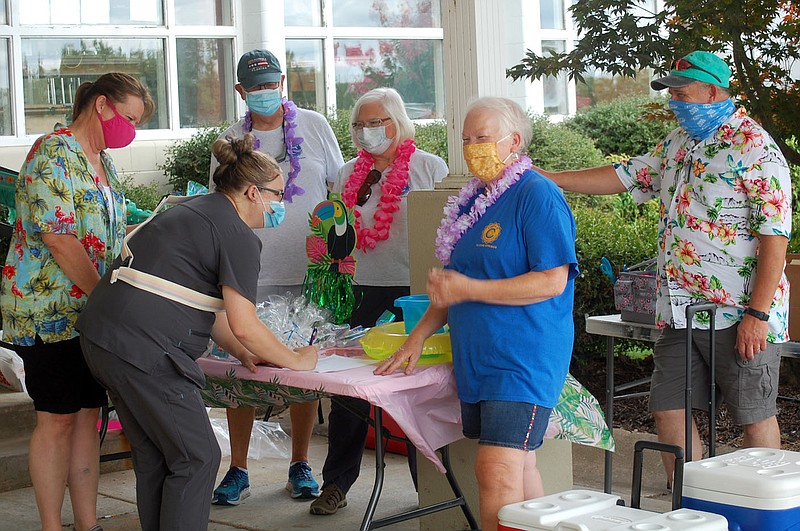 Janelle Jessen/Herald-Leader Civitan members hand out goodie bags to Siloam Springs Nursing and Rehab employees on Saturday morning.
Car Club
The Foothills of the Ozarks Antique Car Club will not meet in August, due to covid-19 concerns. Members will be informed of a possible meeting on our regular meeting date.
Information: (479) 696-6793 or (479) 899-4878.
__
Kiwanis
The Gravette Kiwanis Club met July 17 for the first time in four months. The meeting was held in the Gravette Community Room, with 14 members attending and bringing their own coffee. Masks were worn, and social distancing was observed.
The club voted to meet the first and third Friday of each month until the end of the year. Sadly, members also voted not to host the annual pancake breakfast during Gravette Day. Brenda Yates announced she had ordered a box of varied sizes of shirts for the club to donate to Bright Futures to give away to students in need at the beginning of school.
Maribel Childress, new Gravette school superintendent, was the guest speaker for the morning. She talked about her upbringing, her family and her goals for the new school year. She admitted there were lots of unanswered questions.
The next meeting will be at 7 a.m. Aug. 7 at the Gravette Civic Center with Benton County Judge Barry Moehring as the speaker. Guests are invited.
__
Civitan Club
Members of the Siloam Springs Civitan Club recognized Siloam Springs Nursing and Rehab's 130 staff members with a Beach Bash Party in July.
Civitan Clubs from across the world gave back to their communities during an international day of service on July 25, a part of the 2020 Virtual Convention July 23-25, according to the organization's website, civitan.org. Civitan International is a volunteer organization of clubs dedicated to serving individual and community needs, with an emphasis on helping people with developmental disabilities, the site states.
The Beach Bash Day was created to celebrate and honor those who serve the community and don't get a lot of recognition for their work, according to Doris Henderson, president of the Siloam Springs Civitan Club. The club chose to show its appreciation for nursing home staff because the employees serve people with disabilities and health impairments and have faced additional challenges because of the covid-19 pandemic, she said.
The theme of the event was "Heroes don't wear capes, they wear scrubs." Each nursing home employee received $5 gift cards to a local business, a hand sanitizer, Little Debbie treats and a water bottle, Henderson said. Employees who weren't on duty Saturday morning will receive their gifts during their next shift.
The club plans to make the service day an annual tradition, Henderson said.
The Siloam Springs Civitan Club meets at noon on the first and third Thursday of the month at the Generations Bank Conference Room.
Information: Doris Henderson at [email protected] or follow the Siloam Springs Civitan Club on Facebook.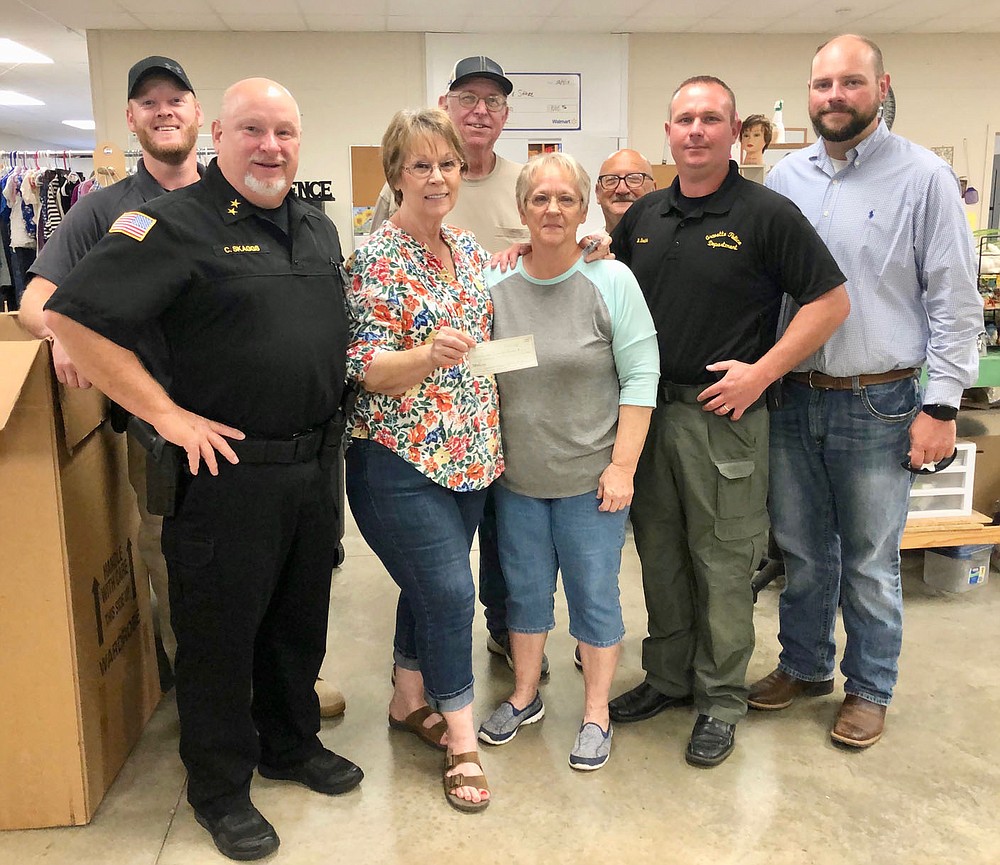 Submitted Photo Wilma Fladager displays the check representing the $60,000 donation made by Care and Share to the Gravette Police Department. The donation will be used to purchase an in-car computer system and a CAD system for dispatching calls. R&R Solutions is partnering with the department to do technical work on the project. Pictured are Det. Brad McNelly, Chief Chuck Skaggs and Capt. Bryan Smith from the Gravette PD, Wilma Fladager, Butch Dawson, Linda Sanders and Bo Roberts from Care and Share and Travis Grant (right) of R&R.
Send Club News to [email protected] Deadline is 4 p.m. Tuesday for Sunday publication. Please include a phone number or email address for publication.
Sponsor Content
Comments