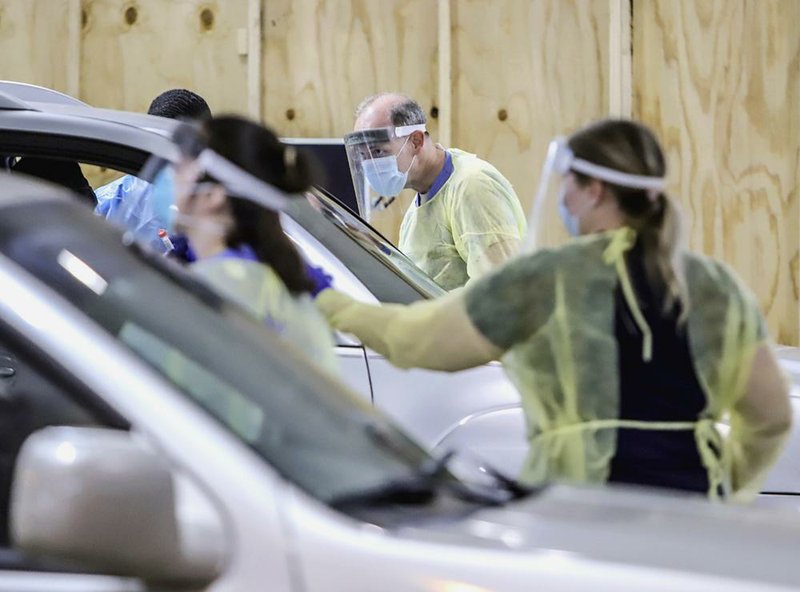 University of Arkansas for Medical Sciences doctors, nurses and technicians check drivers and passengers at a drive-through Covid-19 screening facility, located at the corner of Shuffield and Jack Stephens Drives in Little Rock. (Arkansas Democrat-Gazette/ John Sykes Jr.)
BENTONVILLE -- Walmart's new covid-19 testing site on the parking lot of the Home Office is open to anyone who meets the federal Centers for Disease Control and Prevention's testing criteria, according to the city's Facebook page.
People who wish to be tested at the site must make an appointment online at MyQuestCOVIDTest.com or through Quest's app, MyQuest. People who do not make an appointment will not be tested, according to the post. The site is open 9 a.m. to 4 p.m. daily, weather permitting.
Gov. Asa Hutchinson announced more than a week ago the state would partner with Walmart and Quest Diagnostics, a commercial lab, on the drive-through testing site for health care workers and first responders.
The testing site is on the west parking lot of the Home Office, at the intersection of Southwest 8th Street and South Walton Boulevard, according to the post. A Walmart spokeswoman said last week the site was on Walmart property, but would not say where exactly the site was. The post says the site was moved from the parking lot at the David Glass Technology Center on Moberly Lane.
Arkansas had 1,280 cases of covid-19 as of early Sunday afternoon, according to the Arkansas Department of Health. Washington County had 37 cases, and Benton County had 48 cases.
Specimen is collected via mouth and nasal swabs to be tested for covid-19.
NW News on 04/13/2020
Print Headline: Walmart's Bentonville testing site open
Sponsor Content
Comments