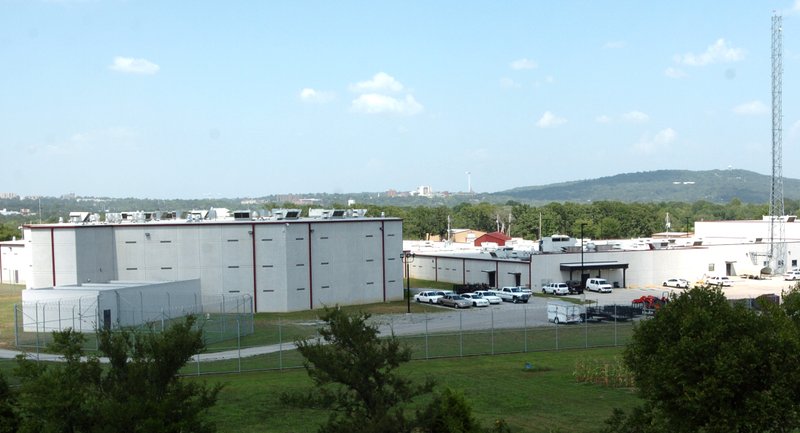 NWA Democrat-Gazette FILE PHOTO The exterior of the Washington County jail.
FAYETTEVILLE -- Measures used to reduce the population of the Washington County Detention Center aren't sustainable after the covid-19 crisis passes, according to Sheriff Tim Helder.
Others said the county should look at continuing some of those practices, like expanded use of electronic monitoring, as a way to keep the jail from becoming overcrowded again.
Covid-19
The coronavirus causes mild or moderate symptoms, including fever and cough, that clear up in two or three weeks in most patients. For some people, including older adults and those with existing health problems, the virus can cause severe illness, including pneumonia and death.
Source: NWA Democrat-Gazette
"I anticipate that once this current crisis is over the number will rise over time back to where we were before," Sheriff Tim Helder said. "I don't think it will happen overnight, that it'll fill up, but once this has passed, I'm sure it will."
Helder said his expectation is based on experience and the history of the people being released.
"If you take a look at our jail population on any given day, probably 75% of those people have been in our jail before," Helder said. "I'm not even counting how many other jails they may have been in, just ours. You can do the math. The odds are the majority of them are coming back."
On Friday morning, the Detention Center detainee population was 415, according to Chief Deputy Jay Cantrell. The facility reported a peak population of 810 on Feb. 10. The facility has a design capacity of 710 beds and an operating capacity of around 570 detainees.
As concerns about the spread of the covid-19 coronavirus grew, the Sheriff's Office took steps to reduce the jail population. The Sheriff Office, working with Prosecuting Attorney Matt Durrett and the circuit judges, authorized police departments to use felony citations in some circumstances instead of bringing people to the Detention Center.
The Sheriff's Office, Durrett and the judges also approved the release of around 150 pretrial detainees under electronic monitoring agreements. The detainees were released with wrist or ankle monitors or told to use a cellphone app and report their location daily with photos. The electronic monitors cost from $5 to $15 per day. The current estimate of the average daily cost of housing a prisoner is about $62.
Cantrell said the Sheriff's Office is working with the state Pardons and Parole Board to see if any detainees who are serving 90-day commitments in the Detention Center can be released early. Some people who violate the terms of their parole are ordered to spend time in county jails rather than return to the state prison system. Cantrell said there were 57 detainees serving 90-day commitments as of Friday.
In Benton County, Sheriff Shawn Holloway said his office has been working with Prosecuting Attorney Nathan Smith and the circuit judges to release detainees on a case-by-case basis. Holloway said Thursday his jail, which has a design capacity of 667 beds, now has about 525 detainees. That is down from a recent count of about 700. Holloway said the jail now has space available for a medical isolation area if needed.
Ann Harbison, justice of the peace for District 14 in southern Washington County, has long advocated for the expanded use of electronic monitoring to reduce the jail population without expanding the facility.
Helder has said the county will need to add more space, and he presented a $38 million proposal to the Quorum Court in 2018. The county is waiting for a study being done by the national Center for State Courts on the Detention Center and the criminal justice system before taking up the expansion proposal again. The study is expected to be completed in June.
Harbison said she supports the use of electronic monitoring in the current health emergency and said she still thinks it should used more frequently under normal circumstances. She added the community needs to provide a better support network for those being released.
"This is an emergency right now, and I think we need to be doing everything we can to get the population down now," Harbison said. "What concerns me is that, if there are problems, if people don't manage to follow the rules and show up for court, then people will say it doesn't work and we won't use it. What has to happen is there has to be some way of getting these people who are being released the services they need to succeed whether it's for substance abuse counseling, Alcoholics Anonymous or mental health services."
Patrick Deakins, justice of the peace for District 5 in northeastern Washington County, said the county will have to consider whether the increased use of electronic monitoring should be part of the operating methods for the Detention Center once the covid-19 crisis has ended.
"I don't want to read too much into this right now because it's an emergency," Deakins said. "We've got to see how it works. As always, I'm all about working smarter with our dollars."
Stan Adelman, a Fayetteville attorney and law professor, was hired by the county last year as jail ombudsman to study ways to reduce the Detention Center population. Adelman has also advocated releasing detainees on lower bond or electronic monitoring. He said he agrees with Harbison about the possibility of continuing to use electronic monitoring.
"I think once the dust settles with this crisis we all -- and I mean all of us -- need to huddle up to see what lessons we can learn from this," Adelman said. "We need to consider what measures to make more permanent and to use what we do learn in making those decisions."
NW News on 04/06/2020
Print Headline: Counties clearing jail space in covid-19 crisis
Sponsor Content
Comments