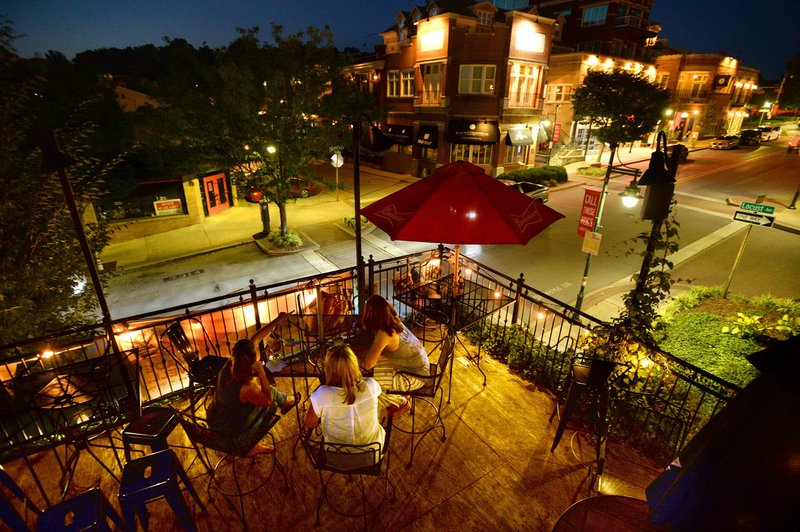 File photo/NWA Democrat-Gazette/ANDY SHUPE Friends Amy Garrett (from left), Heather Hanes, Bridget Kachel sit together Aug. 15 atop the Dickson Street Pub as cars pass on Dickson Street in Fayetteville. The City Council on Tuesday decided to hold off for at least a month before deciding on a measure to create an entertainment district downtown.
FAYETTEVILLE -- City officials want to hash out any questions from business owners about an entertainment district downtown and do some more research, deciding Tuesday to hold off on a decision for at least a month.
Devin Howland, city director of economic vitality, said more than anything the city wants to hear from the public on the issue. The proposal as written allows people attending events downtown to walk around with alcoholic beverages. Organizers of those events would have to ask for administrative approval to allow outdoor drinking.
Council action
Fayetteville's City Council met Tuesday and approved:
• An agreement with the Arkansas Department of Transportation for the city to take ownership of U.S. 71B from the North Fulbright Expressway to the South Fulbright Expressway. The state will improve Arkansas 112. In exchange, the city will be responsible for maintenance of that part of U.S. 71B, taking it off the state highway map.
• An agreement with Buffington Weir to install a water line along Rupple Road from Tanyard Drive to Weir Road for $262,153. The city will pay for the work and the developer will do the work in tandem with construction of the Magnolia Park subdivision.
Source: Staff report
Mayor Lioneld Jordan already approves or denies permits for events, and would add requests for outdoor drinking to the criteria. The entertainment district boundary would encompass most of downtown, with exemptions for residential areas.
The street playing host to the event, such as Dickson Street or the streets surrounding the downtown square, would be closed if outdoor drinking is allowed. Council Member Matthew Petty said he didn't understand the logic of that approach.
Other cities in Arkansas adopting entertainment districts, such as Mountain Home and Little Rock, don't close their streets. Most across the country don't either, he said.
"I think that's a solution without a real problem," Petty said.
Howland said business owners had concerns about general liability. He said the city asked the state Alcoholic Beverage Control and rules outside a bar would be similar to the rules in a bar. However, tracking businesses over-serving would be difficult in an open environment, he said.
Council members asked Howland to research how other cities in the state handle entertainment districts, as well as comparable cities in other states. No one from the public spoke on the issue, but it will come up again Oct. 15.
In other business, the council approved changing some parking designations downtown on Lafayette Street and Locust Avenue. The vote was 6-2, with council members Mark Kinion and Teresa Turk voting against.
The 57 residential-only spaces on Lafayette Street between Campbell and Forest avenues will become open to paying customers. The 22 residential-only spaces on Locust Avenue between Spring and Center streets also will become available to paying parkers. Residential permits will still be valid for permit holders on both streets, and paying customers will pay the same rates as the rest of the entertainment district.
The measure was first proposed in July. Several members of public came out in opposition to the Lafayette Street piece in council meetings since then. On Tuesday, three neighbors spoke against changing up Lafayette Street.
Kinion said the move won't create more parking spaces and will increase competition for those spaces. Council members who voted in favor cited statistics Justin Clay, parking manager, provided during the meeting. The data showed an average 30% occupancy on that portion of Lafayette.
Eight residents spoke against a rezoning request for two pieces of property on both sides of Sain Street near Front Street. The proposal would change the properties from heavy commercial and industrial to a mixed-use designation with buildings coming up to the street.
Much of residents' concerns stemmed from the property immediately east zoned for apartments up to 24 units per acre, potential traffic congestion, preservation of flora and fauna and flooding. The council tabled the request until Nov. 19 so the applicant could return with a planned zoning district addressing those issues.
The council also tabled until Nov. 19 a proposal to close Center Street at the downtown square to cars during the Saturday Farmers' Market. Chuck Rutherford, board president of the market, asked the council to wait until its membership could vote on the proposal during its Nov. 16 meeting.
NW News on 09/18/2019
Print Headline: City pumps brakes on entertainment district proposal
Sponsor Content
Comments