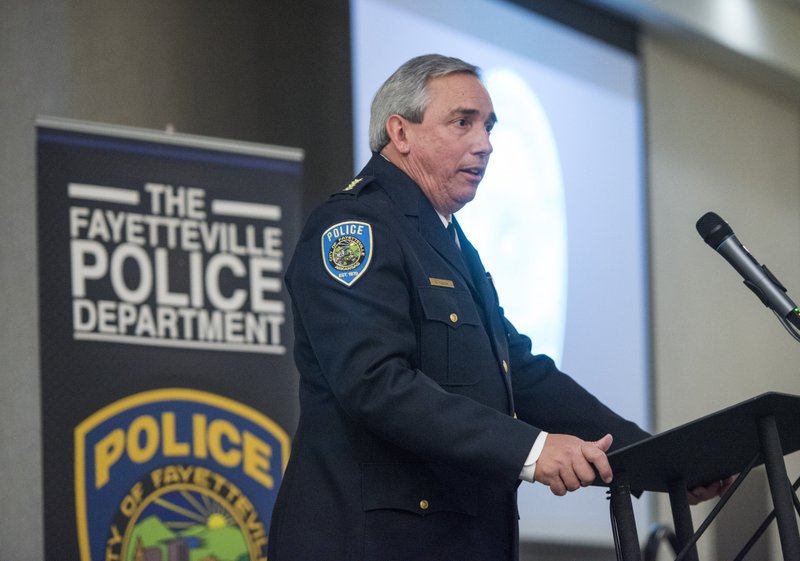 Fayetteville police chief Greg Tabor makes remarks Saturday, Jan. 26, 2019, during the Fayetteville Police Department's annual awards and promotions banquet at the Fayetteville Hilton Garden Inn. - Photo by Ben Goff
In this edition, Fayetteville Police Chief Greg Tabor discusses his 34-year-career at the agency he retires from on Sept. 20, 2019.
Our interview includes his thoughts on the challenges of being a law enforcement officer, the changing nature of law enforcement, leadership and the community he's served since 1985.
Other editions of "Speaking of Arkansas" as well as other podcasts from the Northwest Arkansas Democrat-Gazette can be found at nwaonline.com/podcast. You can also subscribe to the Northwest Arkansas Democrat-Gazette's podcasts through Spotify, SoundCloud, Stitcher, Apple Podcast and other popular podcast apps.
Greg Harton (left), editorial page editor, talks with Greg Tabor, Fayetteville police chief Thursday, Sept. 12, 2019 in Fayetteville.
Additional information about the Fayetteville Police Department can be found at https://www.fayetteville-ar.gov/167/Police-Department
Contact "Speaking of Arkansas" host Greg Harton, editorial page editor of the Northwest Arkansas Democrat-Gazette, at [email protected] or by calling (479) 872-5026.
Sponsor Content
Comments